'Annoying Orange' Goes to Cartoon Network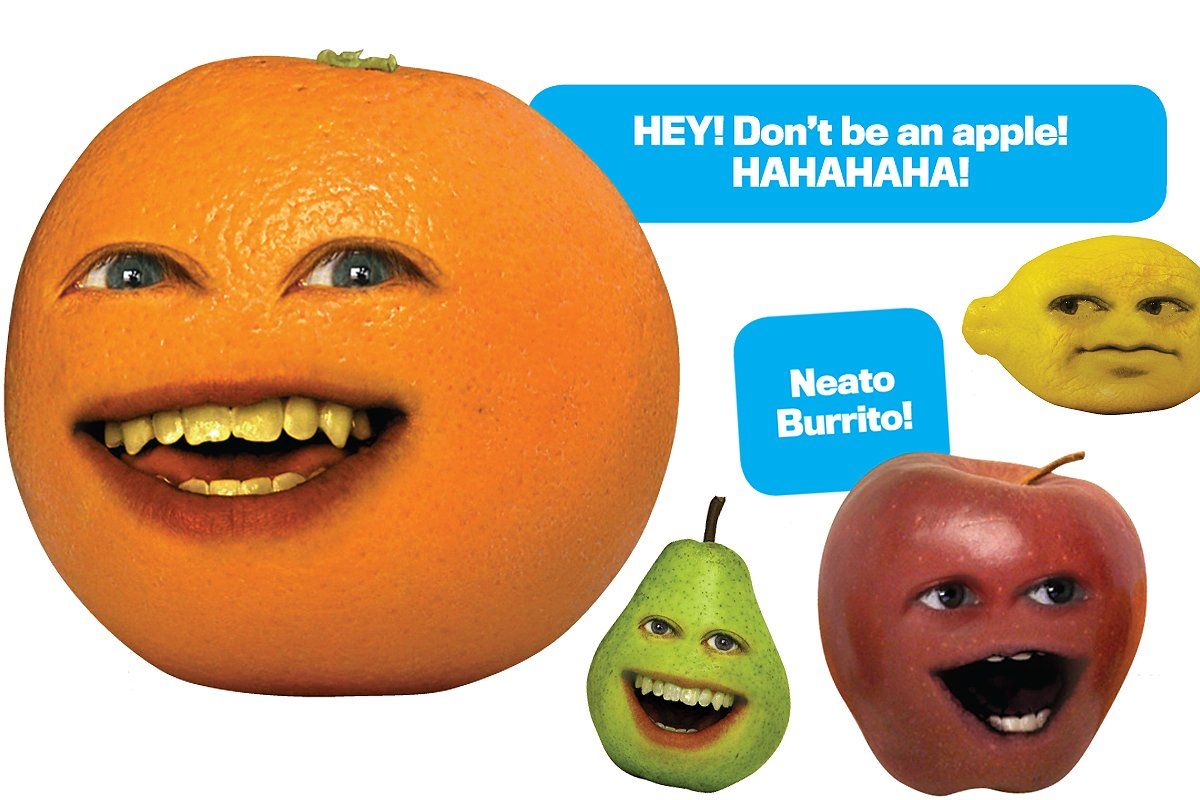 If you have kids, chances are you've heard of The Annoying Orange, a pun-laden animated Web series that is, true to its name, just about the most annoying thing on the Internet. The star of the show is a talking orange who insults other pieces of fruit in a kitchen, and the videos often end with a piece of fruit getting sliced, chopped, or otherwise destroyed. The animation consists of a cheesy special effect in which actual pieces of fruit have mouths and eyes superimposed on them. The videos are about three minutes long, and they are almost unbearable.
They are also incredibly popular. Launched just two years ago, The Annoying Orange claims 2.2 million subscribers and has drawn nearly 1 billion views, with a core audience of 8- to 13-year-olds. The show's creator, 31-year-old Dane Boedigheimer, made the first Annoying Orange video on a lark, but now the joke has turned into a serious business. Boedigheimer has struck licensing deals to sell toys at Toys "R" Us and T-shirts at JCPenney. This year he and his writing partner, Spencer Grove, will launch an Annoying Orange show on Cartoon Network.
The pair, who grew up in North Dakota and met as undergraduates in Minnesota, say they still can't quite believe their good fortune. "We have a lot of conversations where we're like, 'Wow, what is going on?'?" says Boe-dig-heimer, who now lives in Los Angeles, where he shoots each week's episode in his garage. Says Grove: "I keep thinking to myself, 'Dude, one day I'm going to wake up and realize that this has all been some kind of alternate reality, and I'm actually just flipping burgers for a living.'"
A little more than two years ago, Grove and Boedig-heimer were working as low-level helpers on MTV's reality show Pimp My Ride. By night they would shoot short films and load them onto YouTube. A few of their videos drew traffic, but nothing huge. Then, in October 2009, Boedigheimer posted the first Annoying Orange video, and "all of a sudden it got to 1 million views, then 2 million, then 3 million, and pretty soon it was doing 1 million hits a week," he recalls.
He shot a few more, and traffic kept building. Realizing he needed help, Boedigheimer brought Grove on board as a writer, and they started posting a new show every Friday. In 2010 the pair quit their day jobs. They won't say how much they're earning except that, according to Boedigheimer, "it's enough for both of us to make a living doing this." Based on traffic statistics, TubeMogul, a company that advertisers use to buy video ads, estimates Annoying Orange brings in about $865,000 a year from YouTube.
The deal with Cartoon Network could bring an even better payday. The network has ordered 15 half-hour episodes, each consisting of two 11-minute films. "Anything that is such a huge cultural phenomenon like this is something we're drawn to immediately," says Rob Sorcher, chief content officer at Cartoon Network.
Whether the show's audience will follow Annoying Orange from YouTube to TV remains to be seen. Another challenge is finding a way to make the material survive the transition to a longer form. YouTube has become a kind of farm league for the TV industry, a place where newcomers can hone their skills and find an audience. But so far it hasn't really produced a big crossover hit. Lucas Cruikshank did well on YouTube with his short videos featuring an annoying character called Fred Figglehorn, but his first attempt at a movie had mixed results. The flick drew a big audience on Nickelodeon, but the reviews were terrible, and the movie did poorly at the cinema.
Grove says he has already written about half the scripts for the Cartoon Network show. Meanwhile, he and Boedigheimer plan to continue cranking out the weekly show on YouTube. Grove says that early on he worried he'd get bored after a few months of writing scripts for talking fruit, but so far that hasn't happened. "It keeps getting better and better, and I feel like the best stuff is still to come," he says. In some ways they're following a tried-and-true formula: finding ways to help kids annoy their parents has always been a great way to succeed in showbiz.