Antonio Brown Enrolls at Central Michigan University After Quitting NFL, Here Are the College Classes He's Taking
Embattled NFL player Antonio Brown has taken advantage of his unemployment to enroll in a few courses at Central Michigan University.
Brown, who faces accusations of sexual misconduct, was released by both the Oakland Raiders and the New England Patriots within the last few months. On Sunday, Brown announced on Twitter that he is finished playing in the NFL.
The former wide receiver claimed that owners can "cancel deals" and "do whatever they want" without being held accountable.
On Monday morning, Brown posted a photo of a college course list on his Instagram story. He tagged Central Michigan University athletics, located in Mount Pleasant, Michigan, and wrote, "Back to school."
The paper that was photographed showed four courses: Management 312, English 303WI, Religion 334WI and Sociology 323. All of the courses, according to the university's catalog, are online classes.
Management 312 focuses on an introduction to management and the English course is centered on technical writing. Brown's religion course is titled "Death and Dying," and the sociology course focuses on racism and inequality.
This isn't Brown's first time taking courses at Central Michigan. In 2007, he enrolled at the university, where he played football for three years. His last year playing was in 2009 when he entered the NFL draft and was scooped up by the Pittsburgh Steelers.
The Patriots released Brown on Friday after about two weeks with the team. In a statement, the team said they appreciated everyone's hard work over the past 11 days but felt it was best to move in different directions at the time. His deal with the Patriots included a $9 million signing bonus, but it's unclear what Brown was paid during his time in New England.
"It's unfortunate things didn't work out with the Patriots," Brown's agent, Drew Rosenhaus, posted on Twitter. "But Antonio is healthy and is looking forward to his next opportunity in the NFL. He wants to play the game he loves and he hopes to play for another team soon."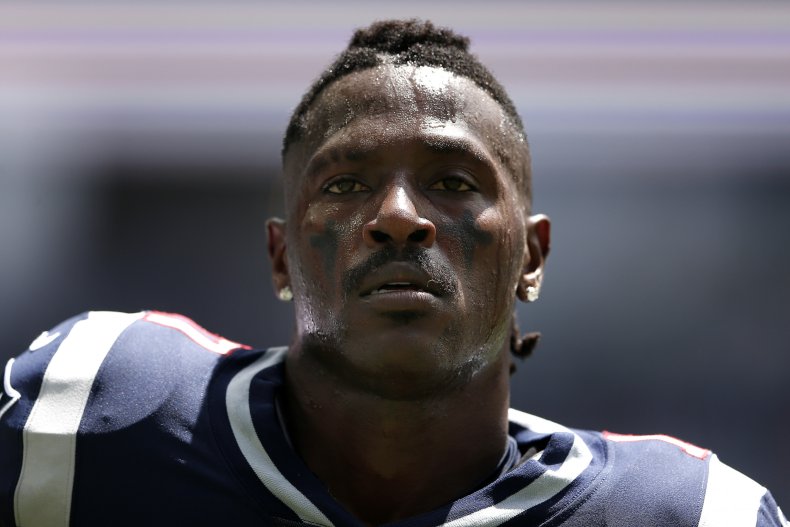 On Monday, Patriots quarterback Tom Brady appeared on WEEI's radio show, The Greg Hill Show and fielded some questions about Brown. He admitted he had a "lot of personal feelings" but declined to share them. However, he did say he felt it was a "difficult situation."
Moving forward, he said he wanted to be a leader for the team and provide his teammates with whatever he could to help them reach their highest potential.
On September 10, Britney Taylor, Brown's former trainer, filed a lawsuit that alleged he sexually assaulted or raped her three times between 2017 and 2018. Brown was accused of sexual misconduct by another woman, as well. The accuser was a female artist who Brown allegedly hired to create a mural at his Pennsylvania home in 2017.