'Anonymous' Author Miles Taylor Just Replaced John Bolton as Washington's Most Hated Man
John Bolton has relinquished his unofficial role as Washington's most hated man and passed the torch to Miles Taylor just six days before the election.
Taylor, a former Department of Homeland Security official who served as chief of staff to former DHS Secretary Kirstjen Nielsen, revealed himself on Wednesday as the anonymous author of a 2018 New York Times op-ed and the 2019 book A Warning.
Both were critical of the president and described a "resistance" within a dysfunctional administration that sought to undermine Trump's actions.
The swift outcast of Taylor on Twitter from both the political left and right was reminiscent of the saga that unfolded after excerpts from a tell-all book by Bolton, Trump's former national security adviser, were revealed in June—more than four months after the Senate acquitted Trump of two impeachment articles. Both sides of the aisle suggested Taylor was motivated by book sales.
Few people have been as successful as Bolton and Taylor at bringing together some of the nation's most divided politicos.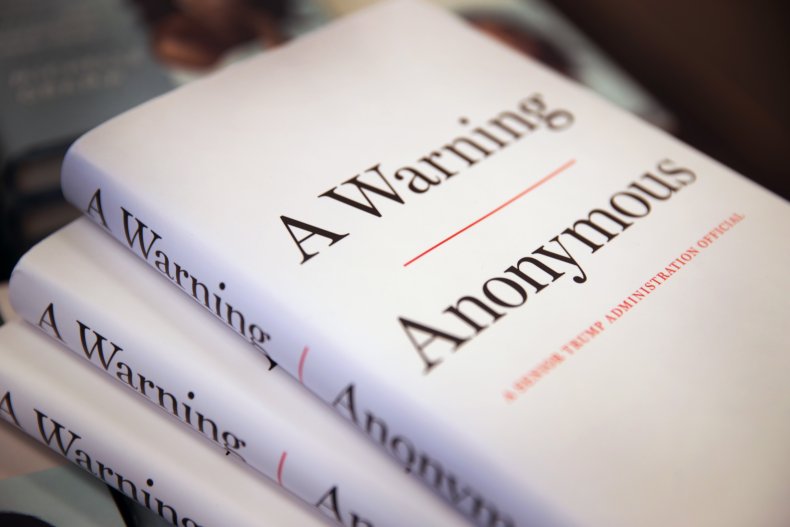 Republicans, conservatives and Trump officials cast Taylor as a "low-level, disgruntled former staffer" who has long lacked credibility, much like they did with Bolton. Taylor has for months been an outspoken critic of Trump, joining CNN as a contributor in September.
White House press secretary Kayleigh McEnany labeled Taylor a "liar and a coward who chose anonymity over action and leaking over leading." Trump campaign spokesperson Hogan Gidley said "this is the least impressive, lamest political 'reveal' of all time."
"I rolled my eyes so hard I nearly tipped backwards," White House Communications Director Alyssa Farah wrote on Twitter. "To paraphrase Andy Warhol: In the future, everyone will be a Senior Admin Officials for 15 minutes."
Taylor joined the Trump administration in 2017 and was Nielsen's deputy chief of staff. He later became her chief of staff in 2018 before he resigned in 2019.
Republicans, Democrats and some within the media criticized The Times for allowing Taylor to be named only as a "senior administration official" in his 2018 op-ed, as well as his book's publisher for affording him the same title. At the time of the op-ed, Taylor was not chief of staff—a role he later held for only a few months—and they argued that even a top DHS employee would be too far removed from the president to be considered such a high-ranking official.
Matt Whitlock, a senior adviser to the National Republican Senatorial Committee, tweeted that Taylor revealing himself was like The Office episode when "Michael promises everyone he has a big surprise to reward them and shows up with ice cream sandwiches and everyone is furious."
Taylor drew equal frustration from Democrats, progressives and anti-Trump figures, who characterized Taylor on Twitter as a coward for only choosing to reveal himself so close to the election. They highlighted that Taylor's tenure for Nielsen included when the administration was facing intense blowback for the controversial child separation policy that split thousands of migrant families apart who illegally crossed the southern border.
The Times reported last week that more than 500 of those migrant children remain separated from their parents, as officials are still unable to locate the adults.
".@MilesTaylorUSA isn't a hero," said Reed Galen, co-founder of the anti-Trump group the Lincoln Project, which has used Taylor in an ad. "He sat in those rooms, in those councils of power and allowed the banality of evil to work through its way America. Heroism isn't silence until it's convenient and personally advantageous to stand up."
Sawyer Hackett, a former senior adviser to Democrat Julian Castro's presidential bid, wrote: "Turns out it was the same asshole who helped Nielsen enforce family separation without a word of protest. Spare us your holier than thou bullshit."
"I have a question for you, @MilesTaylorUSA," said Walter Shaub, the former head of the U.S. Office of Government Ethics under Obama and Trump. "Did you do all of the writing for your book after leaving government? Or did you start working on it while you were still in government?"
As he became more outspoken about his stance against Trump in various interviews over the past few months, Taylor lied to reporters when asked if he was the "Anonymous" author. He denied that notion to both Vice News and CNN.
Taylor made his revelation in a lengthy blog post, writing that others "witnessed Trump's inability to do his job" but that "most were hesitant to speak up for fear of reprisals."
"In other words, Trump's own lieutenants were alarmed by his instability," Taylor wrote.
Trump, responding to the news in a pair of tweets, questioned who Taylor was.
"Who is Miles Taylor? Said he was 'anonymous', but I don't know him - never even heard of him. Just another @nytimes SCAM - he worked in conjunction with them. Also worked for Big Tech's @Google. Now works for Fake News @CNN," the president wrote. "They should fire, shame, and punish everybody......associated with this FRAUD on the American people!"
Taylor went on to admit in his blog post that his original op-ed contained one specific assertion that turned out not to be true.
"The country cannot rely on well-intentioned, unelected bureaucrats around the President to steer him toward what's right," Taylor wrote. "He has purged most of them anyway. Nor can they rely on Congress to deliver us from Trump's wayward whims."
"The people themselves are the ultimate check on the nation's chief executive," he added.