Anonymous Letter Urges White Wisconsin Residents to 'Keep Wauwatosa Free From Blacks'
Some residents in Wauwatosa, Wisconsin have received a racist letter urging them to keep their city "free from blacks," and the recipients appear to have something in common beyond where they live—a yard sign.
According to WDJT-TV, recipients of the letter have a yard sign in front of their homes which readers "For Sale Unless Politicians Keep Tosa Safe (Paid for by Tosa Taxpayers fed up with Mayor and City Council)."
The signs are meant to criticize Wauwatosa Mayor Dennis McBride for his response to ongoing protests in the city following the police shooting of Alvin Cole, a 17-year-old from Milwaukee. Many protesters have called for the firing of the officer who fatally shot Cole.
Additionally, according to the Milwaukee Journal Sentinel, Wauwatosa police officers have stated they have "no confidence" in McBride's leadership and feel unsupported by the city.
As the protests in Wauwatosa have continued, tensions between the protesters and police have escalated prompting several arrests and leading McBride to impose a city ordinance, prohibiting protests past 8 p.m. local time.
The letter, which begins "Dear White Wauwatosa Resident," asks the reader to "keep Wauwatosa free from blacks."
"We hope that this letter finds you in good health. We just wanted to touch base. Thank you for purchasing and proudly displaying the yard sign. Your support of our common cause is greatly needed and appreciated," the letter reads. "We Whites must stand together. We must keep Wauwatosa free from blacks and their lack of morels [sic]."
As the letter continues, it states, "We must keep blacks from destroying our property, raping our wives and daughters, and recruiting our children into street gangs. We MUST keep Wauwatosa great."
"Together we cam keep Wauwatosa white! Together we can keep Wauwatosa safe!" the letter continues. It is signed by "Whites for Wauwatosa."
While the letter praises the person displaying the sign on their lawn, WDJT reporter Emily Thornton said she spoke with one neighbor "who says the signs have nothing racial intended."
Grant Lubin told Thornton he received the anonymous letter about a week after he placed the sign in his yard. He reported it to the local police on August 26.
Lubin said that he was "very shocked" by the letter and added that, "whoever wrote the letter was trying to imply that we who had these signs up were racist, facetiously."
The tv station also reported that the letter was signed by someone named "Toby" but Lubin told the news site that he and his neighbors do not know who that is.
In an email sent to Newsweek, Sergeant Abby Pavlik of the Wauwatosa Police Department stated that "the department was made aware of four residents (three were identified) that received a letter from an unknown subject aligning themselves with a group called "Whites of Wauwatosa."
"The deliverer(s) of the letters was not observed and there have not been any other reports of suspicious activity or persons in that neighborhood. Although the message is controversial in nature, without specific threat to life and property this content does not rise to the level of police action," Pavlik added.
The letter comes as racial issues have caused mass protests in Wisconsin and across the U.S. following the police shooting of Jacob Blake.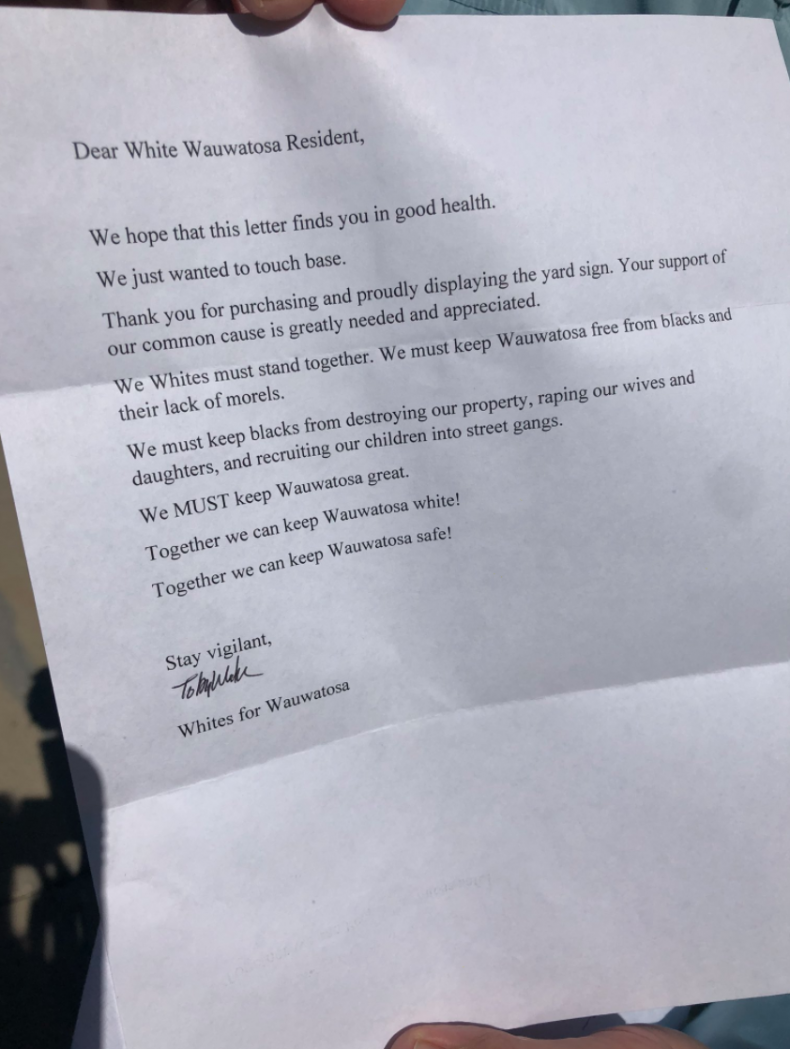 In Kenosha, Wisconsin, where Blake was shot, 17-year-old Kyle Rittenhouse was recently charged with six criminal counts, including first-degree intentional homicide, after protesters supporting the Black Lives Matter movement clashed with counter protesters and armed citizens, leaving two dead.
A similar situation recently occurred in Texas, when an anonymous letter warned residents of community shootings if residents from India and China didn't return to their country of origin.
The letter was posted to Facebook by the Irving Police Department in Texas, and stated that if Indian and Chinese residents didn't return to their countries, "we will have no choice but to shoot mercilessly at work place, in community, on pool or on playground."