Anonymous Publishes Donald Trump's 'Private Data'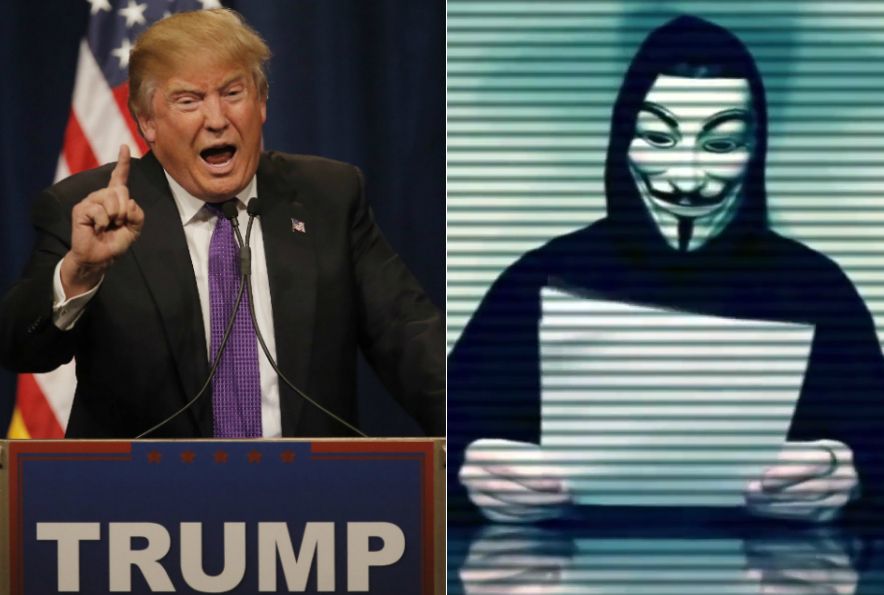 The hacking collective Anonymous has published some of Donald Trump's personal details as part of its "total war" against the presidential hopeful.
Listed in the data dump were Trump's cell phone number, social security number and the contact details of his PR and legal representatives, however most of the information appears to have already been publicly available.
In a video released on Thursday, a member of the amorphous collective said that the data was "provided for informational purposes only," in the hope that it would assist investigations into "this would-be dictator."
When Newsweek called the number listed as Trump's cell phone, the call was redirected to an automated voicemail service that said the mailbox was full.
A group of hackers affiliated with Anonymous tell Newsweek they were able to identify the IP addresses of Trump's various websites, including his campaign site and his business site, allowing them to bypass security measures that are designed to obscure the address and prevent attacks.
"With the real IP we could breach his website and leak everything. He obviously isn't as 'Trumpy' as we thought he would be," a member of New World Hackers told Newsweek on Thursday. "He has the money, spend it on something useful."
The group did not claim direct responsibility for the publication of Trump's personal details but said the information had been shared amongst members of Anonymous.
New World Hackers has been involved in previous cyber campaigns against Trump, knocking several of the business mogul's websites offline earlier this year through distributed denial of service (DDoS) attacks—a method used to knock websites offline by overloading them with traffic.
In a statement at the time, the group said it took particular issue with Trump's views on immigration and perceived racism, saying: "The little bitch needs to stop being so damn dramatic."
A Trump representative told CNNMoney that officials are "seeking the arrest of the people responsible for attempting to illegally hack Mr. Trump's accounts and telephone information."
More attacks are expected to take place on April 1 as part of the group's Op Trump campaign.
Correction| This article originally stated that Trump is represented by Tracy Brennan. This is incorrect and the article has been updated.