In Another Biden Gaffe, Former VP Says Pandemic Cost U.S. 85,000 Jobs and 'Millions' of Lives
Former Vice President Joe Biden's latest blunder occurred during a virtual roundtable about the impact of the new coronavirus outbreak when he claimed the pandemic cost the "lives of millions of people."
While making his introductory remarks during a Thursday discussion with governors from Michigan, New Jersey and Connecticut, Biden said America was in the middle of a pandemic that cost more than 85,000 jobs and the "lives of millions of people." However, it's likely what Biden meant was that the outbreak has cost 85,000 lives and millions of jobs.
As of Friday morning, 85,906 people in the U.S. have died from the new coronavirus that causes COVID-19, according to a tracker maintained by Johns Hopkins University. Nearly 36.5 million people have filed for unemployment since the start of the outbreak. Shortly after the blunder, Biden referenced the 36.5 million unemployment claims.
Newsweek reached out to former Vice President Joe Biden's campaign but did not receive a response in time for publication.
It's not the first time Biden's mixed up information about the new coronavirus. He has referred to the origin as the "Luhan province," instead of the city of Wuhan, located in the Hubei province, and called it COVID-9 and not COVID-19.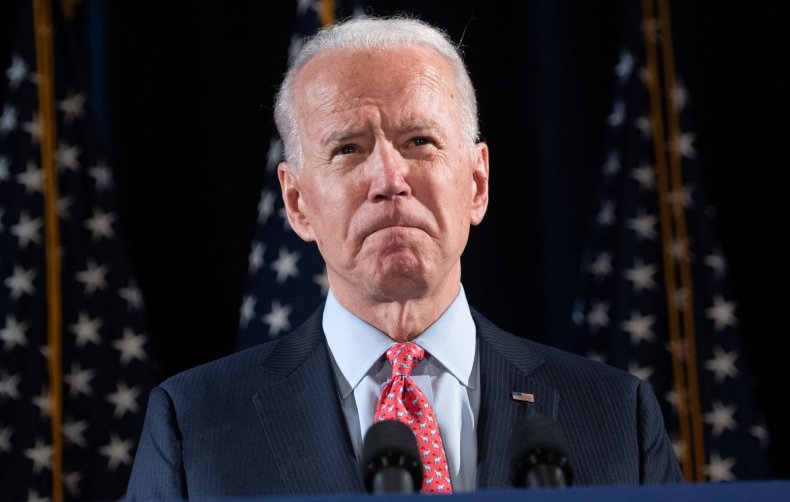 The former vice president hasn't officially received the democratic nomination for president but as the presumptive nominee, President Donald Trump is gearing up for a White House battle with Biden. The Trump campaign is capitalizing on Biden's rhetorical mistakes and launched a series of Facebook ads questioning his fitness for office, according to The Hill.
The ads question whether Biden is "too old" to be elected president and say, "geriatric mental health is no laughing matter." Biden, at 77 years old, is four years older than Trump, who is 73.
Biden also released new ads this week and his target is Trump's response to the new coronavirus. In the nearly three-minute clip, the campaign says the president ignored a January warning about the virus, playing clips of him saying they had it "totally under control" and that everything would be "just fine."
Trump ran his 2016 campaign heavily on promises to bring back jobs and boost the U.S. economy. It was a successful play then and one that CNN reporter Stephen Collinson wrote in an analysis may win Trump a second term. As Trump pushes for states to reopen businesses and get people back to work, Biden's ad highlighted the negative economic impact the outbreak has had in America.
"We have an economic crisis because we have a public health crisis and we have a public health crisis because [Trump] refused to act," the ad says. "Donald Trump didn't build a great economy. His failure to lead destroyed one."