Another Black Lives Matter Mural Defaced in Less Than a Week, This Time in Illinois
A Black Lives Matter street mural in Chicago's Oak Park community was defaced on Wednesday, making it the latest street mural to be vandalized in less than a week.
The sprawling 100-foot mural, which was altered to read "All Lives Matter," was spotted by a jogger early Wednesday and reported to police, the Chicago Sun-Times reported.
Employees from Oak Park's public works department were able to power wash the black paint covering the word "Black" on the mural and restore the mural.
"'Black Lives Matter' should not be a controversial statement," said Makayla Pye, a junior at Oak Park-River Forest High School who also helped organize the event that created the mural. "If you hear 'Black Lives Matter' and immediately your response is to say 'All Lives Matter,' that says a lot about how you perceive race."
Newsweek contacted the Oak Park police for comment.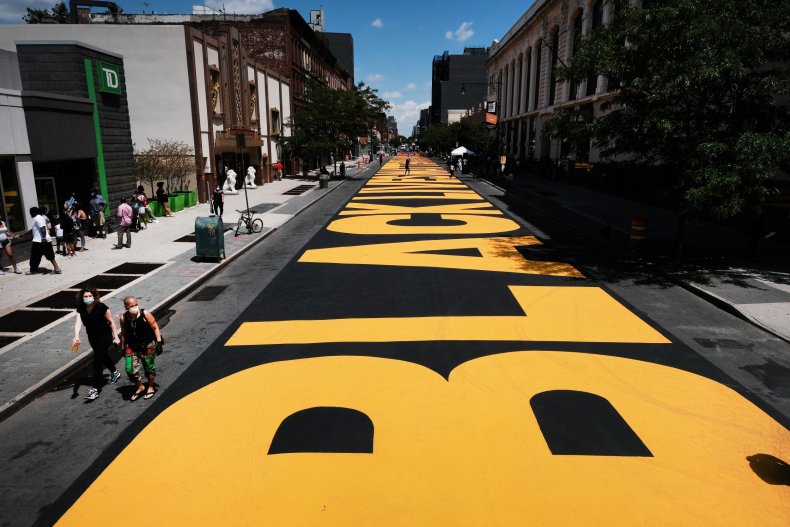 A second incident of a Black Lives Matter mural being defaced was also reported on Wednesday in Park City, Utah.
The Utah mural, which was painted by a local artist, was found altered with the words "Black" and the black power fist that dotted the "I" in lives, covered up with gray paint, according to an SFGate report.
"If we wish to overcome these, we must show courage to look inward, educate ourselves, and hold those around us accountable for their actions, and inaction," Park City Mayor Andy Beerman said in a statement. "We will use this event to further our community dialogue about social inequities."
The mural was one of three painted over the Fourth of July weekend by Samoan-born artist Alijay Fuimano. The other two murals featured the words "Solidarity," "Unity" and "Justicia Para Todos," Spanish for justice for all.
Newsweek reached out to Beerman and the Park City Police Department for additional comment on the incident, but did not hear back before publication.
Meanwhile, a white man and a white woman were charged with allegedly painting over a Black Lives Matter mural in Martinez, California on July 4. David Nelson and Nicole Anderson face three misdemeanor counts of civil rights violation, vandalism, and possession of tools to commit graffiti or vandalism, CNN reported Tuesday.
"The community spent a considerable amount of time putting the mural together only to have it painted over in a hateful and senseless manner," the Martinez Police Department said in a statement.
Other incidents of vandalism have also been reported in Vermont, where three murals were defaced, and in Orlando, Florida where another was vandalized.
On June 30, a Black Lives Matter street mural in Cleveland was painted over with the words, "stop killing each other" and "Black Lives Matter is Marxist."
"This is a beautiful mural, and at the end of the day, we should all be outraged that this person tried to destroy the message of community togetherness," Cleveland City Councilman Blaine Griffin said.