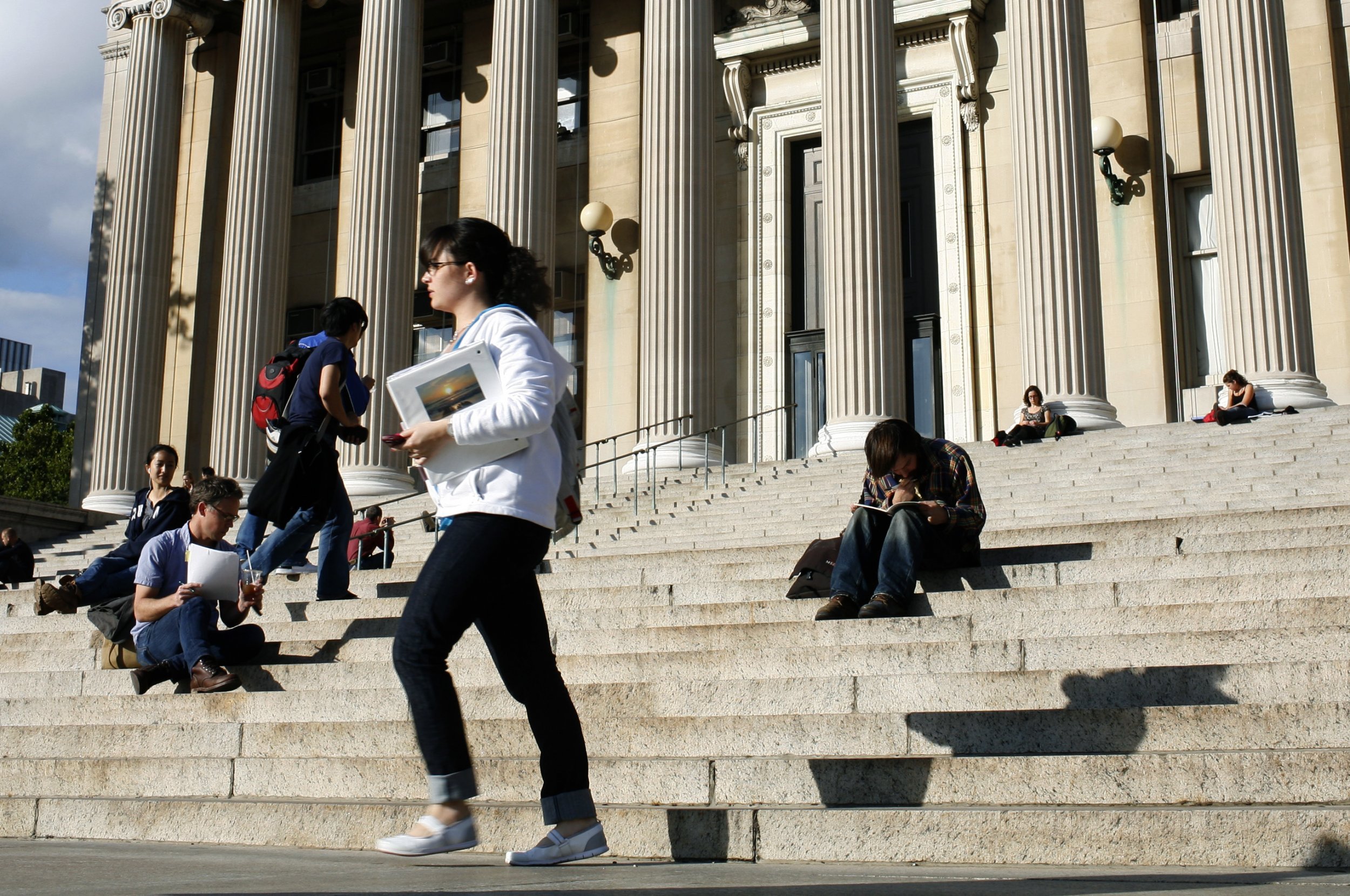 In an attempt to pressure employers to pay interns in accordance with Labor Department guidelines, Columbia University will no longer offer its undergraduates registration credits in exchange for internship experience. The policy takes effect immediately, though the school says it will consider exceptions for students who have already signed on for internships that expect them to be receiving "R" credits, which don't count towards graduation.
"There is no doubt that internships can be valuable experiences for students seeking an introduction to a range of careers and professional cultures," Dean of Academic Kathryn Yatrakis wrote in a campus email obtained by Newsweek. "However, we expect companies to appropriately compensate students for work performed during internships."
The new policy, the email said, is consistent with "many of our peer institutions," as well as the Fair Labor Standards Act.
Indeed, Columbia isn't the only high-profile Manhattan university ramping up its internship regulations this month. NYU tightened its screening process for internships — paid or otherwise — listed on its online jobs board, a move that drew praise from labor activists who view colleges as crucial gatekeepers in the unpaid internship rat race. Columbia's shift, in similar fashion, will discourage for-profit companies from using academic credit as justification to forego compensation — a common enough practice that, in some instances, forces students to pay additional tuition to work for free.
"Columbia's policy change is a giant step forward in changing the unethical practice of allowing college credit to replace paychecks for an intern's work," Christina Isnardi, an NYU student who pushed for those changes, said.
Peter Sterne, a Columbia senior who founded a Tumblr to track which media companies pay their interns, also applauded the decision — both in an op-ed for student blog The Lion and in an interview with Newsweek.
"Whether or not you agree that unpaid internships are illegal or not, I think we can all agree that this idea of providing 'R' credits for unpaid internships really didn't make any sense," Sterne said. "It was really only there to assuage the fears of employers. It was a loophole, a workaround, a fig leaf."
At one internship, he satisfied an employer's terms by providing an advisor's letter confirming he was eligible for the credit, then never followed up to redeem it — not that it would have counted towards graduation anyway. (An "academic internship," by comparison, does count, but requires that students set up an independent study, converting the internship into a research project guided by a faculty member.)
Fittingly, the new policy casts doubt on two baffling employer fantasies: that academic credit poses a legal basis for uncompensated labor — and that it might magically transform a summer spent manning coffee machines into an educational experience.
It also stokes fears that enterprising Columbia students, many of them affluent enough to work wilfully without pay, will find themselves at a disadvantage.
"Many students on campus are complaining that this is hurting them in the short run as they are now eligible for fewer positions," wrote senior Alexandra Svokos in an email. "I understand that stance, but I also hope it incentivizes students to seek out paid internships or to ask for payment from listed unpaid positions. As long as we keep accepting unpaid positions, they are going to continue existing."
Plus, as Columbia hints in its announcement, the policy is not dissimilar from those in place at other Ivy League campuses. Yale and Harvard confirmed that they don't grant academic credit for internships. So did a Dartmouth spokesperson, who told Newsweek that "it really hasn't affected the number of students getting internships."
Meanwhile, some miles south of Columbia's uptown campus, a handful of media companies, including Slate and Vice, quietly began compensating their interns in 2013. As recently as last year, Vice's requirements included a "letter from your school indicating you are receiving academic credit for the internship."
Columbia didn't provide additional comment in time for publication. But Sterne said no one seems to be panicking about the potential downside.
"The people who care about this issue are like, 'Oh, this is good. Columbia is no longer complicit in screwing over students through unpaid internships,'" he said.