15th Century Spanish Statue Restored by Amateur Goes Viral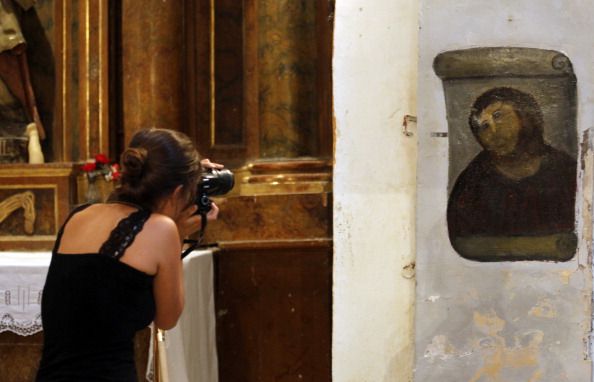 A 15th-century wooden statue, part of a set in a chapel in the Asturias region of Spain, hit the headlines Saturday after a colorful amateur restoriation by a shopkeeper, Maria Luisa Menendez.
The statue features three prominent religious figures: St. Anne, the patron saint of the village of Rañadorio in northwestern Spain, the Virgin Mary and the baby Jesus Christ. Menendez gave them brightly colored robes, with St. Anne in bright red, Mary in a garish pink and the baby Jesus in highlighter green.
Menendez obtained permission from the local Rañadorio clergy to give these centuries-old statues a touch-up. "I'm not a professional painter, but I've always enjoyed it, and these images really were in need of painting," Menendez told El Comercio, a Spanish newspaper. "So I painted them the best I could, with the colors that seemed right, and the neighbors like it."
Residents were quoted by local news outlets defending the restoration, The New York Times reported on Saturday. Others did not share these sentiments.
"Does nobody care about this continued plunder in our country?" ACRE, the Professional Association of Conservative Restauradores of Spain, tweeted on Thursday. "What kind of society allows passive to destroy before their eyes the legacy of their ancestors?"
ACRE's mission statement according to their website is to demand the regulation of the profession" and "promote the intervention of Cultural Heritage from highly qualified educational profiles."
Genaro Alonso, the regional minister for culture and education in the Asturias region, said that the statues look "more like a vengeance than a restoration" the Spanish newspaper La Voz de Asturias reported on Friday.
This is not the first time a classic piece of religious art was botched in an amateur restoration. Someone took it upon themselves to paint over a 16th-century statue of St. George in June, painting over the figure in St. Michael's Church in Estella of northern Spain.
Even earlier, the "ecce homo" fresco of Jesus Christ in 2012 was "restored" by Cecilia Giménez in Borja of northeastern Spain. She wanted to restore it because the original fresco had begun to flake. But her attempt to restore the portrait was so poor that local authorities at first treated it as an illegal act of vandalism. Now, it is a tourist attraction.