The Next Charlottesville Is Descending on North Carolina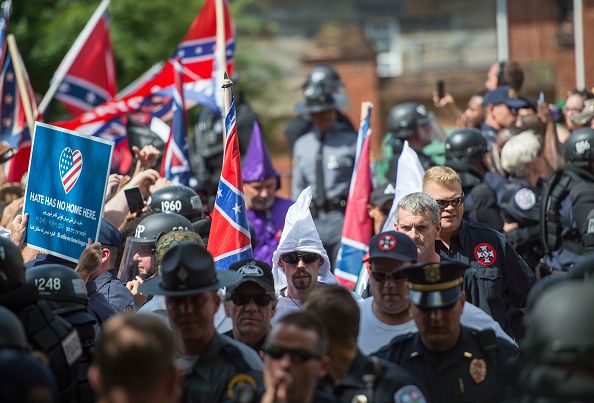 Given the tragic outcome of the so-called Unite the Right rally in Charlottesville, Virginia, in August—a young woman named Heather Heyer was killed after white nationalist protesters clashed with counterprotesters and a man linked to a white supremacist group plowed his car into a crowd of people—residents of Charlotte, North Carolina wouldn't be blamed for being concerned about the array of guests on their way for the holidays.
Three days after Christmas, an event called the March Against Communism is scheduled to include speakers such as white nationalist activist Richard Spencer; Augustus Invictus, a onetime Libertarian Party candidate for Senate from Florida; and a representative of the white nationalist group Vanguard America. The event is being planned by a burgeoning "anti-Communist" organization called Anticom at Marshall Park—and the whole thing sounds a whole lot like a replay of the gathering at Charlottesville.
Spencer was instrumental in promoting the Charlottesville rally, Invictus was a scheduled speaker during the Unite the Right event, and James Fields, the man accused of killing Heyer, was seen protesting there with members or Vanguard America. (The group has subsequently denied that Fields was a member.)
Adding to those similarities, organizers are urging attendees to bring "torches, guns, armor, gear and flags," which sounds eerily familiar to the tactics seen during Unite the Right. This time, though, it's not Confederate monuments the marchers will be circling: Marshall Park is home to a statue of Martin Luther King Jr. and a Holocaust memorial.
Anticom's organizational structure is primarily online, and it is anonymous by nature. The group is active on social media and on Discord, a popular freeware app designed for gamers—and the same online location where neo-Nazi and white supremacist accounts allegedly geared up for a fight at Charlottesville. On Discord, a self-identified group spokesperson told Newsweek about its stated purpose and its desire to keep organizers from being doxed, which means having their identities leaked to the public.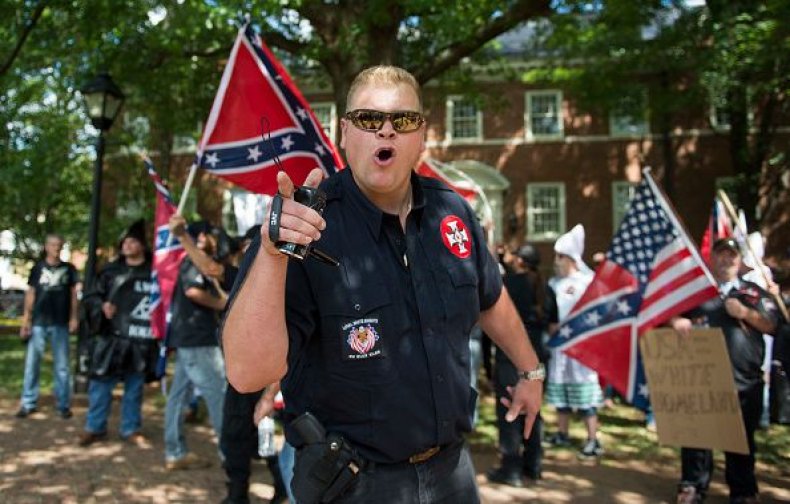 "Anticom is an organization that aims to help raise awareness of and confront Communist ideologies," the spokesperson, who asked not to be named, said. "We aren't ideologically oriented," except for its requirement that members be right-leaning.
The spokesperson claimed the rally is supposed to represent a unified stance against Communism, and denied any relationship between the event and white supremacist views, despite the lineup of speakers. He said Anticom wants to avoid a repeat of the violence that took place in Charlottesville.
"We chose [North Carolina] carefully for that reason, watching previous rallies and paying attention to when and how police intervene," the spokesperson wrote to Newsweek via the app. "We originally were going to have it indoors at a private venue in order to eliminate any possible chance of fights breaking out, but we were denied."
The city of Charlotte requires scheduling and reservations for protests, and the Anticom spokesperson said on Tuesday, "As for the permit, it's been applied for today, but we've spoken with the city and they've informed us that only a permit for the electronic speakers is necessary." Police told the Charlotte Observer that they're aware of the march, but they did not comment on whether the gathering was yet sanctioned by law enforcement.
The Anticom spokesperson described the presence of the Holocaust memorial and the Martin Luther King Jr. statue in the park as "incidental," saying they had nothing to do "with our goals or speaking points."
"The [selection of Marshall Park] was a direct consequence of being denied by all venues with a sizable seating capacity," the spokesperson said.
Counterprotests against the march, like the ones that took place in Charlottesville, are already in the planning stages. A Facebook event called Charlotte Against Racism/White Supremacy warns, "Racists will convene on Marshall Park and take to the streets of Charlotte as they did in Charlottesville." It urges people to stay tuned for ways to oppose the rally.
Jibril Hough, 50, a veteran activist from the city, created the counterprotest event. He told Newsweek he rejects the stated premise of the March Against Communism. "We don't have a problem with Communism here in Charlotte, North Carolina," Hough said. "What we do have a problem with is racism."
(A Facebook page for the Communist Party of North Carolina has a little more than 2,000 likes. For context, the state's Democrat and Republican parties have over 30,000 likes each.)
Some white supremacists also oppose the rally. Weev, an infamous neo-Nazi Twitter troll who was recently suspended from the social networking site Gab over a post that threatened Jews, took to his blog to criticize the suggestion to bring guns to the event, as online flyers recommended.
"What is [Richard] Spencer's end goal?" Weev wrote. "Apparently, by trying to get some of your fool asses killed."
Anticom responded to Weev through its Twitter account, writing, "Don't bring guns/gear until we have specifics from the police." The ads for the event also urge attendees to be "non-violent."
Other white nationalists are enticed by the prospect of the rally. Billy Roper, a white nationalist organizer, told me he expects to attend the event along with ShieldWall Network, a group that aspires to radicalize conservatives to white nationalist politics.
Hough, who claims to have gotten a strong response from people who oppose the event, asked that white supremacists reconsider coming to Charlotte.
"They're not welcome here," Hough said of his city. "Those who seek to spread racism and white supremacy—it's not reflective of who we as a city aspire to be."