Another Democrat, Wooed by Republicans, Likely to Oppose Impeachment
Minnesota Democrat Collin Peterson has declared that he is leaning towards voting against the impeachment of President Trump, declaring that he doesn't think that senate Democrats have enough evidence on their side to warrant the trial.
He added that the likelihood of the Republican-controlled senate impeaching the president seems relatively low, and the process is just dividing the country.
While he admitted he'd been approached to join the Republican party, he said he'd be staying a Democrat.
"I'm staying in the party, in spite of some of the stuff that's going on that I don't agree with, I am not going to switch parties at this stage of my career, " said Peterson to KVRR. Peterson has been a congressman since 1991. He has not yet announced whether he's running for another term.
"There have been overtures by the highest levels of the Republican party in the last couple weeks to ask if I would consider it and I told them no."
The potential of switching parties over impeachment is similar to the case of Jeff Van Drew from New Jersey. Van Drew announced that he would vote against impeachment on Wednesday, and that he was leaving the Democratic Party to join the Republicans. Van Drew is the only Democratic representative to have confirmed he's voting against impeachment.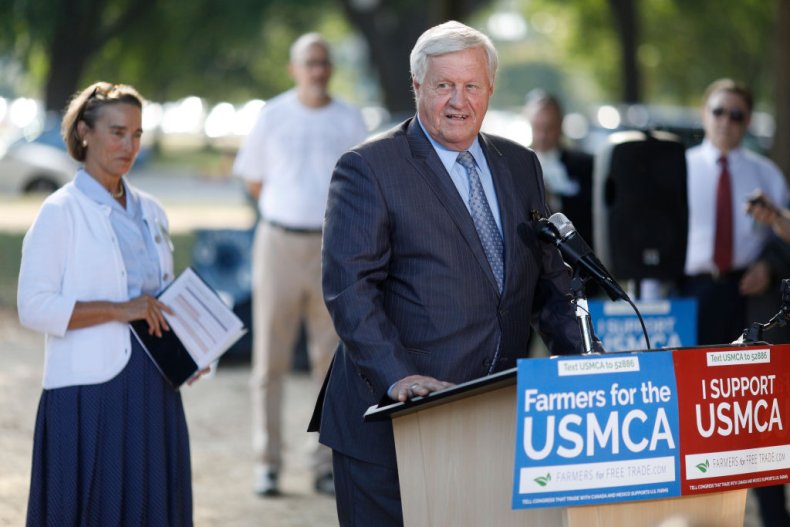 While Peterson and Van Drew struggle with party principles, many Democrats are willing to vote for impeachment even if their seat might be at risk during the next election.
Elissa Slotkin of Michigan, Jason Crow of Colorado, Joe Cunningham of South Carolina, Ben McAdams of Utah, Andy Kim of New Jersey and Abigail Spanberger of Virginia all announced Monday they will vote for impeachment. This group joins Conor Lamb of Pennsylvania, Lucy McBath of Georgia, Susie Lee of Nevada, Tom O'Halleran of Arizona, Max Rose of New York and Greg Stanton of Arizona, who previously announced they will vote for impeachment.
Republicans continue to fight the impeachment charges, devoting $10 million to an anti-impeachment ad campaign.
President Trump remains under fire for allegedly asking Ukrainian President Volodymyr Zelenskiy to commit to a "quid pro quo" trade with America during a July telephone call. Trump is said to have threatened to withhold military aid that had already been approved unless Zelenskiy provided the president with information on the dealings of former Vice President Joe Biden and his son Hunter with the Ukrainian gas company Burisma.
The president is currently undergoing an impeachment hearing in connection with these allegations.
"It's a scam. It's something that shouldn't be allowed," President Trump said during a press conference at the White House. "And it's a very bad thing for our country, and you're trivializing impeachment. And I tell you what, someday there will be a Democrat president, and there will be a Republican House."