A Georgia school that gained widespread media attention last week after one of its students shared a photo of a crowded hallway online is now temporarily closed after a handful of coronavirus cases were reported among students and teachers. The closure came less than 10 days after students returned to begin the 2020-2021 school year.
North Paulding High School, in the Georgia city of Dallas, is one of 33 schools within the Paulding County School District, located slightly northwest of Atlanta. Of the 20,000 students who returned to school for in-person instruction last week, 2,000 attend the high school, the district's superintendent, Brian Otott, said during its Board of Education meeting on Tuesday. Some students are already enrolled in the district's virtual learning programs, and others who are interested in switching to remote instruction can apply to do so, according to the district's website.
At least nine people at the high school have tested positive for the virus since the school year began, according to a letter Otott sent to parents on Sunday, which The Atlanta Journal-Constitution obtained. Six of those cases were reported in students and three in teachers, the paper reported.
The school closed on Monday and Tuesday for cleaning as school officials contacted the positive-testing individuals to determine who else among their close contacts may be infected with the virus.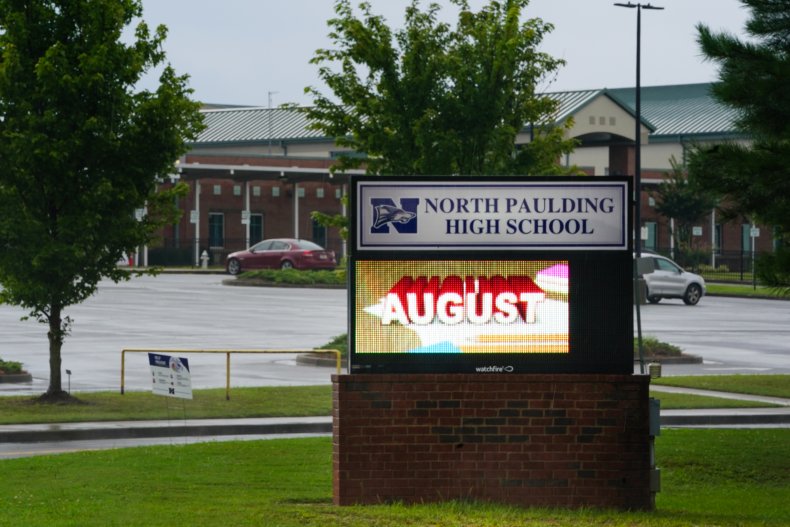 "The district will consult with the Department of Public Health to assess the environment and determine if there are any additional close contacts for confirmed cases who have not already been identified," Otott's letter said.
The district decided to keep the school closed for a third day and said during Tuesday's board meeting it will be releasing a reopening plan on Wednesday.
On Tuesday, state health officials reported a total of 222,588 virus cases and 4,351 deaths throughout Georgia, with 1,744 cases and 23 deaths reported in Paulding County. According to the Georgia Department of Public Health, more than 10,000 cases have been reported in children ages 10 through 17, and fewer than 5,000 cases have been reported in those ages 5 to 9. The 18-to-29 age group has the greatest number of confirmed cases within the state, with just under 55,000 reported.
The Paulding County School District doesn't yet have a COVID-19 database available to the public, but Otott said one is coming by the end of this week and will be available to students, parents and members of the public by Friday evening. The Cherokee County School District, which is home to another high school that went viral last week after a student shared a photo of a group of students gathered together without wearing masks or practicing social distancing, already has a COVID-19 database it shares publicly. The district has so far required more than 850 students and teachers to quarantine for either testing positive for or being exposed to the virus.
Administrators in the Paulding County School District work with state health officials to identify any close contacts of students or teachers who test positive for the virus, Otott said during Tuesday's board meeting. Those who either test positive or are identified as close contacts are required to quarantine for 14 days, he said.
Newsweek reached out to the Paulding County School District for comment but did not receive a response in time for publication.