Another heat wave is heading for California, increasing the potential for brush fires as thousands of acres already burn in the Golden State.
The National Weather Service (NWS) on Tuesday issued an excessive heat warning to Southern California residents starting Wednesday morning and lasting through Monday evening next week.
In Hanford, temperatures could rise to 117 degrees in the Indian Wells Valley and Kern County Desert. The valleys of San Diego could experience temperatures up to 116 degrees on the hottest days.
Nights will also be warmer than normal, with some locations not falling below 80 degrees at night.
This will bring an increased risk for heat-related illness and elevated fire weather conditions, the National Oceanic and Atmospheric Administration warned. The NWS cautioned residents to drink plenty of fluids, stay in air-conditioned rooms and out of the sun.
High pressure will gradually build over Los Angeles throughout the week, leading to rising temperatures each day, the NWS said Tuesday. The warmest days will likely be Friday through Sunday. Antelope Valley and interior San Luis Obispo County could see temperatures rise to 112 degrees.
The NWS Los Angeles office said there is an increased potential for brush fires across interior areas.
The California Department of Forestry and Fire Protection (Cal Fire) said four active wildfires are of interest at present: the Lava Fire, the Tennant Fire, the Tumbleweed Fire and the Ysabel Fire.
The two largest fires are burning in Siskiyou County, one of the northernmost parts of the state.
The Lava Fire has burned 25,000 acres since it started on June 24. As of Monday, the blaze was 71 percent contained. The Tennant Fire has burned 10,541 acres in the week since it began and is 53 percent contained, according to Cal Fire's latest update.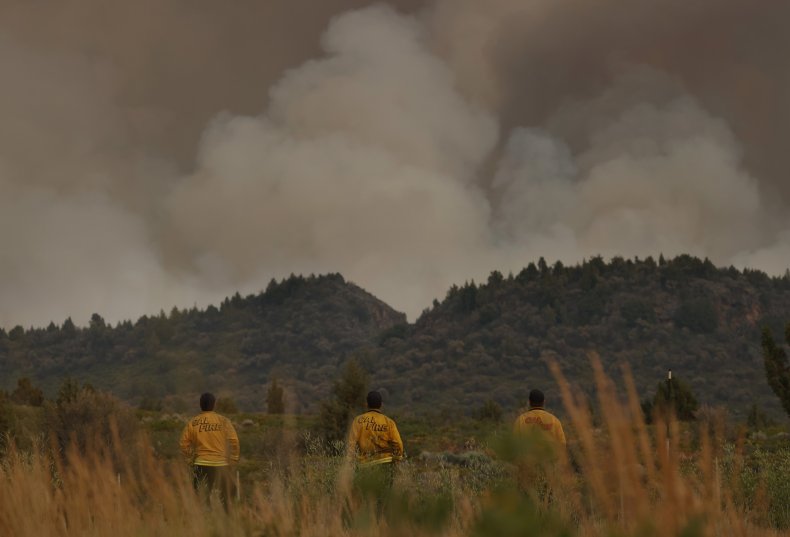 The Tumbleweed blaze has scorched 1,000 acres in Los Angeles County after breaking out over the Fourth of July. As of Monday, Cal Fire said, the Tumbleweed fire was 50 percent contained.
The Ysabel Fire in San Diego is the smallest blaze, burning 173 acres since July 3. It's also the most contained fire of the four, at 90 percent.
As of Tuesday, Cal Fire reported that 31,869 acres have been scorched in 4,152 incidents so far this year.
California shattered records last month with its first major heat wave of the year. Palm Springs hit 123 degrees, equaling its highest recorded temperature. Sacramento set a new daily record of 109 degrees. Thermal, west of Joshua Tree National Park, set a record with 118.
Newsweek reached out to the NWS for comment on the upcoming heat wave but didn't receive a response before publication.