Another Palestinian Protester Dead After Israel 'Land Day' Gaza Border Killings
A Palestinian wounded during protests on the Gaza-Israel border has died of his injuries, bringing the total death toll in confrontations that began on March 30 to 20 people.
Reuters reported Palestinian health ministry officials said the protester died of his wounds on Friday.
Hundreds of Palestinians have reportedly arrived at the Gaza border ahead of protests planned for Friday, the Muslim day of rest. Protestors are calling for the right of return for refugees and their descendents who fled or were forced to leave their homes after the creation of Israel in 1948.
Israel has ruled out any right of return, fearing that a mass movement of Palestinians across the border could make Israeli Jews a minority in the country.
Sixteen Palestinians were killed by Israeli fire on the first day of the clashes and another four have died over the past week. The Israel Defense Forces (IDF) says its troops have only targeted people trying to damage the border fence or attacking IDF soldiers with rocks and burning tires.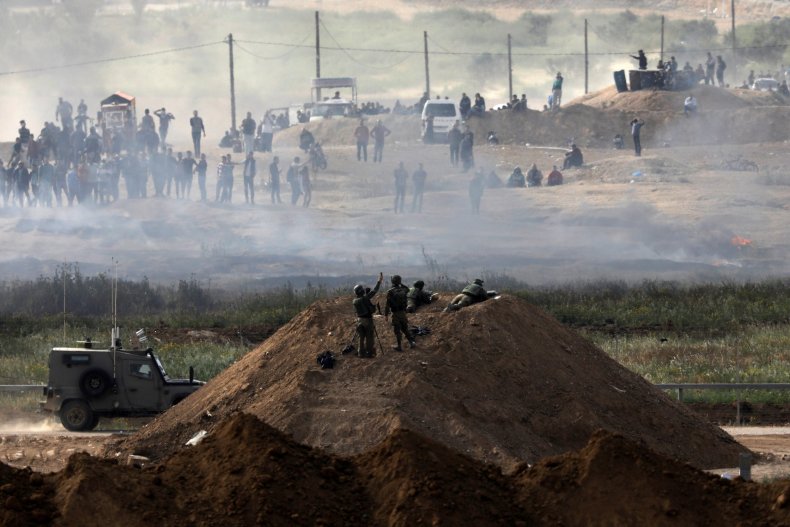 Friday is expected to be the largest single demonstration since the first day of the confrontation when most of the deaths occurred, and the IDF is preparing for as many as 50,000 people to attend.
Protesters have been erecting tents and collecting thousands of tires to be burned in preparation for what they have dubbed "The Friday of Tires." Demonstrators are also planning to use mirrors and laser pointers to distract and confuse Israeli snipers, Reuters said.
Hamas said it will pay $3,000 to the family of anyone killed in the protests, $500 for critical injuries and $200 for minor injuries. Israel argues that such an offer is only encouraging more violence.
The chief spokesman for the IDF, Brigadier-General Ronen Manelis, warned on Thursday that Israel expects Hamas —the Islamist group that controls the Gaza Strip—to attack its troops during the protests and that Israel would respond aggressively.
"We have no interest in harming women and children who are protesting. They are not our enemies," Brig. Gen. Manelis said. "We have one intention, not to allow terrorist attacks against our civilians and troops on the other side of the fence."
Visiting the order on Thursday, Israeli Defense Minister Avigdor Lieberman said that troops would not hesitate to open fire again if they deemed it necessary. "The rules of the game clearly and we do not intend to change them," he said. "Anyone trying to approach the fence is putting their lives at risk."
An IDF spokesperson encouraged Palestinian women to avoid the protests and set a good example for young Gazans. A Facebook post by Avichay Adraee said Palestinian women attending the protest would be acting "in a barbaric fashion."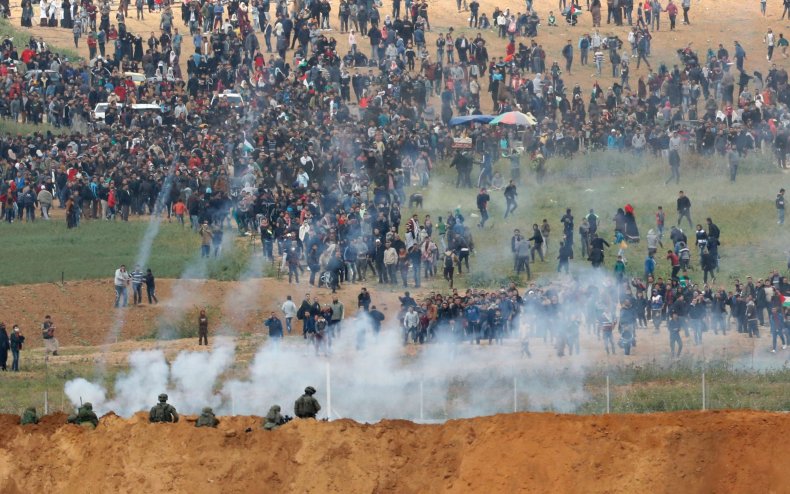 The international community has voiced its concern over the past week's violence. In a statement on Thursday, U.N. Secretary-General Antonio Guterres said, "I particularly urge Israel to exercise extreme caution with the use of force in order to avoid casualties. Civilians must be able to exercise their right to demonstrate peacefully." Last week, Guterres called for an "independent and transparent investigation" into the March 30 deaths.
A Human Rights Watch report alleged that the IDF used "lethal force outside of life-threatening situations in violation of international norms," and accused the Israeli government of giving orders that all but guarenteed casualties.
The U.S. has avoided condemning Israel, instead criticizing those organizing the protests. On Thursday, President Donald Trump's Middle East peace envoy Jason Greenblatt condemned Palestinian leaders "who call for violence or who send protesters—including children—to the fence, knowing that they may be injured or killed."
The protests will end on May 15 with the anniversary of the "Nakba," meaning disaster or catastrophe in Arabic, when Israel marks the 70th anniversary of its founding in 1948.