Another Reported Nazi Salute Inside Public School Prompts Calls for Action
A Toronto middle school is facing calls for change after students allegedly performed a Nazi salute during class last week.
Last Thursday, two students allegedly climbed up onto a filing cabinet to perform the salute, while a third student yelled, "Heil Hitler," from his desk in front of their Jewish teacher and classmates, the Friends of Simon Wiesenthal Center (FSWC) wrote in a statement.
The incident comes after Jewish groups and leaders have recently sounded the alarm over growing concerns about antisemitism.
Antisemitic graffiti was also discovered at the school last Thursday—and in the weeks leading up to the incident, according to the statement. The teacher, who spoke with the FSWC, remains "deeply traumatized," according to the statement.
Michael Levitt, FSWC president and CEO, wrote in the statement that the incident is "particularly horrifying" and called for change in Toronto schools.
"Antisemitism has reached epidemic proportions at TDSB, and it is time for the Board to recognize this as the crisis that it is," he wrote. "It is unfathomable and shocking that, in 2022, a Jewish teacher is faced with Nazi salutes and a 'Heil Hitler' chant in her classroom. Clearly, something is broken in Toronto's public school system and requires immediate attention."
In a letter sent to parents, Valley Park Middle School Principal George Bartzis described the incident as "very upsetting and unacceptable."
During the first week of March, students and staff will be engaging in a presentation hosted by the organization Carrying Testimony, a 45-minute presentation that features a child of a Holocaust survivor, highlighting its history and allowing students to ask questions.
"On behalf of Valley Park Middle School, we acknowledge and regret the harm this incident caused to members of our school community and to our shared school climate. We are committed to the work of intentionally identifying, interrupting, and addressing racism and discrimination in our school, with a focus on antisemitism," Bartzis wrote.
Toronto District School Board spokesperson Shari Schwartz-Maltz told Newsweek Tuesday afternoon that while there will be consequences for the students, "Our responsibility as the school board is education."
"It's incumbent on us—not just in response to antisemitic episodes, but proactively," she said.
After educational programming following past antisemitic incidents, students who used Nazi imagery "almost always" say they only did so because they did not have a full understanding of its history, she said.
She said antisemitism occurring in schools is "the worst we've ever seen it" and the school board is working on plans to implement as soon as next week to include more proactive lessons on the antisemitism.
"It's extremely distressing and hurtful and bad, but we've been very good as a board at bringing in strong educational services into school," she said.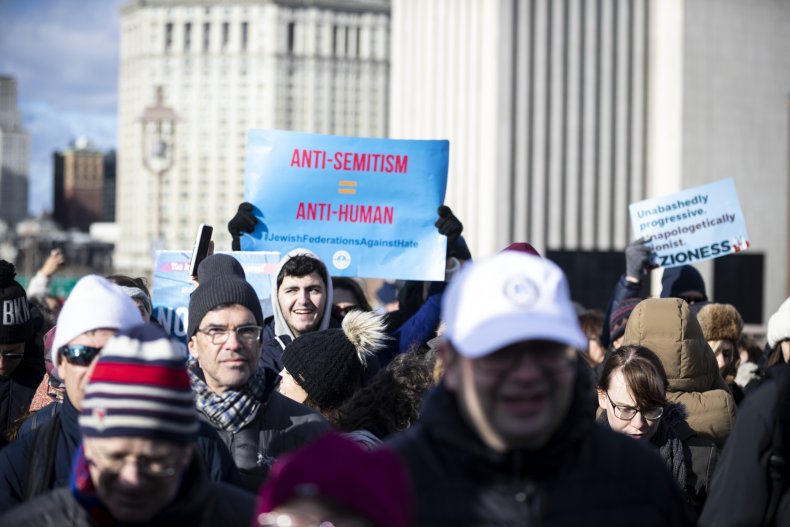 Since schools returned from winter break, there have been several other occurrences of anti-semitism in Toronto schools. At Charles H. Best Middle School, a group of students also performed a Nazi salute in front of a Jewish classmate. About one week later, another group of students constructed a swastika out of construction paper.
Schwartz-Maltz told CTV News earlier in February: "When kids see things like Nazi flags unfurled at protests unfortunately it begins to normalize and without education they don't know better and we need to teach them."