Another Republican Senator in Quarantine After COVID Exposure
U.S. Senator Ron Johnson (R-Wis.) went into quarantine Thursday after being exposed to a person with COVID-19.
Johnson tested negative for the virus on Wednesday, but due to a potential 14-day incubation period will remain in quarantine until the end of September. The senator called off plans to accompany President Donald Trump to a Mosinee, Wisconsin campaign rally after learning he had been exposed.
"Sen. Johnson was informed today that he was exposed to someone on Monday who has tested positive for covid-19," Ben Voelkel, Johnson's spokesman, said in a statement obtained by Newsweek. "Sen. Johnson is experiencing no symptoms, but was tested late Wednesday because he was scheduled to travel with the President today."
"Sen. Johnson tested negative, but he has been placed in quarantine until September 29," Voelkel added. "Sen. Johnson will not be traveling with the President or attending the event in Mosinee tonight."
Johnson was present on the Senate floor on Wednesday, where he defended himself against charges of partisan election interference for his investigation into the Ukrainian business dealings of Democratic presidential nominee Joe Biden's son Hunter Biden. Senator Mitt Romney (R-Utah) said that the investigation, which is expected to be finalized and released within days, "had the earmarks of a political exercise."
Johnson did not go into quarantine after potentially being exposed to the virus during a March 2 meeting with a Spanish member of parliament who later tested positive, according to C-SPAN's Craig Caplan.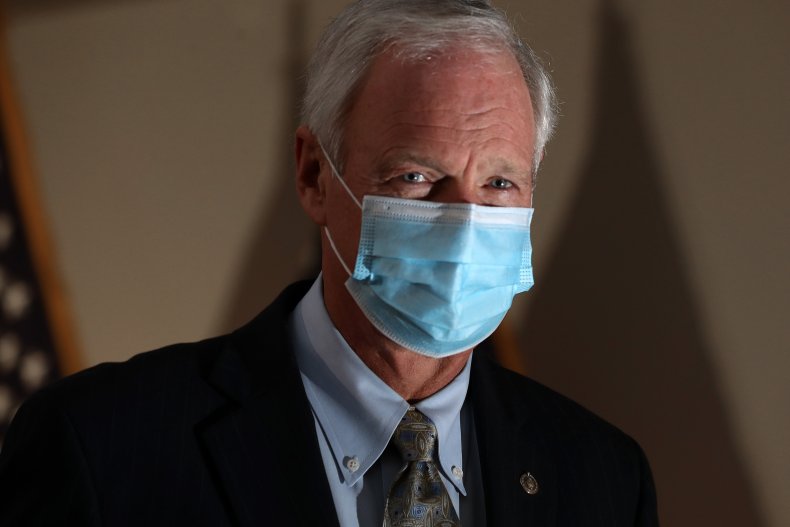 One of Johnson's Republican colleagues, Senator Shelley Capito of West Virginia, entered quarantine on Tuesday after being exposed to a person with COVID-19, according to The Hill. She also tested negative for the virus but will remain in quarantine for 14 days.
At least 10 other Republican senators have gone into quarantine after being exposed, beginning on March 8 with Senator Ted Cruz of Texas. Two GOP senators have recovered after testing positive for the virus, Rand Paul of Kentucky and Bill Cassidy of Louisiana.
Two Democratic senators, Tim Kaine of Virginia and Bob Casey of Pennsylvania, tested positive for antibodies that indicate that they were infected at some point.
In the House of Representatives, 14 members have received positive test results, including 9 Republicans and 5 Democrats. At least 40 more have gone into quarantine after being exposed, including 26 Democrats and 14 Republicans.
On Wednesday, multiple White House staffers were reported to have tested positive. Robert O'Brien, Trump's national security adviser, was diagnosed with COVID-19 in July. Others in close proximity to the president who have tested positive include his personal valet and Katie Miller, press secretary to Vice President Mike Pence and the wife of Trump adviser Stephen Miller.
Another Republican Senator in Quarantine After COVID Exposure | News