Smithfield Foods has closed another meat-processing plant amid the coronavirus pandemic, the company's fifth facility to discontinue operations this month as a result of the illness.
According to Smithfield, a significant supplier of the global meat market, the company has stalled production on a rolling basis since April 19 "out of an abundance of caution" for employees of its St. Charles, Illinois, facility.
"The St. Charles dry sausage facility employs approximately 325 team members who will be paid during the temporary closure. Smithfield is taking this action out of an abundance of caution for its employees in St. Charles amid the COVID-19 pandemic," the company said in a statement to Newsweek. "The rolling closures will be executed as follows: No raw materials will be received from April 19 to May 2. Two of three departments will close April 22 to May 3. One remaining department will close from May 7 to May 19."
A recent report from ABC Chicago cited claims from an anonymous staff member's family that estimated there were at least 19 positive cases connected to the establishment. Smithfield did not say in the report if any of its St. Charles employees had been infected by the virus, due to privacy concerns.
The plant suspended operations entirely on Friday in accordance with a mandate from local health officials in Kane County, Illinois.
"The order temporarily closes the facility so that the health department can work with the company in mitigation efforts as well as providing education relative to social distancing and employee safety relative to personal protective equipment (PPEs)," Kane County Health Department explained in a statement shared to its website on Saturday.
The St. Charles plant's temporary closure was instituted around the same time Smithfield closed its Monmouth plant, located almost 200 miles southwest near the border of Illinois and Iowa. In a press release also issued Friday, Smithfield said operations at the Monmouth facility would be suspended "until further notice" starting this week. The decision came in response to what the company described as a small number of COVID-19 cases diagnosed among the plant's 1,700 employees, who will continue to receive pay despite halted production.
Smithfield has closed three additional facilities since the beginning of April, after employees at several plants across the Midwest tested positive for the new coronavirus. The first was implemented at its Sioux Falls, South Dakota, plant, one of the largest pork-processing units in the United States. Warning of a possible shortage ahead regarding the nation's protein supply—the Sioux Falls site produced upwards of 100 million food servings per week, according to its parent company—Smithfield's CEO Ken Sullivan announced the closure on April 12, following confirmation that hundreds of the facility's employees had contracted the virus.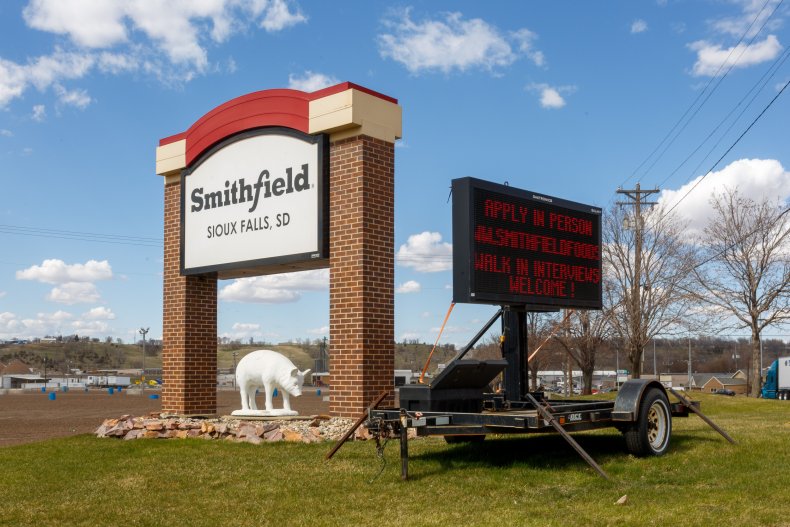 Plants in Martin City, Missouri, and Cudahy, Wisconsin, closed a few days later due to coronavirus cases identified among staff at both locations. According to an April 15 statement from Smithfield confirming both closures, the Cudahy plant was scheduled to defer operations for a fixed 14-day period in an effort to prevent further transmission. Its Martin City plant will remain closed indefinitely, as the facility receives its raw materials from Sioux Falls and cannot continue operations in the absence of supply. Smithfield said Martin City and Cudahy employees would be compensated for two weeks into the plants' respective shutdowns. It offered the same to 3,700 employees at Sioux Falls.
Smithfield is also facing a civil lawsuit filed by advocacy group Rural Community Workers Alliance on behalf of employees at a different Missouri plant, who said they had not received adequate personal protective equipment amid crowded working conditions. The lawsuit was filed in Missouri federal court on Thursday.
Addressing worker safety in Smithfield's press release ahead of closures at Cudahy and Martin City, Sullivan said: "We are doing everything in our power to help protect our team members from COVID-19 in the workplace. This starts with stringent and detailed processes and protocols that follow the strict guidance of the CDC and extends to things like the use of thermal scanning, personal protective equipment and physical barriers, to name a few."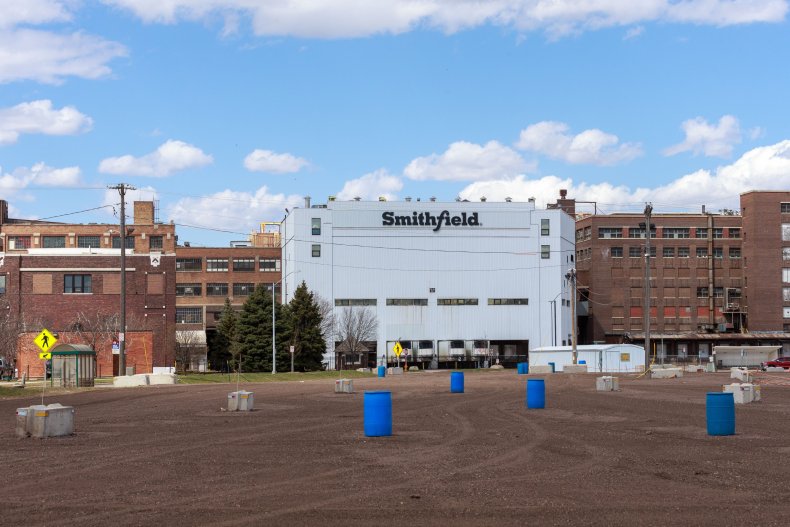 Sullivan's statement went on to note continued threats to protein distributors, saying the closure at Martin City was part of a "domino effect" taking place across the industry.
"Without plants like Sioux Falls running, other further processing facilities like Martin City cannot function. This is why our government has named food and agriculture critical infrastructure sectors and called on us to maintain operations and normal work schedules," he said. "For the security of our nation, I cannot understate how critical it is for our industry to continue to operate unabated."