Another Soldier Dies at Fort Hood, Marking 28th Death There This Year
A 25-year-old Fort Hood soldier from New Mexico died on Wednesday after collapsing during training last week.
The soldier, whom Fort Hood officials identified as Pvt. Corlton Chee, is the 28th to die at the Army base in Texas this year, according to records obtained by the Associated Press.
"Our team is devastated by the loss of Pvt. Chee," Lt. Col. Ron Sprang, the commander of the 2nd Battalion 12th Cavalry Regiment, said in a news release announcing Chee's death. "Corlton was an amazing Trooper and so full of life and potential."
Fort Hood officials shared the news of Chee's death on Friday.
Chee was from Pinehill, New Mexico, and joined the army in February, the base's news release said. He joined the 2nd Battalion, 12th Cavalry Regiment, 1st Armored Brigade Combat Team, 1st Cavalry Division in July and was awarded the National Defense Service Medal and the Army Service Ribbon during his time in the army, Fort Hood officials said.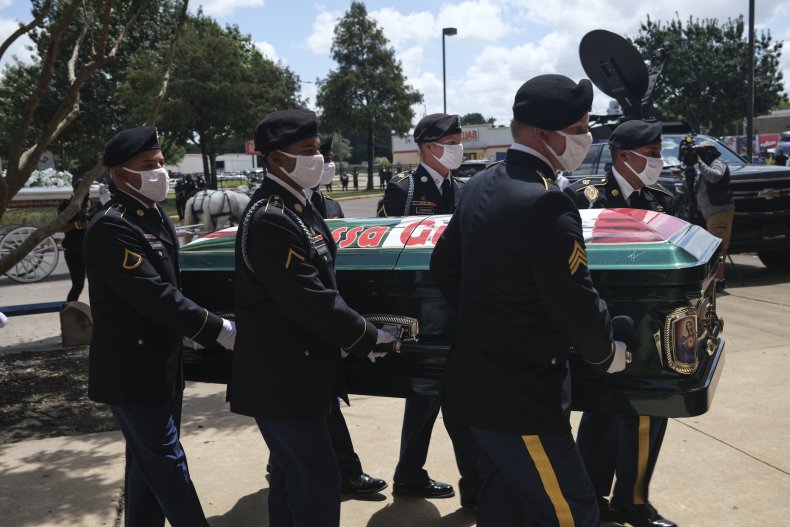 Chee was involved in fitness training on August 28 when he collapsed, according to the release.
Officials took Chee to the nearby Carl R. Darnall Medical Center following his collapse, where he stayed for two days until he was transported one more time to a medical center in Temple. Chee stayed at the medical center from August 30 until his death on Wednesday, the release said.
Fort Hood officials said in the release that members of Chee's family were with him at the time he died.
"Every loss [affects] every single person in this Battalion because we [are a] family of warriors, but this is exceptionally heartbreaking," Sprang said in the release. "The entire Thunderhorse team sends our condolences to his family members and friends. Our thoughts and prayers are with them during this difficult time."
Fort Hood officials said Chee's death is under investigation and that an autopsy is expected to be performed by the Southwestern Institute of Forensic Sciences in Dallas County.
Newsweek reached out to Fort Hood officials for further comment, but did not receive a response in time for publication.
Fort Hood drew media attention earlier this year as news spread about the disappearance of Vanessa Guillen, a solider whose remains were later found and positively identified. Over the summer, Fort Hood officials confirmed multiple other solider deaths, including one soldier who also went missing before authorities found his body.
On the day that Chee was transported to the medical center in Temple, an independent review committee that is comprised of five civilians began a "two-week fact-finding mission" to assess the "command climate and culture" at Fort Hood. The goal of the committee's visit is to "determine whether they reflect the Army's commitment to safety, respect, inclusiveness, diversity, and freedom from sexual harassment," according to a Fort Hood news release.
The committee is expected to conclude a review of its findings to present to the secretary of the Army by the end of October.