Is Another Stimulus Check Coming? Sanders, Republican Senator Fight for Direct Payments
As legislators attempt to move a bipartisan relief package through Congress, an unlikely team—Senators Bernie Sanders and Josh Hawley—are pressing legislators to expand the package to include another round of stimulus checks.
The clock is ticking for legislators to pass another relief package before they leave for the rest of the year and on Monday, legislators proposed a new $748 billion bipartisan, bicameral proposal. It includes another round of the Paycheck Protection Program and expanded unemployment insurance, but Hawley and Sanders criticized it for failing to provide struggling Americans with a direct payment.
"I don't get why so-called 'emergency relief' packages for COVID-19 don't include direct assistance to working families. Working people waiting in food lines & unable to make rent is not an emergency?" Hawley posted on Twitter Tuesday morning.
In March, Democrats and Republicans unanimously passed the Coronavirus Aid Relief and Economic Security (CARES) Act, which provided $1,200 direct payments to eligible individuals. That same action is needed now, Sanders said in a Monday statement and called for Congress to stay in Washington, D.C., until legislation with stimulus checks is passed.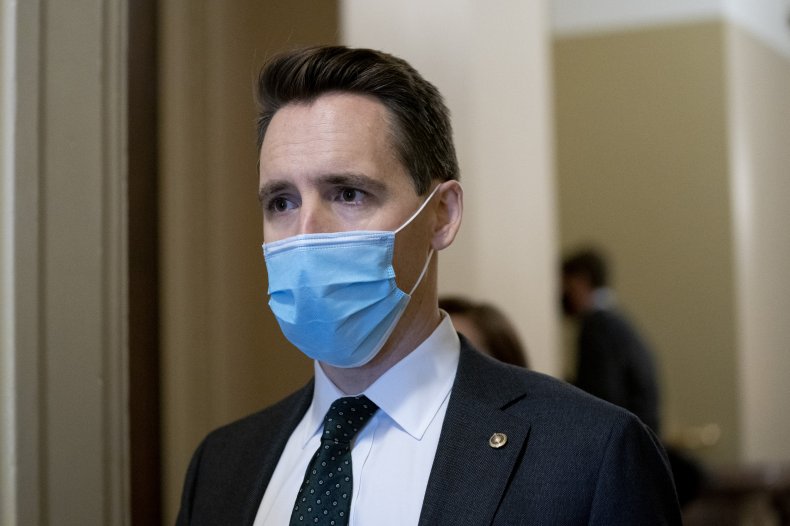 On Thursday, Sanders, an independent who caucuses with Democrats, and Hawley, a Republican, introduced an amendment that mirrored payments in the CARES Act. Under the amendment, eligible individuals would receive a $1,200 payment and those filing a joint return would receive $2,400. An additional $500 payment would be available for each child.
The payments would give working families the "urgent, direct support they need to survive," Sanders said in a statement, and help "desperate families" pay rent and bills and put food on the table.
Earlier that day, Hawley introduced the Emergency Direct Payments for Families and Workers Act, a standalone stimulus check bill. Payments, eligibility standards and income thresholds would be identical to the CARES Act.
"If Congress doesn't pass relief legislation with direct payments in it by next week, I will go to the Senate floor to demand a vote on my legislation," Hawley said in a statement.
The $748 billion package proposed on Monday was part of a larger $908 billion bipartisan proposal that was unveiled on December 1. In an effort to pass relief in a timely manner, legislators broke the $908 billion proposal into two parts, separating the most controversial provisions—aid for state and local governments and liability protections—from the areas of agreement.
This gives Congress the ability to vote for the two sets of provisions separately, potentially increasing the possibility of passing the measures in the $748 billion package.
Noticeably absent from both parts of the $908 billion package is another round of stimulus checks. Democratic legislators wanted to include stimulus checks in the package, according to Senator Joe Manchin, but at a price tag of about $290 billion, it wasn't feasible to do direct payments and unemployment while keeping the overall cost low for Republicans.
"To say that we only have X amount of dollars and I'm going to send checks to people that still have a job, still have a paycheck coming in—but I'm going to ignore and not help the people who are still unemployed or becoming more unemployed because this pandemic is ravaging—I don't think that makes any sense to anybody," Manchin told CNN's New Day on Wednesday.
The White House put forth a plan of its own at the same price point but swapped the expanded unemployment aid that was in the bipartisan proposal for stimulus checks. It's an exchange Democratic legislators weren't interested in endorsing, but if Congress were able to pass a bill for stimulus checks, it would likely get the approval of President Donald Trump.
During a Fox News interview that aired Sunday, Trump said he wants direct checks "for more money than they're talking about" being sent to individuals. Trump made similar remarks in October, posting on Twitter that he would sign a standalone bill for stimulus checks "right now" and would send them out to people "immediately."
Even if Congress is able to pass a relief package that includes stimulus checks or a standalone bill, it's unlikely people would receive payments in time for Christmas. However, based on a timeline Treasury Secretary Steve Mnuchin gave in August, it's possible some people could see a payment before the end of the year.