Negotiators have failed to overcome an impasse to pass a bipartisan economic stimulus package before Election Day, and the likelihood that they will accomplish such a feat during the upcoming lame-duck session of Congress appears bleak.
The stalemate persists, even with a sizable third-quarter rebound in the nation's gross domestic product. The economy remains below pre-coronavirus levels and is not expected to climb out of a recession anytime soon.
Democrats say there are still more than a half-dozen unresolved issues for another relief bill. For the most part, these are the same disagreements that have kept House Speaker Nancy Pelosi and Treasury Secretary Steven Mnuchin from striking a deal for several months, including unemployment insurance, state and local aid, and a coronavirus testing and tracing regimen.
There were growing signs on Thursday that negotiations were treading water—barely afloat but making little to no progress toward the finish line. Pelosi poured cold water on the idea that Democrats might now accept a relief package that is smaller than their $2.2 trillion demand and then dole out more aid when—and if—Joe Biden takes office in January.
"We're not talking size. We're talking quality," the California Democrat told reporters. "And we are not going to take a small bill that had the fault of forcing funds to the richest people in America while questioning the integrity of people on unemployment insurance."
Translation: Unless Mnuchin comes up from his $1.9 trillion offer and the two can reconcile their differences, Democrats are likely to hold out for the duration of the lame-duck session until the new year, especially if Biden wins the election.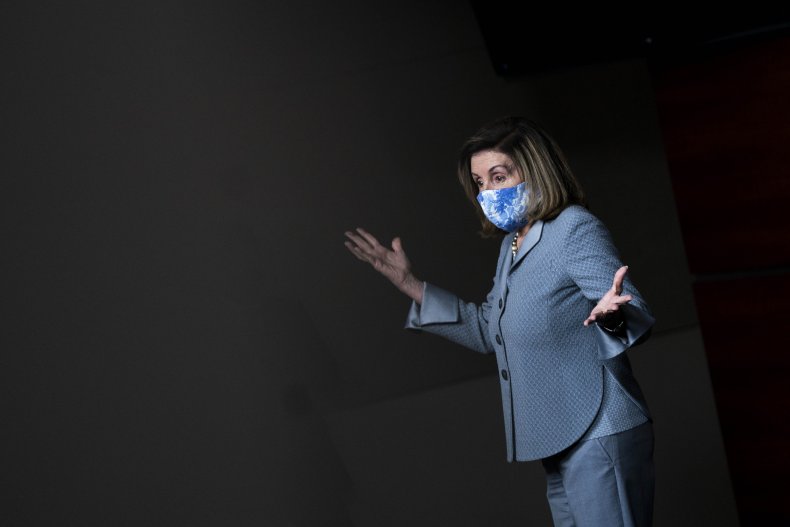 Pelosi said that regardless of the winner—whom she is "very confident" will be Biden—she prefers to pass new relief legislation by year's end for two reasons.
"The American people need help. They need real help," she said. "Second of all, we have plenty of work to do in a Joe Biden administration.... We want to have as clean a slate as possible going into January."
She added, "Why would we be talking to them if we didn't want a bill?"
In a letter to Mnuchin on Thursday, the House speaker outlined seven specific policy hurdles that remain and said the administration still has to offer feedback on them. Those unresolved matters are virus testing and tracing, state and local aid, reopening schools, child care, tax credits for earned income and children, unemployment insurance, and Occupational Safety and Health Administration and liability protections.
Mnuchin and the White House were none too pleased with the assertions. The mild-mannered Treasury secretary, who has largely refrained from publicly criticizing Pelosi the way Trump and other Republicans have during stimulus talks, lobbed perhaps his most aggressive attacks at the House speaker since the two began hashing out coronavirus relief measures back in March.
Mnuchin responded with a letter of his own, accusing Pelosi of a "political stunt" because he first learned of the letter she sent to him around midnight from media reports. A senior Democratic aide told Newsweek that the letter was first sent to Mnuchin's staff at 12:05 a.m. on Thursday. Politico first reported on the correspondence around 6 a.m.
The Treasury secretary rejected the notion from Pelosi that he'd yet to provide feedback on unsettled policies and that she was to blame for Democrats blocking piecemeal assistance from reaching the American people while they continued to negotiate more relief. The problem, Mnuchin wrote, was because Pelosi has "refused to compromise," noting that she's labeled the bipartisan House Problem Solvers Caucus as having "no relevance."
"Your ALL OR NONE approach is hurting hard-working Americans who need help NOW," Mnuchin said.
Top White House economic adviser Larry Kudlow also took issue with Pelosi. He suggested a deal was not about to come soon and questioned her true desire to overcome the blockade.
"She is stringing us along. They showed no evidence of compromising on the very key issues," Kudlow told Fox News. "Our team now believes the speaker has no intention of compromising on key issues.... We think there's virtually no hope."
This story was updated to include comments and information from a letter that Mnuchin sent to Pelosi.