Another Stimulus Is Still Coming Despite Encouraging Economic News, GOP and White House Say
The support among Republican lawmakers and Trump administration officials for more relief amid a recession has not wavered, despite recent jobs reports that have shown the coronavirus pandemic's vice-like grip on the U.S. economy is slowly loosening as states gradually reopen.
What is less clear is whether Americans will receive another round of checks or an extended boost to their unemployment benefits. Republicans on Capitol Hill are hesitant to dish out more individual cash, although Treasury Secretary Steven Mnuchin has said he is open to the idea.
"I think everybody believes that we need to do more," Senator Roy Blunt (R-Mo.), a leadership member, told Newsweek. "We just don't know yet exactly where we need to do more and how we need to do more."
The issue of how to address lingering economic hardships—the Federal Reserve projects unemployment will be elevated for years—will be at the forefront of GOP senators' discussions in the coming weeks as they craft legislation to act as a counterproposal to House Democrats' massive $3 trillion stimulus it passed last month.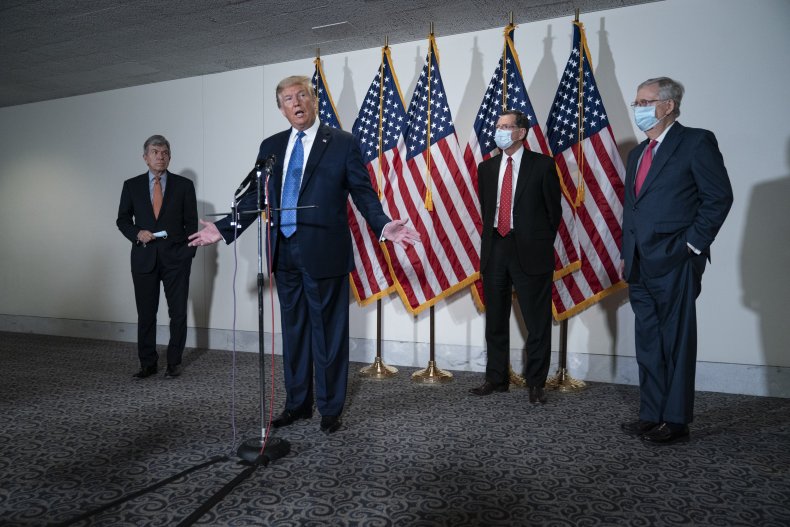 Senate GOP leadership hopes to pass its next—and likely final—stimulus measure sometime after Congress' Fourth of July break and before its month-long August recess. That means lawmakers will be presented with the hefty task of swiftly negotiating two major deals—police reform in the wake of George Floyd's killing and an economic stimulus.
Republicans are considering a slew of potential proposals to include: an extension of the federal jobless benefit boost of $600 per week (but at a reduced rate), a back-to-work bonus and liability protections for companies as they reopen their doors to customers.
Trump and his administration officials have indicated they are eyeing money for infrastructure and, namely, the leisure, travel and restaurant industries.
"I definitely think we are going to need another bipartisan legislation to put more money into the economy," Mnuchin told members of the Senate Small Business Committee Wednesday.
Mnuchin even told reporters this week that the White House is "very seriously considering" another round of individual checks—a position that congressional Republicans have not signaled support for. The checks would be similar to the $1,200 given to Americans under a previous $1 trillion package.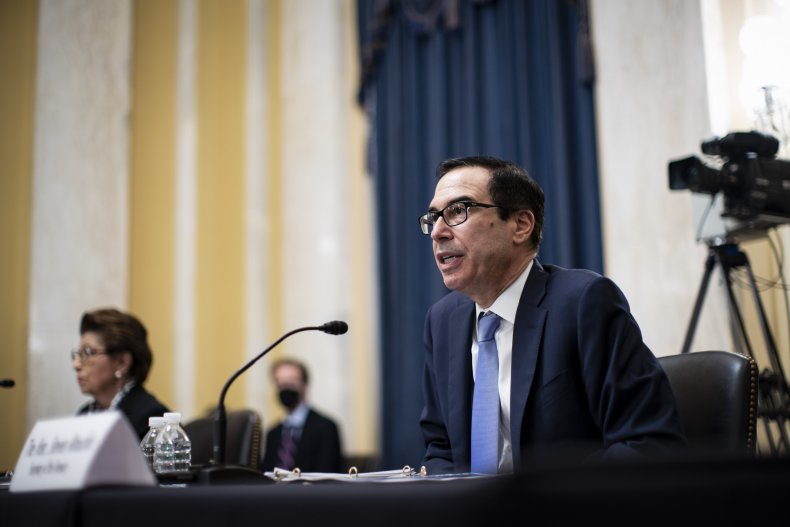 Republicans have said the House-passed $3 trillion package is dead in the water. That legislation includes more aid for state and local governments, a second round of checks, hazard pay for essential workers, a lengthy unemployment extension and vote-by-mail funding.
The continued support for more federal economic aid comes even as the surprising May jobs report last week showed an increase of 2.5 million jobs in the economy, dropping the unemployment rate by about 6 percent to 13.3 percent. Still, economists have urged Congress to appropriate more funds to help speed the rebound. It is expected that it will take the U.S. years to fully recover.
The biggest debate among Republicans will be whether to favor an extension of the unemployment boost past its July 31 deadline. And if so, how much it should be reduced from the current $600 amount as some people receive more money unemployed than they did while they worked.
"Part of the reason that you haven't seen Republicans rushing headlong into the next phase is so that we have some time to get new data and see what is working and what needs to be fine-tuned," Senator Kevin Cramer (R-N.D.) told Newsweek. "We still have this struggle between a perverse incentive to work and not work."
Some Republicans, such as Senator James Lankford (Okla.), are advocating for a more individualized approach based on how much each state has reopened. He argued that recent jobs reports make "it all the more complicated" for Congress and the White House to coalesce around the same proposals.
"I don't think it's Republicans are gonna have a harder time, I think it just is a harder time, if you want to be more surgical in the approach," Lankford said. "In Oklahoma, obviously, we're through phase three, and other areas they're just starting the reopening."
Even as millions of jobs were added to the economy last month, about 1.5 million additional people filed for jobless claims last week, an indicator that unemployment "seems to be stabilizing at an alarmingly high level," said Senator Josh Hawley (R-Mo.).
"Rather than creating a situation where some folks are getting paid more to stay away from work than they would be at their jobs—the problem with that is that you don't get health care when you're on unemployment insurance—I think we'd be better spent focusing on trying to spend funds, if we're going to spend, focus on getting people their jobs back," Hawley said.
Hawley and Senator Cory Gardner (R-Col.) have pushed for an initiative where the federal government would help subsidize workers' pay to alleviate hardship on companies that rehire employees.
Senate Democrats continue to push their colleagues across the aisle to support the House-passed legislation.