Another Storm Is Forming in the Atlantic While Hurricane Laura Wallops Texas and Louisiana
A tropical system forming off the coast of western Africa is moving across the Atlantic Ocean to form what could potentially be the 14th-named storm of this year's Atlantic hurricane season, according to the National Hurricane Center (NHC).
The westward-moving tropical wave heads toward the U.S. as Hurricane Laura makes landfall on the Gulf Coast, devastating Louisiana and Texas.
The NHC says there is a 20 percent chance the disturbance that has "produced disorganized shower activity" will form into a storm over the next five days, and a near zero chance in the next 48 hours. While current weather could intensify the system, forecasters predict that things may calm down over the weekend as it moves west.
"Although environmental conditions are not expected to be conducive for development during the next couple of days, they are forecast to gradually become more favorable over the weekend and into early next week when the waves move into the central tropical Atlantic," an outlook tracker on NHC's website reads.
Forecasters are hopeful that the wave located a couple hundred miles east of the Cabo Verde Islands may just be a typical annual occurrence.
"From early August through late September, a tropical wave rolls off the coast of Africa an average of once every three to four days and moves across the tropical Atlantic Ocean," NHC meteorologist Dennis Feltgen told Newsweek.
Feltgen said these systems are all carefully monitored by the center for any development.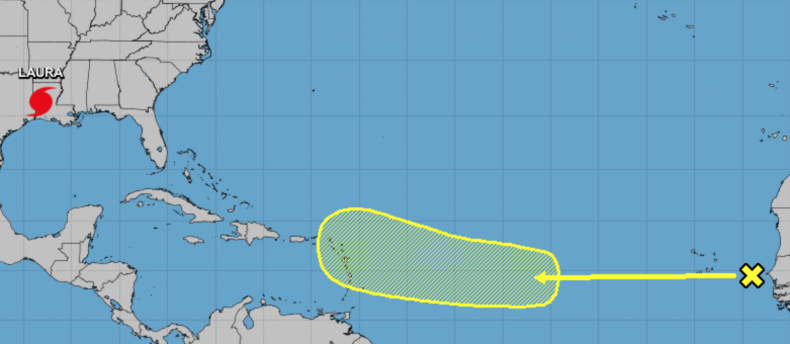 However, if it strengthens over next week into a cyclone, it would be named Tropical Storm Nana.
The 12th storm, Hurricane Laura, made landfall as a Category 4 storm near Cameron, Louisiana, early Thursday. Officials sent dire warnings this week that the impacts of the powerful storm could be as catastrophic as 2005's Hurricane Katrina, which is just shy of its 15-year anniversary.
The NHC released an update at 8 a.m. Thursday, calling the storm "life-threatening" and cautioning "damaging winds and flooding rainfall spreading inland over western and central Louisiana."
Hurricane Laura has been downgraded to a Category 2 as the storm moved inland and is expected to further weaken as it moves into Arkansas. However, the storm still has as winds of 110 mph.
More than half a million residents in Louisiana and Texas have been evacuated from their homes. Louisiana Governor John Bel Edwards also mobilized at least 3,000 Louisiana National Guardsmen ahead of the storm, while search-and-rescue teams from Arizona, Florida, Maryland, Oklahoma, Tennessee, Virginia and Wisconsin are being deployed to help the guardsmen.