Another Taylor Swift Superfan Accidentally Predicted Another Surprise Album
This might sound familiar: A dedicated Taylor Swift fan has gone off the grid, just before the singer and songwriter is about to surprise release a brand new album.
Swift announced on Thursday that her her ninth studio album, evermore, is going to drop at midnight on Friday, and one unlucky fan was caught without Internet when the news broke. The fan in question, named Matteo (Twitter handle: @matteopng), jokingly predicted that Swift would surprise release a second album in 2020, just before he signed off of Twitter on Tuesday to embark on a "middle of nowhere" road trip.
He wrote: "ok leaving early tomorrow to road trip to the middle of nowhere so if taylor swift drops another album please contact me via satellite phone. see you on the other side," in a tweet that had over 75,000 likes at the time of publishing. (And likely more by the time that you're reading this.)
A ton of Twitter users have been retweeting, commenting and generally screaming online at Matteo to find some WiFi so he can catch the release of evermore. Matteo told Newsweek that he won't be changing any of his vacation plans, but he'll be able to check out the new music on Friday.
"I was definitely planning on unplugging from twitter this week but I guess Taylor Swift had other plans..." he said via Twitter direct message.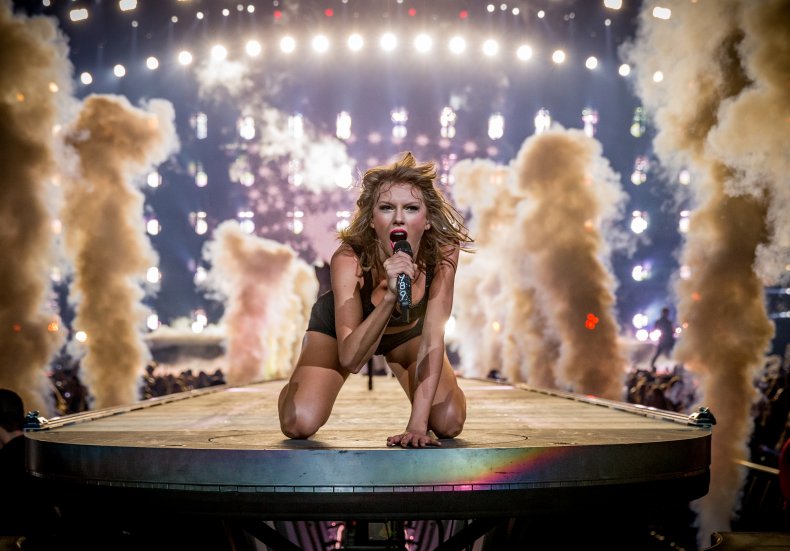 "I woke up and all of my friends were texting me talking NEW ALBUM NEW ALBUM!" Matteo revealed. "And I was excited obviously but totally forgot about the tweet I made until someone sent me a link to a Popcrave tweet about me. I'm spooked that it ACTUALLY happened!!"
On Thursday afternoon, Matteo came back online and noticed that he had over 300 direct messages from Swift fans trying to warn him of the upcoming album release. "I'M IN A MOTEL IN THE MIDDLE OF NOWHERE I JUST WANTED TO UNPLUG FROM THE INTERNET FOR A BIT WHILE I WORK ON SOME PHOTO STUFF !!!!!" he explained in a tweet, when he first returned to the Internet.
What's even weirder about Matteo's tweet is that a nearly identical one came from another Twitter user and mega-Swiftie, Delphine (Twitter @seeitinmymind), back in July, when Swift released folklore. In a tweet that went viral, she wrote: "oomfs, i've already tweeted about this before but i will be without my phone or any wifi the next two weeks. if taylor decides to do something big please yell at me in my dm's and don't unfollow me for inactivity xxx."
Delphine eventually returned to Twitter to share her track-by-track take as she listened for the first time, and was even acknowledged by Swift herself. "Welcome back from your trip! We are all somber woodland fairies now. Feel free to grab a wicker basket and join us!" Swift tweeted.
Matteo, though, hasn't been contacted by Swift just yet, and it appears he may not actually miss the album release after all, since he's shown up online.
Delphine commented on Matteo's initial tweet, in a message that is the top-liked response. She simply said, "WELL HEY..."
On her own page, Delphine expounded further on Matteo's parallel situation. She made a great point about the possibility that their similar tweets triggered a Swift theme. "[I] think the funniest thing about it is that both of us accidentally manifested that taylor was, in fact, going to do something big by dropping another album," she wrote.
Judging from another of Matteo's tweets, it seems the pair may become fast friends. He suggested a podcast may be in the Swifties' future.
We reached out to Delphine, too, for further comment, and will update with a response.
Swift's evermore was conceived as a sort of "sister album" to folklore, according to tweets from the artist herself. For her legions of dedicated fans, there couldn't be a sweeter surprise this holiday season. And as Matteo told us, he's got a great soundtrack for the rest of his roadtrip.
Updated 5:33 p.m. on 12/10/20: This article was updated to include comments from Matteo.