Another Texas Walmart Faced 'Imminent Threat' Before Police Make Arrest Saturday
Exactly one week after a shooting massacre occurred at one West Texas border town Walmart, another Walmart in another town out west in the Lone Star State was targeted.
Police in the town of Harlingen arrested a man early Saturday morning who posed to be an "imminent threat" at a Walmart in that town. The Harlingen Police Department released a statement, calling it a "terroristic threat arrest."
Police in Harlingen posted a statement on its Facebook page that "investigation officers learned that a male subject had used a social media site to post up an imminent threat that was to occur at the Wal-Mart in Harlingen on a specific date."
The statement went on to say the man was located at a home in Harlingen and placed under arrest for the "Terroristic Threat" and is currently awaiting arraignment.
Newsweek subscription offers >
The police said they will continue to investigate and file appropriate charges against anyone who "makes any threats directed toward our community with the intent to spread panic and fear."
The arrest comes one week after a gunman allegedly entered an El Paso Walmart and killed 22 people while injuring a couple dozen others. According to an arrest affidavit released Friday, Patrick Crusius, 21, drove more than 600 miles from a Dallas suburb to El Paso to target "Mexicans" in a mass shooting.
Crusius entered the giant retailer store with an AK-47 assault rifle and several ammo magazines for his slaughter, according to the arrest affidavit.
About 13 hours later in downtown Dayton, Ohio, another gunman opened fire into a crowded popular nightlife district, killing nine and injuring dozens of others.
Newsweek subscription offers >
The two shootings, with a combined death toll of 31, sparked a national debate over gun control, white supremacy, a culture of gun violence and safety measures for areas with large crowds.
President Donald Trump visited Dayton and El Paso earlier this week, chatting with first responders and the families of victims. He was met with protests against his visits in each locale. President Trump this week also denounced hate groups, from white supremacy to antifa.
The sales of bulletproof backpacks spiked as the start of school nears. Large cities across the country are placing extra security in shopping centers and malls as back-to-school shoppers are expected, and Walmart employees are staging a possible walkout on Monday.
On Thursday, a man was arrested after carrying an open firearm into a Missouri Walmart. The gun was not fired.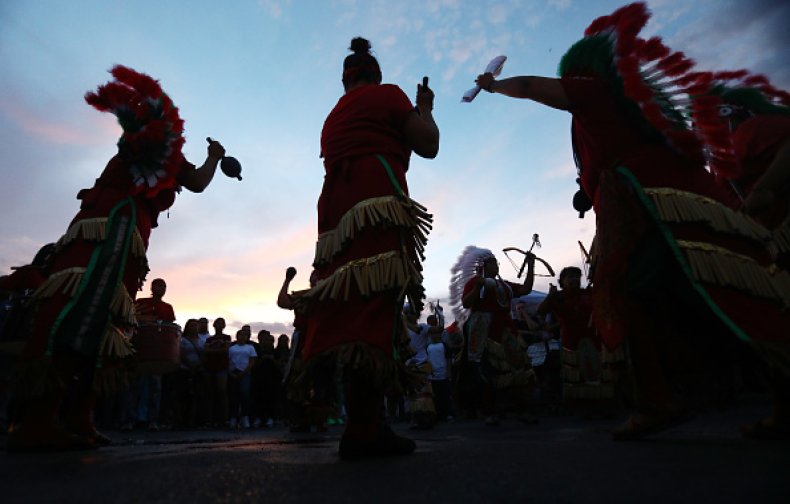 Another Texas Walmart Faced 'Imminent Threat' Before Police Make Arrest Saturday | News