Another Trucker Convoy Is Heading to D.C. After Bust Ahead of SOTU
Another trucker convoy is making its way to our nation's capital, which comes after a disappointing turnout for a previous convoy protest in Washington, D.C.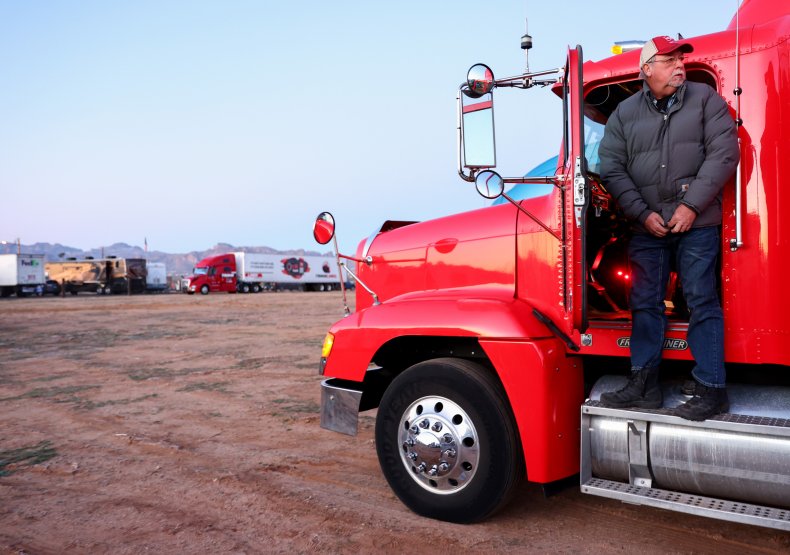 The second convoy of truckers, which is being referred to as the American Freedom Convoy, is making its way to the District of Columbia, according to KATU. This convoy comes after a less-than-stellar turnout for Tuesday's People's Convoy protest in Washington, D.C.
The turnout for Tuesday's protest, which had been weeks in the making, was not what organizers had expected to see. While the group had planned for nearly 3,000 people, cameras captured a nearly empty gathering, with the Washingtonian reporting only about 20 people in attendance.
Tuesday's protest was intended to take over the nation's capital ahead of President Joe Biden's State of the Union address.
According to the American Freedom Convoy's Facebook page, truckers from all over the country will be joining the protest. The group has detailed driving directions, what routes and exits to take as well as expected departure and arrival times during their journey.
The group's page says its aim for the convoy is to "restore our freedoms, our civil liberties and to bring an end to all unconstitutional mandates with legal provisions in place to ensure that this never happens again." It goes on to state that this convoy is meant to remind the United States government of the aim of the Founders.
"It is not about political parties but moreso about a government that has forgotten their oath to uphold the Constitution of the United States of America as our founding fathers instructed," according to the page.
On Wednesday, several truckers and their supporters set out from Troutdale, Oregon, with this District of Columbia as their final destination. Several other convoys across the country are scheduled are scheduled to depart in the coming days with Sunday, March 6 as their targeted date for arrival in the D.C. area.
The convoys in America come after the Canadian protest, in which truckers protesting vaccine mandates blocked streets in Ottawa for more than three weeks. However, one woman told KXLY in Washington state that their protest is about the future of the country.
"Really what it is, is not just about the vaccine mandate, it's not just about masks, it's not—it's about where the power lies. I am an American patriot and I believe that if I don't fight for our children's future now, then it might not be what I want it to be in the future for them, so I'm fighting for my children personally and I'm fighting for America," Angela Cole told KXLY.
Those involved in the American Freedom Convoy have received support for their mission to send a message to elected officials in Washington. KATU reports that organizers have received items from supporters, including food and money for gas.