Another 'Trump' Building Announces Removal of President's Name from Facade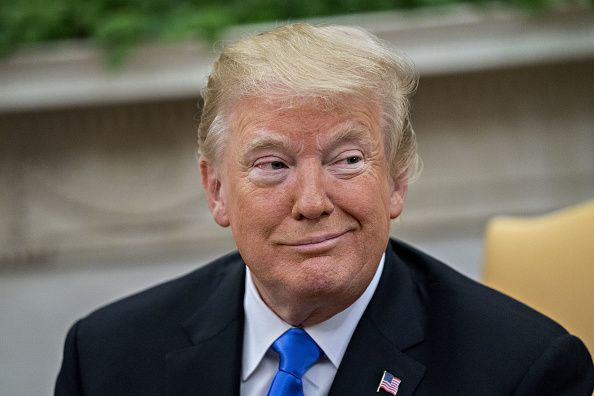 Yet another building named after President Donald Trump plans to take down his surname, according to a report.
The Manhattan condominium "Trump Place" voted to remove the president's name from the front of its tower, joining several other properties that have distanced themselves from his brand since he was elected in 2016.
Condo owners in the 46-story building, which is located at 200 Riverside Boulevard, were notified about the decision to remove the signs on Wednesday afternoon in an email sent by the condo board, according to the Washington Post.
The poll, which was conducted in September and early October, saw 69.3 percent of owners vote in favor of taking down Trump's name, which led the board to pass "a resolution to remove the signage," according to the email.
The building will still legally be named "200 Riverside Boulevard at Trump Place," but the signs that prominently display "TRUMP PLACE" on the east and west facades will be removed at a future date, although the email didn't specify when that will take place.
"We are pleased to have resolved this matter democratically. Our entire community has engaged in a thorough and respectful deliberative process regarding how to address the signage on our building," the board wrote in its email, according to a copy obtained by The Washington Post. "We encourage everyone to move forward and respect the will of the community."
The Trump Organization has not responded on the removal of the president's name from the building, according to the Washington Post. Trump helped develop the complex in the 1990s, but no longer has ownership of the six "Trump Place" buildings which feature his name.
The president's name has already been removed from three other "Trump Place" buildings nearby on Riverside Boulevard, as well as hotels located in Toronto, Panama, and the SoHo district of New York City since he was elected nearly two years ago.
The 200 Riverside Boulevard building faced a lawsuit from the Trump Organization earlier this year when the condo board asked a New York judge to oversee whether it could remove the signs featuring the president's name.
The Trump Organization claimed that the condo board couldn't legally do so, claiming that an agreement in 2000 prevented the name from coming down, according to the Washington Post.
However, the judge ruled in favor of the condo board, noting that it could take down the signs pending the residents' approval.