Exclusive: Another Ukraine? Russia Backs Separatist Politician's Military Buildup in Bosnia and Herzegovina, Research Shows
Bosnia and Herzegovina, a tiny nation in southeastern Europe best known for its bloody war in the 1990s, might be edging closer to an armed conflict once again.
A new report released Friday, "Bosnia on the Russian Chopping Block: The Potential for Violence and Steps to Prevent It," reveals an extensive military buildup in Bosnia and Herzegovina. The document found that Russian President Vladimir Putin is supporting ethnic Serb separatists in the country to prevent Sarajevo from integrating with the West. Experts warned that this dynamic could start a Ukraine-style conflict in the heart of Europe.
The military buildup is taking place in Republika Srpska, a largely autonomous region in Bosnia and Herzegovina, where most of the population is Serbian. Local police and other security officials are receiving military-style training from Russia and amassing military equipment, according to documents reviewed by Newsweek, and increasingly look like a well-trained, well-armed military. Meanwhile, Moscow is also supporting the formation of Serbian nationalist paramilitary groups in Bosnia and Herzegovina.
The efforts are underpinned by Republika Srpska's separatist President Milorad Dodik, who has advocated for a referendum on his region's independence from the rest of Bosnia and Herzegovina, despite warnings from the international community that such a vote would be illegal. Dodik has repeatedly called Bosnia a "failing state," said the European Union is no longer relevant there and has thanked Russia for being an unconditional friend to the region.
Dodik's relationship with Moscow is fueling separatist tendencies that could eventually erupt into conflict, the report's authors said. With elections set in Bosnia and Herzegovina for October, some analysts argued there is a serious threat of armed conflict.
"For the past few years, Russia has rapidly expanded its security and economic activity in the Western Balkans," said the report, which was published by the U.S.-based Foreign Policy Research Institute. "In Bosnia, Moscow has doubled-down on its support for [Republika Srpska] President Milorad Dodik in his secessionist aspirations. This backing, part financial and part political, includes other political actors in the country."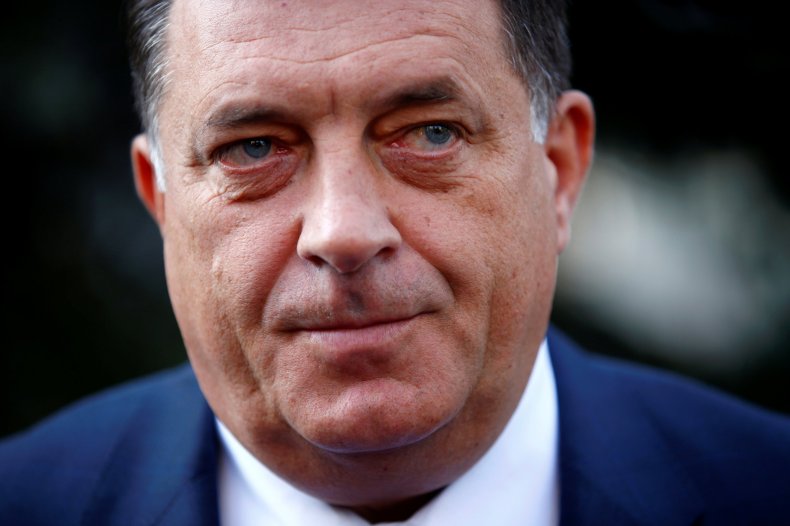 According to the report's authors and other regional experts, Russia is working to develop a client state in Bosnia and Herzegovina to derail the country's efforts to join NATO. Russian-backed paramilitaries are already waging a separatist conflict in Ukraine to prevent the country from establishing closer ties with the West.
In April 2017, Bosnia and Herzegovina's neighbor Montenegro successfully joined NATO, which horrified officials in Moscow and caused tensions between the Kremlin and Montenegro's leadership. Experts said Russia is now working to guarantee that this scenario isn't repeated in Bosnia and Herzegovina, a country that borders the European Union.
"For Moscow, [Republika Srpska] is a very convenient vulnerability that they can use to destabilize Europe at a time of their choosing," Michael Carpenter, a former deputy assistant secretary of defense in charge of Russia, Ukraine, Eurasia and the Balkans, told Newsweek. "If Moscow feels backed up against a wall, Russia has this opportunity to unleash Dodik to move forward with his referendum on independence. It's really a tinderbox situation."
Meanwhile, the Republika Srpska region has substantially increased spending on military-style weapons, purchasing over 4,000 automatic rifles in the last two years, according to the report and documents seen by Newsweek. In February, Dodik publicly acknowledged that his government had purchased at least 2,500 assault rifles for the local police, saying that "we have nothing to hide." But experts said this cache of weapons is unnecessary for a police force of around 5,000 people that is meant to guarantee public safety only.
The militarization of the police means Republika Srpska's security forces should be brought under the jurisdiction of international laws that have governed Bosnia and Herzegovina since the end of the war in 1995, Reuf Bajrovic, a former politician in Bosnia and one of the report's authors, told Newsweek.
"This is a disproportionate and unexplainable purchase of military weapons. Republika Srpska has taken steps to militarize its police forces, which means that they now fall under the [1995] Dayton Peace Accords, which deals with military matters," Bajrovic said.
Dodik's government is also in the process of building a new storage facility near the regional airport in Republika Srpska's capital, Banja Luka, and a former Yugoslav army barracks is being redesigned as a "police training center." The loocal media outlet Žurnal reported in early February that Russia plans to train Republika Srpska's police force at the new facility.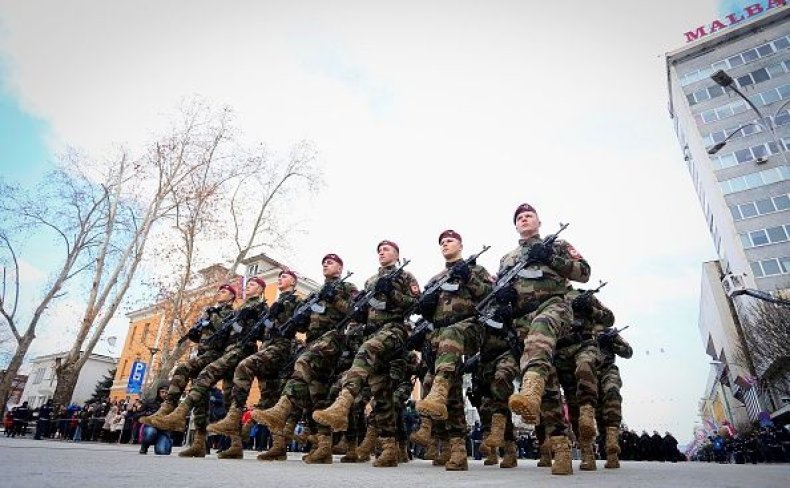 With a newly built road linking the training center with the storage unit, the local police force is prepared to function as a de facto army, experts said.
"There is no reason for this road to be built," Richard Kraemer, one of the report's main authors and the Eurasia fellow at the Foreign Policy Research Institute, told Newsweek. "The road goes through abandoned villages and doesn't have any effective purpose other than the covert transport of weapons and troops."
Representatives of Republika Srpska's Ministry of Interior did not respond to requests for comment from Newsweek.
Some analysts argued that there are likely more weapons in Republika Srpska than have been officially registered. Photographs of a January parade to mark Republika Srpska's unofficial "independence" day, a holiday that's technically illegal according to the peace accords, showed security officials carrying around 200 submachine guns not listed in public procurement records. Researchers said Taurus submachine guns were seen at the parade, among other weapons.
Bosnia and Herzegovina is already estimated to have over 500,000 illegal firearms in civilian possession, leftovers from the wars of the 1990s.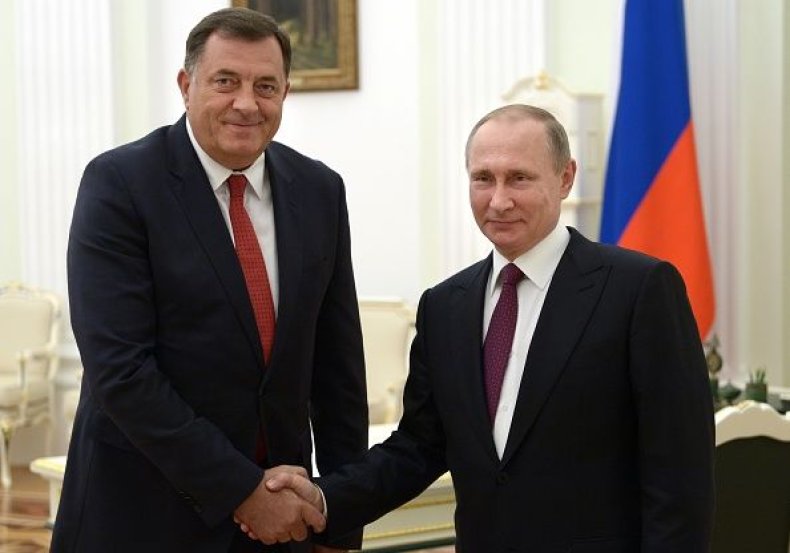 The buildup of weapons by what is ostensibly a local police force has coincided with Russia's involvement in the region, researchers said.
"In 2015, [Republika Srpska] security officials acknowledged cooperation with Russian security services. The following year, the [Republika Srpska] Ministry of Interior and the Moscow police made a formal agreement for the former's special police training. Since the agreement's signing, Russia has strengthened its security posture in [Republika Srpka]," the report said.
On several occasions, authorities from Republika Srpska publicly acknowledged that their police force was being trained by Russia. The announcement worried some European officials.
The European Parliament is "deeply concerned about statements made by the Interior Minister of the Republika Srpska about the future training of RS special police units in the Russian Federation," an April 2016 statement said. The European Parliament "calls on the authorities in the RS not to pursue an independent foreign and security policy which might undermine the State-level policy," the statement continued.
Nevertheless, Dodik has made multiple trips to Moscow.
"We know Dodik is a pawn. We know that Dodik is traveling to Moscow and talking to folks there connected to the Kremlin. They tell him what to do, more or less," Carpenter said.
In this context, Russia is also supporting a variety of formal and informal nationalist groups in Bosnia. According to the report's authors, Russians began their incursion into Bosnia in 2012, using local associations and nongovernmental organizations. These organizations provide Russians with an entry point into local communities, analysts said.
"These groups have three common denominators: they espouse extreme Serb nationalism, are vociferous in their overt pro-Russian sentiments, and were founded within the last six years," the report indicated. "Their agenda most closely aligns with that of the Serbian Orthodox Church, an ally vital to these groups, providing political-ideological endorsement and logistical support, likely channeling funds from abroad."
Researchers identified at least 78 such groups that have formed since 2012, many of which play a key role in promoting Russian interests in Bosnia and Herzegovina and the wider Balkans region.
One of the main groups is a youth organization called Serbian Honor, or Srpska Cast. The group was formed in 2014 to promote "youth activism and mobilization for human rights and the environment," according to its founding statement. But the group's social media pages show an infatuation with the military, guns, nationalism, Putin and Serbian war criminals active in Bosnia during the violence of the 1990s. The group is estimated to have around 40,000 members.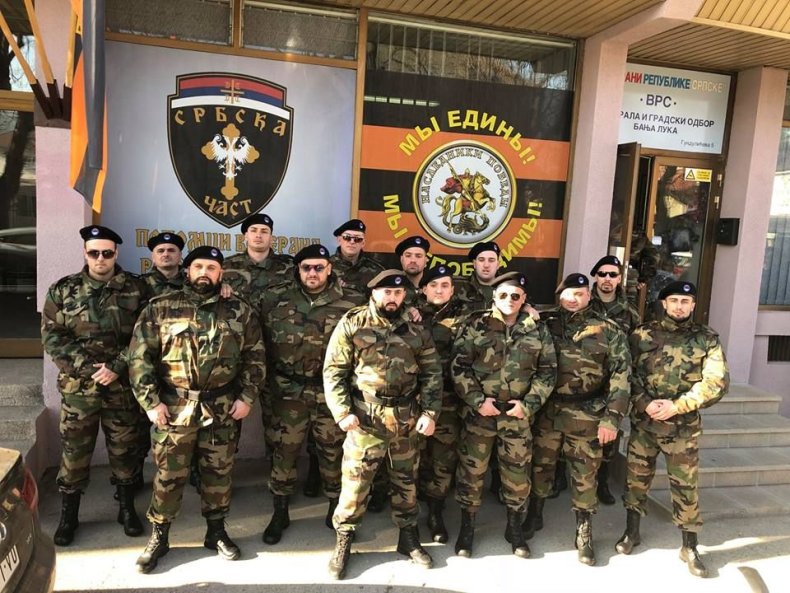 "You have men that are being armed and trained for violence, and they are doing so outside the auspices of state authority. Srpska Cast, with their uniforms and shooting ranges, they have shifted to being a group that is actively prepared for military conflict," Kraemer said.
Another group is Veterans of Republika Srpska, which was founded as a nongovernmental organization in 2012. The organization is closely allied with Dodik and is also an official affiliate of the Russian veterans association Inheritors of Victory. Both of these groups speak openly about their trips to Russia for cultural exchanges and other activities.
"Srpska Cast and other paramilitaries are getting emboldened and showing their presence in Bosnia. With elections coming in October 2018, there is a high probability of ethnic violence," Kraemer said. "The training and mobilization of paramilitary forces in Republika Srpksa is threatening and illuminates preparations for orchestrated violence by Dodik with Russian support."
Some analysts, however, argued that the danger is not immediate and that Moscow will continue to use its support for Dodik to destabilize the region without provoking a risky armed conflict or full-scale separatist movement.
"A political conflict of such proportions would effectively suspend [Bosnia's] integration into the West. Moscow will win," Dimitar Bechev, a Balkans analyst whose recent book analyzes Russia's involvement in Southeast Europe, told Newsweek.
"On the other hand, however, it might drag Russia into a confrontation with the West on yet another front. The current state of play—low-intensity conflict, Dodik being obstructionist—suits Russia best. [The] West is thwarted, but Moscow doesn't overcommit," Bechev said.