Barbara Bowman Speaks About Bill Cosby Sexual Abuse Allegations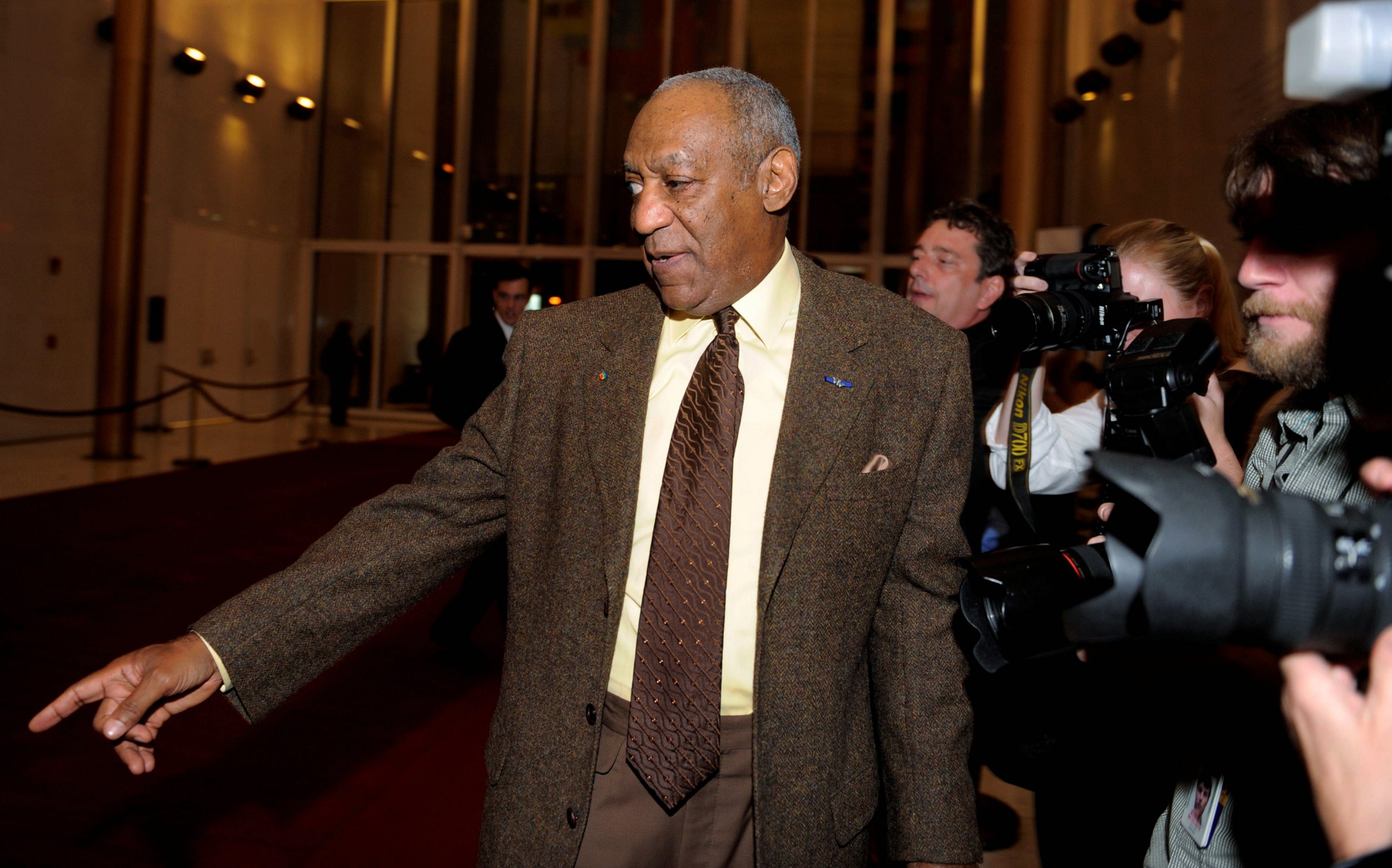 Last week, Newsweek interviewed Tamara Green, one of 13 women who accused Bill Cosby of drugging and sexually assaulting them in a civil lawsuit brought by Andrea Constand in 2004, and settled under undisclosed terms in 2006. Now, a second woman is speaking out: Barbara Bowman, a 46-year-old artist who says Cosby took her under his wing in the late '80s, when she was a teenager -- and repeatedly emotionally and physically abused her.
Both Bowman and Green joined the 2004 lawsuit as witnesses after hearing about it on television; neither had anything to gain financially, as the statute of limitations had expired for both of them.
How did you know Bill Cosby?
I was a 17-year-old model and up-and-coming actress in Denver, Colorado. My agent knew Bill. I was told that he wanted to scout some new talent -- if we were lucky, we would be groomed to go to New York and get more solid training so we could move up the ladder, maybe eventually get to audition for the Cosby Show.
Bill came to town, and my agent set up a meeting for us. I was told that Bill wanted to get to know me and my acting abilities and skill level, and wanted to know what sort of marketing ability I had. He had me come meet him whenever he was in town to do meet-and-greets, and he'd give me acting lessons. Then, he started flying me around to major cities to events to get accustomed to being around celebrities, and, he said, to see if I was worthy of mentoring.
What was it like having Bill Cosby as your mentor?
It was overwhelming. It was surreal and exciting, but it was also scary. He worked me over emotionally and psychologically. He broke me down and really preyed on my insecurities… I had no father figure in my life, so he zoomed right in on that and tried to make me feel as though he loved me like a father would.
I was young, wide-eyed and impressionable, and he would play games with my head, and manipulate me into believing that he cared about me, that I didn't have anyone who cared as much as he cared, that I needed to trust him, that I had trust issues and that he would help me overcome those, because they would limit me as an actress. He told me I needed to give into him 100 percent, because he was investing in me, he believed in me.
When was the first time you felt uncomfortable around him?
None of the abuse or drugging happened until I was 18… But on our very first meeting together, which occurred in the conference room at a nightclub in Denver, he led me through an acting exercise. First, he told me to go to the bathroom and wet my hair down. Then, he told me to sit in a chair, close my eyes, and act out a monologue as if I was really intoxicated. And he was touching my neck and stroking my hair.
I felt absolutely terrified. I was so new to the business and this was my first experience with a celebrity of such power, so I thought, "Wow, maybe this is what you are supposed to do. This is about learning how to be vulnerable in a scene, and if anyone would know best, it would be Bill Cosby." I didn't want to disappoint him or for him to think I couldn't follow directions. So I gave it my all.
What else can you remember?
I was assaulted a number of times from age 18 to 19. Cosby would warn me before out-of-town trips, "You aren't going to fight me this time, are you?"
Once in Reno, Nevada, he flew me out for a celebrity ski classic. He got me in a hotel room and fed me a lot of alcohol. He pinned me down in his suite on the couch, and he had me masturbate him. He really intimidated me, and I panicked.
From them on, I would be praying and begging to God that it was in my imagination, it didn't happen. I'd sit on the plane and say "Please God, please God, this is really about my career--I'm lucky." And then I'd get there and he would just intimidate me and make me so scared...
The first time I was drugged for sure was in New York, when he invited me to dinner at his apartment. There was a chef, a butler; we had dinner, it was all fine. I had one glass of wine and then I blacked out. I woke up throwing up in the toilet, and he was standing over me, pulling my hair out of my face. I was wearing a white t-shirt that wasn't mine, and he was in a white robe.
I think the final time I was assaulted by him was in Atlantic City. He took me there for a show and got me very drunk. Later, [the hotel] lost my luggage, so I was on the phone with the concierge and [Bill] had an absolute fit that I was on the phone, and went ballistic. The next morning, he summoned me into his room and started berating me and calling me names and yelling at me, telling me I had embarrassed him, and he threw me on the bed and blocked me with his elbow and got on top of me and started taking his pants off and I was screaming and crying and begging him to leave me alone and I fought so hard and I was screaming so loud that he got mad and threw me aside and got away from me, and that was it.
I was ditched. I was dropped like a hot potato by my agent. I was thrown out of my housing. They pulled the plug on me and said I had embarrassed [Cosby].
Cosby said "I better never ever hear your name or see your face ever again."
How did you feel?
I was afraid he could directly affect my career by blacklisting me in the casting world and labeling me a troublemaker. I had no idea what sort of repercussions I would be exposed to; I knew I could be shut up real quick, and it didn't feel good. I was afraid he was going to hurt me. I was afraid that because of his power and influence I would never be believed. He was Dr. Huxtable at that time. Everyone revered Bill Cosby. He could do no wrong. He was America's dad...
Did you tell anyone?
I told a friend, who took me to a lawyer… He laughed me out of the office. He thought it was absolutely preposterous... He treated me as if I was delusional.
Why did you finally speak out?
I heard about [Constand's] case on the news in 2004, when I was living in Phoenix. By then, I had been married for several years and had two young children at home. It enraged me that they were painting such an ugly picture of her being a liar and a slut. I went on a crusade to be heard--I started to call everybody I could possibly think of who would listen to me.
I reached Andrea's lawyer and I found out that 12 other women were involved in this. At first, she recommended that we all stay Jane Does, and some girls preferred that, but I said, "Hell no--I have been hiding this--it has been a secret--for too long. I am not going to sit in silence anymore."
I want to be the voice for women who are too afraid to speak up. If I show the courage, maybe that will encourage others to do the same thing. This man cannot get away with this. He cannot use his power and his money to abuse and rape young women and hide under this veil of wealth and celebrity status and intimidate us any longer. So I put my name out there.
My only motivation was to support Andrea; my statute of limitations had long run out. There was nothing in it for me monetarily. It was strictly to have my voice heard and my story told.
It was also because I needed to heal. It is probably the biggest demon that I live with today.
Were you disappointed that Andrea Constand took a settlement?
I was disappointed because I knew that would shut everybody else up, including Andrea. And although I am grateful she was able to have closure for her own growth, it sends the message to other victims that they can be shut up.
Why do you think people find it so hard to believe celebrities can be sexual assaulters?
The media creates this idealized image of celebrities: that they are untouchable, that they're not one of us... I don't think people want to believe it; to believe would shatter the illusion.
Bill Cosby's publicist declined to comment by press time.