Answer Me This: Who Goes to Vegas to Answer Trivia Questions?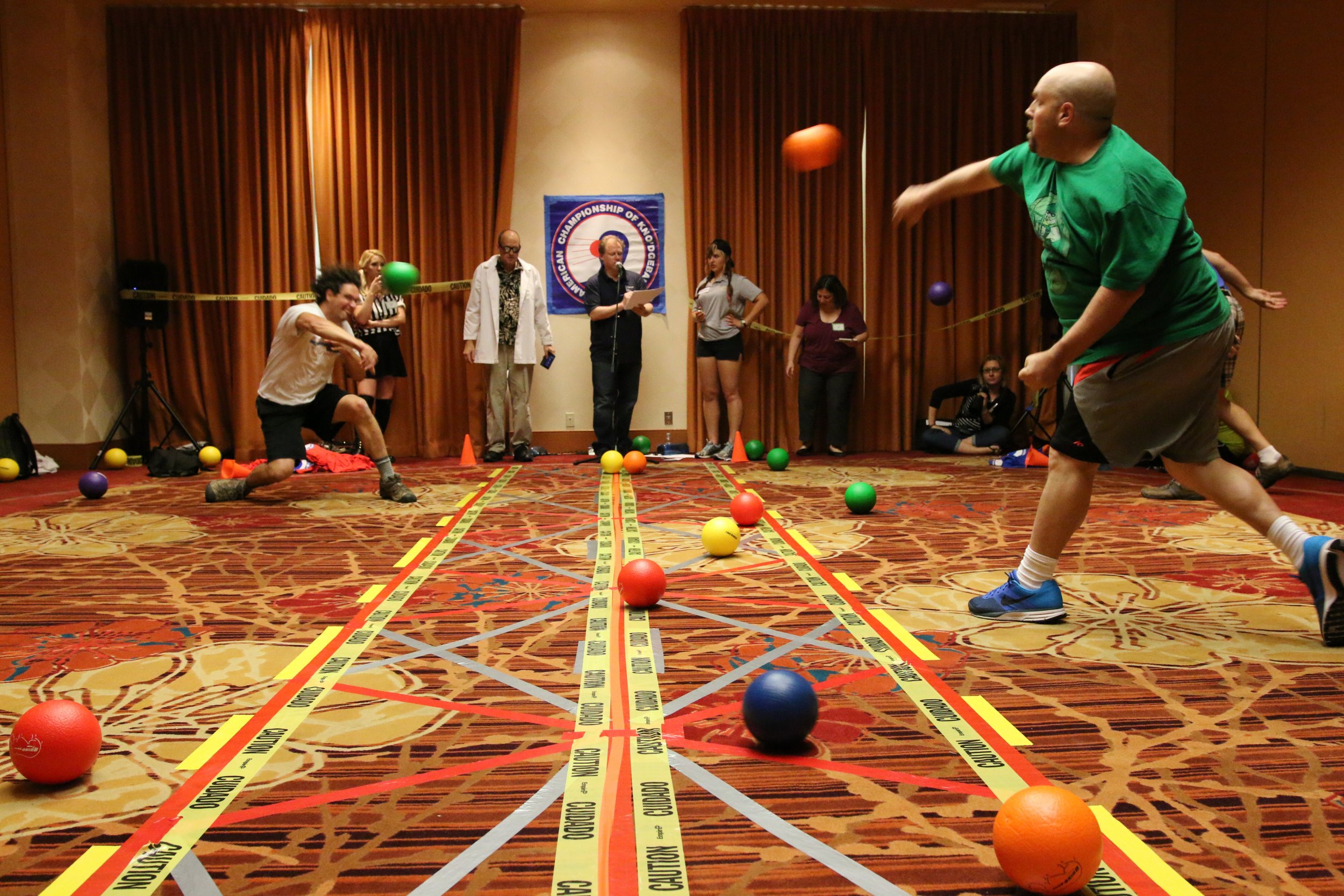 When people think of Las Vegas, they don't imagine answering 100 trivia questions in a silent, windowless conference room or pummeling people they've seen on TV game shows with dodge balls.
Welcome to the Trivia Championships of North America, the country's go-to event for trivia buffs and game show aficionados.
Dubbed the Comic Con of Trivia and affectionately known as TCONA (Tee-cone-ah), among those who attend the weekend-long tournament are Harvey "H-Bomb" Silikovitz, a commercial litigation lawyer in New York City who has sung karaoke in more countries than anyone else (he's at 35 nations and his next stop is Rome) and Brandon Saunders, a quiz prodigy and NYU student from Jamaica Estates, Queens, who at 20 is still too young to legally enter the New York City bars that traditionally host trivia nights, the training grounds for eventual game show appearances.
And TCONA attracts names like Ed Toutant, Brad Rutter and the smattering of "Jeopardy!" champions and "Who Wants To Be A Millionaire?" alums who are household names in the homes of those who came here to answer questions on everything from the secret identities of "Mad Men" characters to 20th century British Prime Ministers.
For the fourth year in a row TCONA descended on Vegas, setting up shop in the Tropicana Hotel. Just off the main pulsating Strip with the turrets of the Excalibur and the poster of an Australian all-male revue looming outside, the Tropicana is an homage to the glamorous Rat Pack Vegas of the 1950s, right down to the gleaming red Chevrolet Bel Air muscle car, completed with wings, parked outside, the comforting smell of coconuts and cigarette smoke, and the hibiscus flowers snaking over the carpets.
And as this is Las Vegas, the roughly 150 quizzers in attendance end up sharing their Saturday night with a decidedly different crowd: fight-nighters attending The Nevada Boxing Hall of Fame awards dinner next door with guests including Evander Holyfield and Sugar Ray Leonard.
Between the boxers, the quizzers and the thumping beats from a wedding reception going on across the hall ("Congratulations Zara and John" the sign read) the Tropicana's civilian guests and gamblers must have wondered what the hell was going on.
Trivia Interlude: Three Trivia Questions to Stump You*
(From The First Quiz of TCONA)
● 1. What song did Steven Tyler write the day after seeing "Young Frankenstein"?
● 2. What nation's unfortunate Internet abbreviation is .bs?
● 3. What infomercial celebrity was not really Jamaican and not really a psychic but did come out as a lesbian after some trouble with the law?
TCONA grew out of the now-defunct Game Show Congress founded by G. Paul Bailey, TCONA's chairman. A gathering of fans, obsessives and fanatics, it consisted of "a bunch of dudes sat around talking about game shows," Tony Hightower, executive director of TCONA and the head of quiz organization Trivia NYC, told Newsweek.
Hightower started hosting quizzes in New York in 2006 and Bailey handed over the TCONA reins to him after last year's championships, so this year is the first that Hightower and his team are running the show. With 150 in attendance, TCONA saw its largest turnout this year and they're expecting even more next time. But the trivia powwow remains a tight-knit community of people who love to just know as much as they can about everything imaginable.
"It's grown gradually and organically," Hightower says. "It wasn't like it sprang full-throated from anybody's mind. [TCONA] just kind of happened."
Hightower and his army of quizmasters usually spend their nights wrangling bright minds in New York's bars, but TCONA is a giant leap beyond the humble pub quiz. It's both a networking opportunity and a meeting of like-minded people who are deeply invested in the never-ending pursuit of knowledge. Also part of the draw is the prospect of playing against Jeopardy! legends like Ken Jennings and maybe, just maybe, beating them.
While Quiz Bowl, a traditional trivia match between two teams similar to the kind played at high school or college level, dominates the weekend, TCONA quizzers also dabble in events like 5x5, a "Jeopardy!"-style buzzer quiz game; add a dose of athleticism to their mental abilities in the terrifying Kno'dgeball (we'll get to that); and vote for inductees into the Trivia Hall of Fame.
But why would one forego lounging poolside in the dry desert heat of Vegas to sit indoors and answer questions on topics ranging from the presidential election of 1876 to "50 Shades of Grey" and cereal? Apart from being a lot of fun, TCONA is a chance to meet other people who can retain and recall seemingly useless facts just as well, and even better, than you.
'You're a god'
To understand what drives people to fly across the country and in some cases the world — international visitors this TCONA include a lone Norwegian and a small British contingent – to answer questions on television spin-off shows from "All in the Family" and characters from Quentin Tarantino films, I spoke with Bob Harris, one of the most recognizable names in American quizzing.
Harris racked up 14 "Jeopardy!" appearances and wrote the aptly-named Prisoner of Trebekistan about the saga. He even officiated a "Jeopardy!" wedding for a former contestant, using show host Alex Trebek's podium his pulpit. Trebek served as the official witness.
"It's a subculture, it's friends, it's bonding," Harris says. "One of the last acceptable stereotypes in our culture is about smart people: it's only fair that smart people must have horrible social deficits as well."
"When somebody happens to be bright it can be kind of difficult to find a place where other people are fully comfortable with you just knowing things," Harris says. "This is a place where everybody comes and you can run full speed. We all are just very happy for each other."
The joyful competitiveness Harris speaks of is constant throughout TCONA. Recalling a Quiz Bowl game he moderated, he talked about a player tasked with remembering the name of an obscure Indian scientist. "He just sat there and sat there and sat there and he came up with it and pulled it together. And we were all just like, 'You're a god.' He's probably not going to get that at his day job."
TCONA also showcases the cutthroat, air-punching competitiveness of quizzing. "It's sports for people who can't run fast or jump high," Hightower says. "It's a contest for people who are very developed in one way. If you can throw really hard you go into baseball. If you're really quick at picking up facts and remembering things you go into quiz."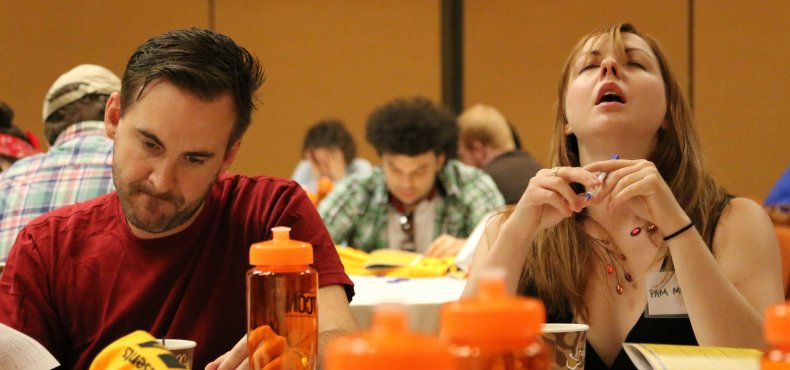 Outside of a handful of cities like New York, Austin and Los Angeles, America lacks the ingrained culture of pub quizzes more likely to be found in the U.K. or Ireland. Once a year TCONA fills that vacuum.
Jonathan Hess, a graduate student of accounting at the University of South Carolina, has encountered this problem. A TCONA stalwart and an exceptionally talented quizzer, he told me that Columbia, S.C. isn't exactly a hotbed for team trivia and certainly doesn't lend itself to regular quizzing. That's what TCONA is for.
"Most years, the closest people to me [at TCONA] are from around Washington, D.C.," Hess says.
For Bill Hammon, one of many gameshow obsessives who lives in slightly more trivia-friendly Los Angeles, TCONA is also about embracing potential rivals, those contestants you might meet podium-to-podium on game shows in the future.
"It's weird to meet people whose minds are wired the same as mine, the interest to the point of near-fanaticism," Hammon says. "When you devote yourself to this kind of stuff, when you obsess over it to the level that a lot of these people do, you kind of want to know the competition."
The Legend of Kno'dgeball
Amid a program of mainly challenging yet sedentary events at TCONA, there was something I had to try. Kno'dgeball, invented by Harris, is a hybrid of trivia and dodgeball and involves two teams of two players lobbing foam at each other while trying to shout out the answers to quiz questions. Each frenetic round lasts 90 seconds (here's a video of competitors last year.)
"There's this long-running joke that "Jeopardy!" players often make, that the game is great but it would be wonderful if we had knives or some other weapon to fight with," Harris says. "It dawned on me that if you were throwing foam balls at each other, that would be fun."
It's fair to say that adding a physical element to a pursuit usually played sat down and hunched over is controversial and deters some traditionalists who watch po-faced from the sidelines. Yet despite not remembering the rules of dodgeball until one whacked me in the head, it was the most fun, and sweat, I've ever had playing a quiz.
With adrenaline surging, it's difficult to name a "Simpsons" family member while both trying to duck from and pelt balls at the same time. So focused on annihilating my opponents, to my embarrassment I was able to recall one of Celine Dion's number one hits when asked. "My Heart Will Go On!" I screamed, breathless. The shame.
"We found that your IQ drops by about half when you're playing the game because you're involved with motor skills and all these physical things and [answers] are just really hard to remember all of a sudden," Harris says. He's right.
I ended up playing three exhausting games and competed against "Jeopardy!" master Ken Jennings in the final match. (His team beat mine by a single, paltry point.) Jennings and fellow "Jeopardy!" champion Brad Rutter, the record-holder for the most money ever won on the show, later had a grudge match against Watson, the IBM computer that beat them both on television. Thankfully, Watson was an air purifier with a sign taped onto it, not the harbinger of a robot future the real Watson machine seemed to represent. This time the humans won.
I asked Jennings why he came to TCONA now that he's a full-time writer based in Seattle. "It's more of a social thing," he said. "It would be like the Super Bowl but they all just wanted to hang out and go to Chili's after. It's that sort of vibe."
At 74 games, Jennings holds the record for the longest winning streak in "Jeopardy!" history and is the show's second highest-earning contestant. He is also a household name. To play against him at the tournament in Quiz Bowl or the LearnedLeague, a web-based individual trivia game held live at TCONA, is a highlight for some of the players I spoke to. Jennings said that once the championships begin it's a level playing field. "Here everybody's good," he said.
The Game Show Guys
Most of the TCONA quizzers I spoke with regaled details of their victories and losses, the near misses and what-could-have-been's on "Jeopardy!" and other game shows. But for those who haven't experienced being a contestant on one of these shows, or who just want to smash a buzzer, TCONA offered something called the Game Show Playalong, simulations of popular and obscure game shows.
I met the team behind Home Game Enterprizes, the company that runs the Playalong. A group of male game show fanatics, they've set up a buzzer system and have a brilliantly vampy host called Stad St. Fluer to make the experience as authentic as it can be considering that it is held in a Las Vegas hotel room.
Each member of the team has an impressive list of game show credentials that puts to shame my one appearance on "The Weakest Link," where I was voted off first. They include Home Game Enterprize's Joe Van Ginkel, who tells me he used game shows as a "weapon" against his autism as a child and was a contestant on "Merv Griffin's Crosswords." Creative director Ben Ziek competed on "Win Ben Stein's Money" and "Are You Smarter Than A Fifth Grader" and is a pun champion.
"This is, for lack of a better term, a hobby we hope we can make money with," said Tim Connolly, an emcee for Home Games Enterprizes who works as an Uber driver in Los Angeles. "We would like it to be our full-time job."
I took part in the first Game Show Playalong of the weekend in a simulation of "Split Second", a 1970s buzzer quiz game. My competitor, Marshall Flores, an information analyst for P.F. Chang's in Scottsdale, Ariz., was a formidable opponent who answered the "Star Trek" questions I couldn't -- which means all of them.
"We're something different [from] bar shows," Ziek says. "We consider it an alternative to regular pub trivia where everyone just sits at a table and writes stuff. We're still struggling with that, but we know there's a market there somewhere."
Ladies Who Quiz
Settling into the rhythm of weekend, seeing quizzers stretching their legs around the Tropicana in marigold-yellow TCONA t-shirts before heading back into more hours of trivia playing, it becomes apparent that there is a baffling lack of women here. This seems puzzling as the lack of women players is not just evident at TCONA but in the wider trivia world. A fact is, by definition, gender-neutral yet women don't appear to be drawn to the abstract pursuit of them in the same numbers as men.
Pam Mueller, a "Jeopardy!" champion and the last woman standing in a number of the show's tournaments, completed my sentence when I mentioned this to her. "I've noticed," I started. "There are a lot of guys and not a lot of girls?" Mueller finished.
Now attending the graduate school for psychology at Princeton and attending her first TCONA, Mueller says that while her rare status as a female quizzer means she feels some pressure to "upload the honor of the entire gender," the community is so supportive and strong that being a woman is an advantage.
"It does help, first of all, getting on a game show. If you're a woman who's good at trivia, you're going to have a better chance because there's fewer women and [it helps] for being memorable and being selected."
Leslie Elman, another woman trivia stalwart, is a freelance writer living in New York City. She writes trivia questions for Trivia NYC quizzes and is the author of two trivia books, including The Ladies Room Reader Quiz Book, "which I describe as 'if "Jeopardy!" were written only for women and about women'," she says.
"There's a tendency for men to underestimate women, which can be an advantage when you're competing against them because they don't really know what you know," Elman says.
But Elman also discovered that where you live plays just as big a part as gender when it comes to the type of information people recall and store away until the right question is asked.
In one game, Elman's team was asked which retail chain ran an ad campaign featuring David Beckham in his underwear. The answer, of course, is H&M and Elman, the sole woman in a group faced with a fashion question, was expected to know the answer. But like most New York residents, she sees Beckham's ubiquitous gleaming abs adorning the city's buses on a near daily basis. Was her correct answer the result of her location, her gender, or both?
That is a question no one appears able to answer.
*Answers
1. "Walk This Way"
2. The Bahamas
3. Miss Cleo