'Ant-Man 3' Director on Kang's Complex Villain Status and Likeness to Loki
If there's one thing the Marvel Cinematic Universe's (MCU) Phase 4 did well, it was improve the franchise's approach to villains, and Phase 5 will continue to do so with Kang the Conqueror, Ant-Man 3 director Peyton Reed told Newsweek.
With the exception of Thanos, Loki, and Hela, Phases 1 to 3 of the MCU had bad guys that were either average or just plain forgettable. But, then Phase 4 came along and proved that each film could have a compelling villain with a backstory viewers could empathize with, like Wenwu (Tony Leung) and Namor (Tenoch Huerta) from Shang-Chi and the Legend of the Ten Rings and Black Panther: Wakanda Forever, respectively.
Now it's Kang's turn to take the spotlight, and Jonathan Majors' character will do so in a big way as he is the Multiverse Saga's main villain, like Thanos was in the franchise's Infinity Saga.
Kang the Conqueror and his variants may be battling the MCU's heroes up until 2026's Avengers: Secret Invasion, at least, but Ant-Man and the Wasp: Quantumania's iteration of the character does not appear to be as villainous as he is first made out to be. And this was a deliberate choice, Reed told Newsweek.
Is 'Ant-Man 3's' Kang the Conqueror Really a Villain?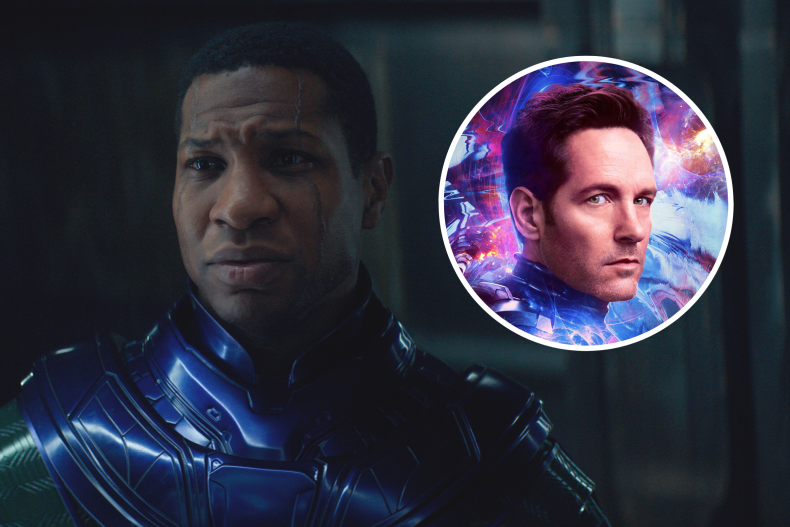 Ant-Man and the Wasp: Quantumania kickstarts Phase 5 of the MCU, and it sees Scott Lang (Paul Rudd), his daughter Cassie (Kathryn Newton), Hope van Dyne (Evangeline Lilly), and Hope's parents, Janet van Dyne (Michelle Pfeiffer) and Dr. Hank Pym (Michael Douglas), get transported into the quantum realm.
It is there that Ant-Man comes head to head with Kang. It is also where Janet has to face up to the dark truths of her 30 years spent in the realm.
Reed explained that he and Majors were keen to make sure that Marvel fans understood Kang's "humanity" and his pain at being stuck in the quantum realm.
Without spoiling too much of what goes on in Ant-Man and the Wasp: Quantumania, the film sees Kang warn Scott that he should help him leave because of an ominous "them." It is assumed that Kang is the bad guy and was stopped by being sent to the quantum realm. But as the film progresses, fans will question whether that's actually the case, even if he makes a formidable threat.
Reed said: "As Jonathan and I were working to create the MCU's version of Kang the Conqueror [...] we both agreed that the antagonists that we love the most in the movies—whether it's Loki or Thanos, or Killmonger— you, the audience member, you want to root against them, you want to root for the hero but you also want to understand that person's point of view.
"Maybe that agenda, whether you agree with it or not, you understand where it comes from, and generally with the best villains, it comes from trauma, or something that's happened to them.
"And you do want the audience to feel a certain amount of empathy for that person, or at least recognize the humanity in that person. That was really important for us."
How Jonathan Majors and Peyton Reed Created Kang for 'Ant-Man 3'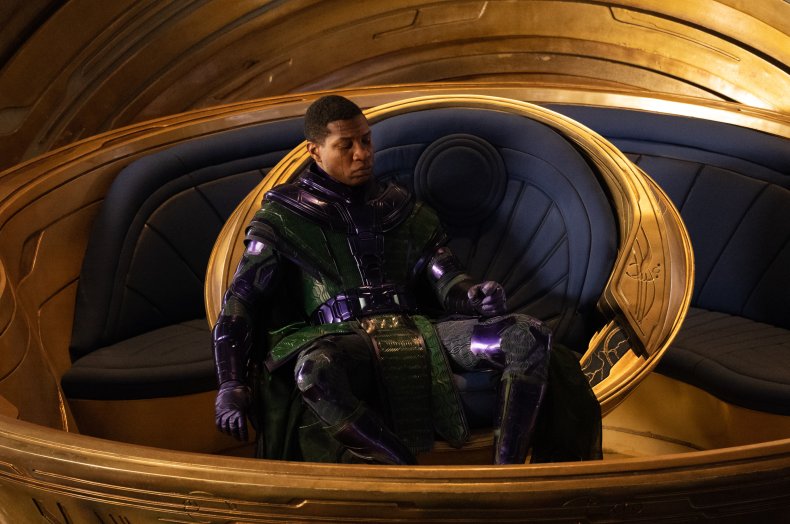 The director went on to detail how he and Majors chose to focus on Kang's connection with Janet so that it conveyed how time travel has made him an inherently lonely being in the MCU.
"In Quantumania, we loved the idea of introducing Kang in the context of the quantum realm. There's a very specific reason he's in the quantum realm, right? He's been exiled," Reed said.
"But introducing this idea that both Kang and Janet are essentially marooned down there, and they forge this friendship and they have a common goal to try and get out.
"We liked the idea of that question. You and I live in a linear way: past, present and future. Kang doesn't. He doesn't live in a straight line. How does someone like that, who lives in those sort of time loops [think?].
"And he talks to Scott and [says] 'Are you an Avenger? Have I killed you before?' He's clearly fought the Avengers so many times, or their variants, and can't keep it straight—that was a kind of a frightening concept."
Reed went on: "But [we had] the idea [of] if you live time that way, would it be worthwhile to form attachments or relationships with people? Maybe not, because it would only lead to hurt.
"We loved the idea that this Kang-Janet relationship. Maybe that's the closest he's ever gotten to another human being. And then, of course, when his true nature is revealed, she feels betrayed but he also feels betrayed. That felt like a really strong, sort of human way to introduce Kang."
Ant-Man and the Wasp: Quantumania is out in theaters now.