Antanas Mockus, Colombia's Clownish Candidate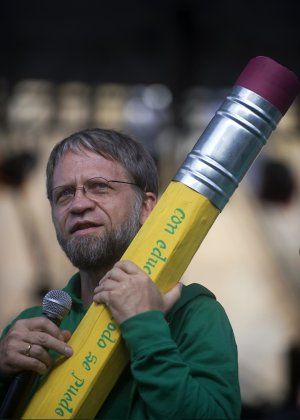 His parents are from Lithuania. He spices his interviews with bons mots from French philosophy. The Abe Lincoln beard and political theatrics—he got married atop an elephant, and showered with his wife on television to promote water conservation—are straight from Comedy Central. But if the pollsters and pundits are correct, Antanas Mockus, from Colombia's microscopic Green Party, has a fair shot at becoming president of Latin America's fifth largest and historically most conflicted nation. The latest voter survey, by Colombian pollster Ipsos Napoleon Franco, puts Mockus in a dead heat with former defense minister Juan Manuel Santos for the May 30 election—and even winning a runoff vote on June 20, if no one polls a majority in the first round. And no one seems more surprised than the Colombians themselves.
Just four months ago, the presidential race was shaping up as a romp, with Santos holding a lordly lead in a ragtag field. That made sense; Santos rode shotgun to the ultrapopular president Alvaro Uribe through most of the past eight years, when brass-knuckle policies retrieved the crime- and drug-addled nation from the edge of ruin. For this nation of 45 million—weary of curfews, kidnappings, drive-by murders, and a woolly guerrilla insurgency that has spanned the better part of five decades—security counts. No wonder Uribe is leaving office with a 70 percent approval rating, putting him alongside the rock star of the region's politics, Brazilian president Luiz Inácio Lula da Silva.
Grateful as they are, Colombians have come to expect more, and many younger voters are weary of the political cat-fights, truculence, and whiff of corruption that had come to brand Uribe's later years. High among their frustrations was the scandal of "false positives"—when security forces allegedly killed peasants and then dressed them up in guerrilla gear to boost Bogotá's body count in the war against the FARC rebels. They were also grated by Uribe's aggressive, if undeclared, bid (through his congressional allies) to win a constitutional amendment allowing him to run for an unprecedented third term. (The court said no.)
Enter Aurelijus Rutenis Antanas Mockus Šivickas, a 58-year-old mathematician, philosopher, and, crucially, political outsider. Once upon a time, he could be dismissed as an eccentric and a borderline buffoon; as a university rector he once dropped his trousers to answer student protestors. Mockus nonetheless had a virtuoso's ear for politics. As mayor of Bogotá (from 1995 to 1998 and again from 2001 to 2004), he bicycled to work and climbed into superhero spandex to exhort Bogotános to be supercitizens. He also deployed an army of mimes to admonish Bogotá's unruly drivers, flashing the yellow and red cards (which symbolize soccer penalties) at traffic scofflaws.
Between stunts, he took on the capital's busy bandits, narcotraficantes, and guerrillas, slashing Bogotá's horrific murder rate by half, from 3,340 in 1995 to 1,558 in 2004. His antigun campaign persuaded city dwellers to turn in more than 4,000 handguns for token gifts of cash or food. A fiscal prude, he kept the city budget under control, displeasing his lefty supporters and leading his detractors to brand him as a neoliberal. Today his campaign cleverly turns on a crossover message of law and order, to reassure the Uribistas, and a environmental correctness (bike paths, green buildings), aimed at the tree-hugging crowd. To that he has added a dollop of social concerns, such as fighting poverty, and so the students he once mooned now count among his most avid supporters, spreading the "green wave" over Twitter, Facebook (where he boasts more than 693,000 amigos), and Youtube.
Yet one of the riddles of this campaign is why Santos is not the runaway favorite. After all, he was in charge of Uribe's security strategy that not only put Latin America's bloodiest guerrilla group on the run but also kept Colombia's democracy on track and laid the way for an economic revival (foreign investment surged and per capita income more than doubled, to $5,700, since 2002). Those same trends surely helped Mockus point to a safer Bogotá. Colombia is hardly a shrine to peace; crime is spiking again in Medellín, and the FARC and right-wing paramilitaries are regrouping. But urban crime has plunged—Mockus points, in part, to a ban on selling alcohol in stores, restaurants, and bars after 1 a.m.—making Bogotá the envy of many Latin American cities. Colombians can sleep and walk the streets in relative peace, which after 45 years of conflict is a triumph.
Ironically, that tranquillity may be exactly Santos's problem. "The political environment is secure and now people can hope for a brighter future," says Eric Farnsworth, of the Council of the Americas. "It's a bit like the last days of Winston Churchill, when the war was won and along came Clement Attlee. Ironically, Uribe's policies, which Santos implemented, have made Mockus possible."
The Santos campaign is by no means dead. Backed by his powerful political mentor, Santos has taken a more aggressive tack, hammering on Mockus's lack of experience and what political analyst Alfredo Rangel calls buenismo, or contrived good intentions. Mockus confessed his "admiration" (which he later rephrased as "respect") for Venezuelan president Hugo Chávez, who—despite bullying critics and the press—submitted his regime to the ballot box. He also raised a kerfluffle by condemning outright the Colombian Army's raid last year of a clandestine FARC encampment in Ecuador, overlooking the fact that the Quito government had long turned a blind eye while the guerrillas operated freely on Ecuadorean soil.
Perhaps as a result, Mockus has seen his slim lead vanish (he now polls 34 percent against 35 percent for Santos) in recent weeks. But Mockus's phenomenal rise strongly suggests Colombians are anxious for a fresh face and measured change. (He even got a sympathy bounce in the polls when he announced he had Parkinson's disease this spring.) Just how badly Colombians want change will likely become be clear only after the runoff vote on June 20. And that's not the only doubt. The Green Party holds just eight seats in the 268-member congress, meaning that a Mockus government will be forced into an alliance with Colombia's traditional politicians, many of whom still owe their loyalty to Uribe. Mockus's real feat may not be winning but governing, and there not even spandex is likely to help.