NASA Images From Space Show Antarctica Melting After Its Hottest Day Ever Recorded
NASA images have shown Antarctica melting on its hottest ever day. The pictures from space show the continent on February 6, when temperatures at the tip of the Antarctic Peninsula reached 18.3 degrees Celsius (64.9 degrees Fahrenheit), the highest ever recorded for the Antarctic continent. On that day, similar temperatures were recorded in Los Angeles.
Images taken by the Landsat 8 satellite between February 4 and 13 show the extent of the melting. Two images were then selected as NASA Earth Observatory's Image of the Day.
Record temperatures were recorded at the Argentine Esperanza research base. The previous hottest day was March 24, 2015, when it reached 17.5 degrees Celsius (63.5 degrees Fahrenheit,) according to the World Meteorological Organization (WMO). The record is currently being verified by a WMO committee.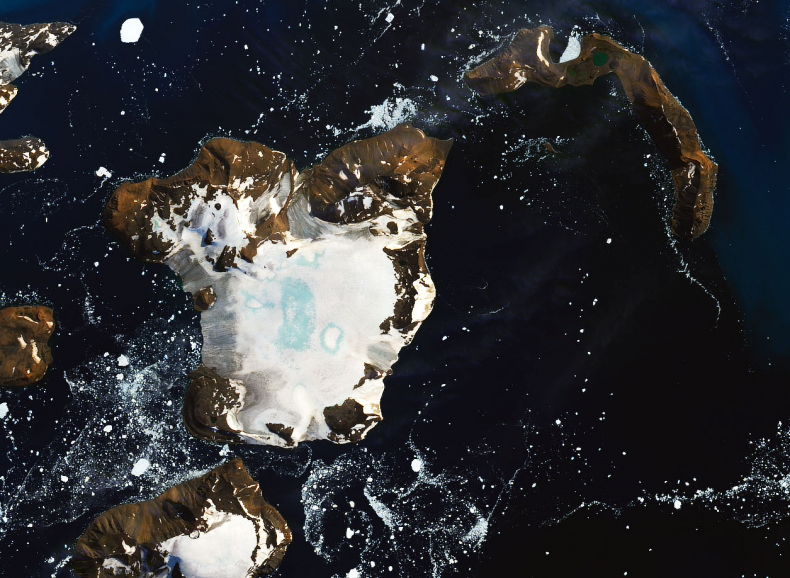 "Everything we have seen thus far indicates a likely legitimate record but we will of course begin a formal evaluation of the record once we have full data… and on the meteorological conditions surrounding the event," Randall Cerveny, from the WMO, said in a statement. "The record appears to be likely associated (in the short term) with what we call a regional 'foehn' event over the area: a rapid warming of air coming down a slope/mountain."
The warm period began on February 5 and lasted until February 13. The images show the ice cap on Eagle Island melted away. A heat map also released by NASA shows temperatures in this region of Antarctica on February 9. Temperatures were so warm that huge areas of snowpack became saturated with meltwater, with an estimated four inches melting over five days.
"I haven't seen melt ponds develop this quickly in Antarctica," Mauri Pelto, a glaciologist at Nichols College, said in a NASA statement. "You see these kinds of melt events in Alaska and Greenland, but not usually in Antarctica."
Foehn winds are strong gusts that travel down the sides of slopes. The event that caused the unusually warm temperatures was the result of westerly winds traveling up the mountains where it cooled and condensed into ice or rain. The heat released in the condensation process traveled down the other side of the mountain.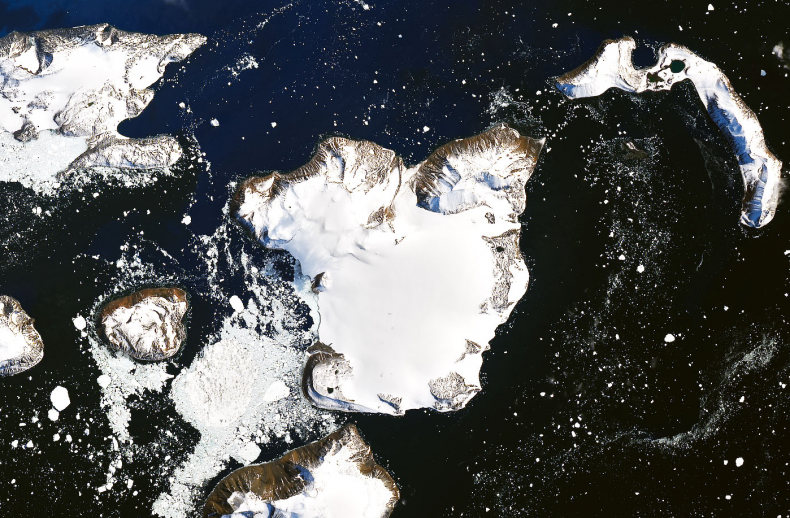 In the statement, Rajashree Tri Datta, an atmospheric researcher at NASA's Goddard Space Flight Center, said stronger winds and higher temperatures can make foehn-induced melting more prominent, and that conditions in February were just right.
According to the WMO, the hottest temperature reached in any part of the Antarctic region was 19.8 degrees Celsius (67.6 degrees Fahenheit), recorded in January 1982. It said average annual temperatures for the continent are between minus 10 degrees Celsius (minus 14 degrees Fahrenheit) on the coast and minus 60 degrees Celsius (minus 76 degrees Fahrenheit) at the highest points of its interior.