'Anthem' Bricking Consoles? How to Fix Game Crashes on Xbox One and PlayStation 4
Over the weekend, the internet exploded after people discovered that Anthem might be "bricking" consoles (i.e. irreparably destroying them and turning them into oversized paper weights). Anthem forums and subreddits list numerous complaints of the game shutting down consoles during play, sometimes completely turning them off. The internet blog-o-sphere smelled blood in the water and started posting headlines about how BioWare's Iron Man simulator could keep your $400 multimedia device from ever turning on again.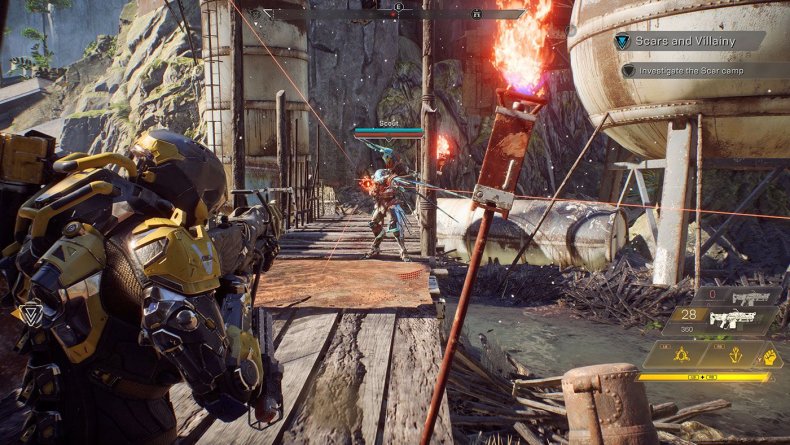 Is Anthem Bricking Consoles?
The short answer to this seems to be no. Anthem is definitely crashing player consoles while in Quick Play, missions or trying to talk to the NPCs in the end game, but it is not turning them into garbage.
JZHJR on the Anthem reddit claims to work for Sony support and shared his thoughts on what seems to be going on with the game. "No console has been bricked," he wrote. "People just don't understand how to turn the PS4 back on and rebuild a database." He claims to have taken over "150 to 200 calls" about the issue, with many users worried that their consoles were broken forever.
How to Fix Your PlayStation 4 Console After Anthem Full Power Shutdown
To fix your PlayStation 4 console after Anthem keeps it from rebooting, you'll need to turn the console on in safe mode, which can done be done by holding down the power button on the front console for seven to eight seconds or until you hear two beeping sounds. Then you'll need to connect your PS4 controller with a USB cable and go down the menu until you see "Rebuild Database." The console will take your stored data and fix the game's broken files, allowing you to use your console again.
EA is aware that Anthem is crashing player's consoles and they are currently "investigating" the issue according to the EA Help Twitter. Players can share information related to the crashes on the EA forums if they want to help BioWare solve this problem. There are currently more than 900 responses spread out more than 100 pages from players who had their game crash or console shut down on them while playing Anthem.
"As soon as the crash happens my PlayStation 4 goes into a hard crash, as if the power plug was pulled during gameplay," wrote one user on the forums. "The game froze in a mission and then my PS4 had a stroke," wrote another.
Have you experienced this Anthem console game crash bug? Tell us in the comments.