'Anthem' Legion of Dawn Armor: How To Claim Special Edition and Preorder Bonus
Players who were paid for a subscription to EA Access or Origin Access have been able to fly around the world of Anthem a full week before the game's release. They are figuring out which Javelins they like the best, which guns explode wyverns in just the right way and how many dollars they are willing to invest to make their suit look awesome. If you pre-ordered the game and got the Deluxe edition, you should have access to the Legion of Dawn Armor. Here's how you can find the item and how to equip it.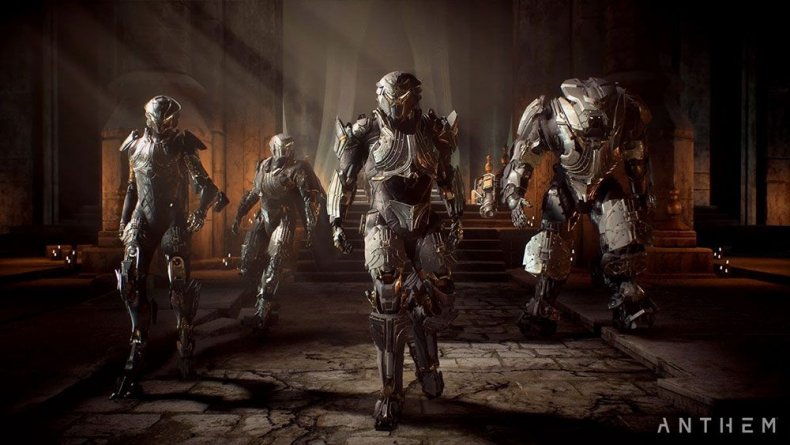 Anthem Legion of Dawn Edition Armor
Players that purchased the The Legion of Dawn edition get access to an exclusive armor for each one of the four javelins. The sets come with a helmet, torso, arms and legs that can be swapped out in the Forge. You should also get the Fist of the Mountain assault launcher, a legendary gear attachment that is good for player levels 7 to 9.
If you pre-ordered the game, you should also get access to Legion of Dawn Ranger Armor Pack and the Light of the Legion Legendary weapon. Lead Producer Ben Irving said on reddit "these are balanced to be as good as items around levels 7-9" and the power level is "18."
All other pre-order bonuses can be found at this EA Help link:
To get access to these items, you'll have to follow a few steps.
Complete all the tutorials, which will put you at the Forge in Fort Tarsis.
Talk to Prospero at his stall in Fort Tarsis. You can find it near the Forge in the long line of vendors.
The "Lighting a Fire" mission forces you to find three pieces of ember out in the open world. Ember can be found all across the map in rocks, plants or just lying around. You don't need to find them in Freeplay, but it does help. They are fairly common and shouldn't take you long to find.
Once you collect enough Ember, return back to Prospero who can now turn his forge back on. After the mission is completed, click on the "Store" icon,
Your items will be waiting in the "Rewards" tab for you to obtain. A check mark will appear next to items you have already obtained.
Once you have the goods, head over to the Forge to equip them.
What javelin has been your favorite to pilot? Tell us in the comments.