'Anthem' Release Date: Times & Midnight Locations So You Can You Start Piloting Your Javelin
Anthem players have had a few weeks to tinker around with the game through betas and early access, but now it's time for the full release. Get ready to embark on a high-flying adventure with the Javelin of your choice as you slaughter Wyverns, giant bugs and SCARs. Ignore all the naysayers on reddit that complain the loading screens and end game grind, this is a game that allows you to feel like Iron Man for just a few hours.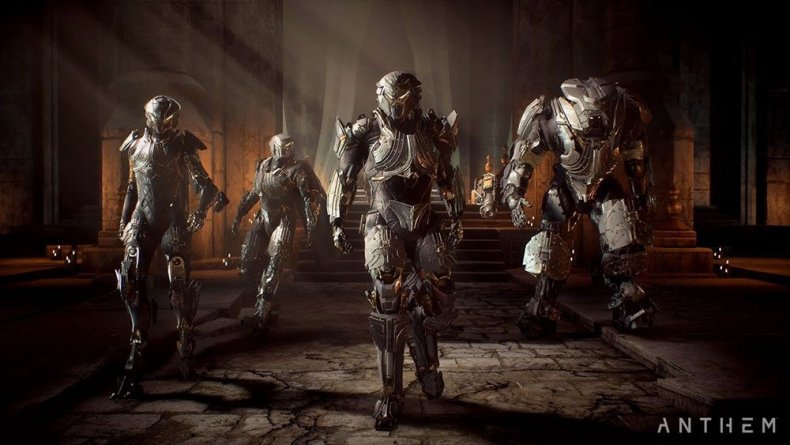 If you've been waiting patiently for Anthem to full release, here's when you can download the game on your PC, Xbox One or PlayStation 4.
Anthem Release Time and When You Can Download
Considering you'll want to jump in (and wait) immediately, it's best to add the game to your console beforehand. If you already pre-purchased Anthem, you can download the game ahead of time. Anthem will release at midnight on February 22 in whatever time zone you are currently in, according to Global community manager Jesse Anderson. That does mean that if you are on the East Coast, you'll essentially get to play three hours before everyone else.
Here are the release date times for Anthem:
Eastern 12 p.m. EST.
Central 1 a.m. EST.
Mountain 2 a.m. EST.
Pacific 3 a.m. EST.
Anthem Midnight Release
Some video game stores will have midnight releases for Anthem . If you would rather have a physical copy of the game before it officially launches, GameStop will be opening at 9 p.m. on February 21 in a few major locations if you'd like to buy it early. Call your local GameStop and make sure that the store is actually having the event. Best Buy and Target seem to be having less midnight releases, but you can call your local store to see if they will be open. Don't forget the mom-and-pop shops, either! They might even break street date shhhhh ...
What is the first thing you want to do in Anthem ? Tell us in the comments.