Anthony Bourdain and Joel Rose Talk Hungry Ghosts, Japanese Folklore and Their Writing Partnership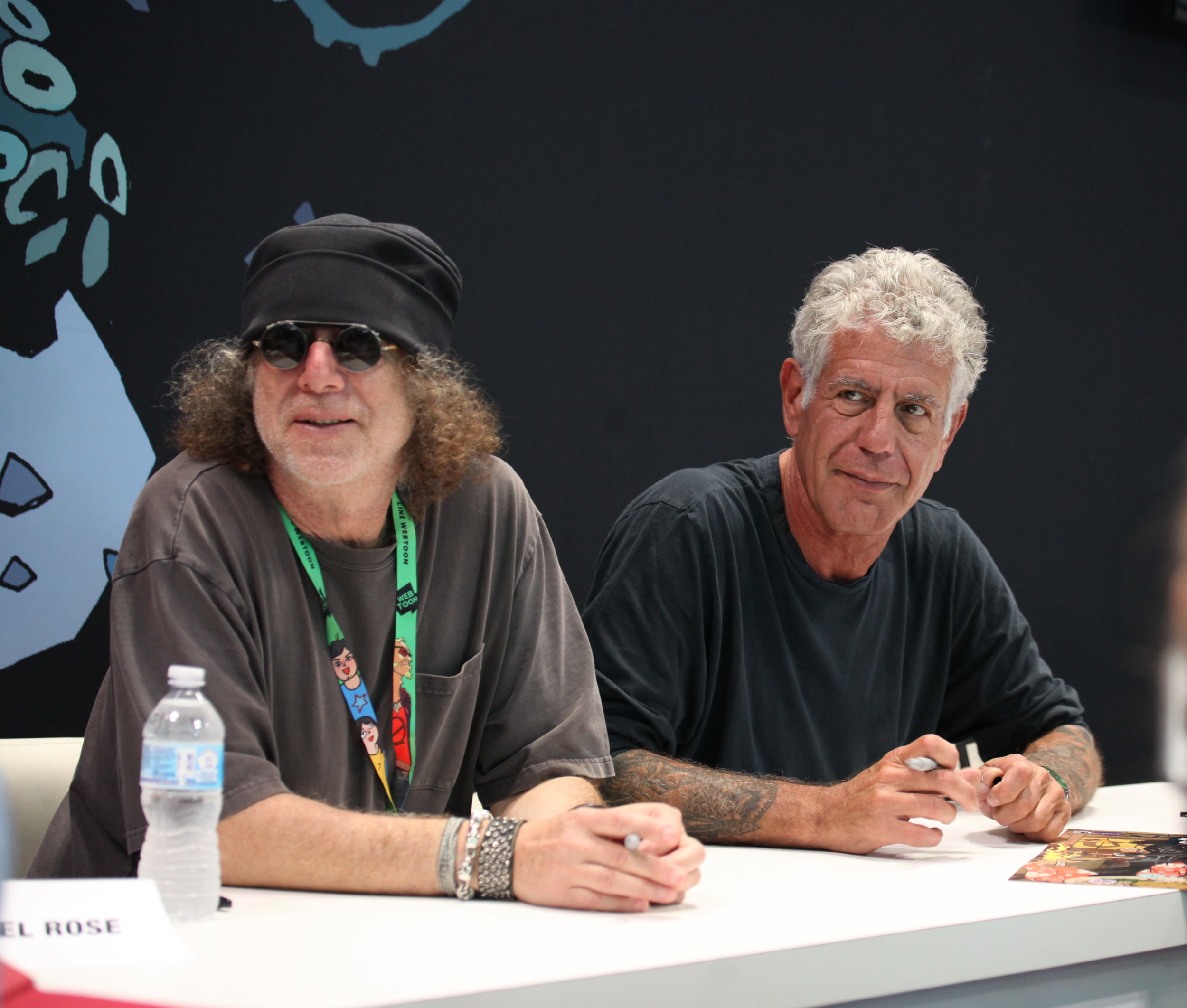 During the early eighties, chef, author and Emmy award-winning television star Anthony Bourdain was working as a cook in Soho. He sent Joel Rose, an acclaimed writer, then publisher and editor of a Lower East Side literary magazine called Between C & D, an unsolicited pitch for an original comic he'd been working on.
"It was about a young cook, much like me, searching for heroin," Bourdain told Newsweek during an interview at New York Comic Con.
"Which is exactly what he was doing," Rose added, with a laugh.
Rose rejected the comic, but it marked the start of an enduring friendship and partnership that spanned many projects, including their upcoming comic Hungry Ghosts. "We just hit it off right from the start," said Rose. "I remember sitting at the kitchen table in my place and just talking for hours and hours."
Rose encouraged Bourdain to focus his energies on writing. "The drawings were fine, but they weren't great. But the writing had a real life to it," Rose explained.
More than a decade later, Bourdain sent Rose an email from Tokyo, describing the view of the city from his hotel room in evocative detail. Rose immediately showed it to his wife. "This convinced her to read the New Yorker piece that had just come out [1999's 'Don't Eat Before Reading This']. So, I think the next day, she called my agent to offer me a book that became Kitchen Confidential," said Bourdain.
Bourdain's a lifelong comic fan -- citing early Marvel, MAD magazine, R. Crumb among his favorites -- though a collaboration in that vein with Rose wouldn't happen until 2012, with the New York Times bestselling graphic novel Get Jiro!, set in a dystopian Los Angeles mired in a brutal war between master chefs. It spawned a prequel in 2015, Get Jiro: Blood and Sushi, another bestseller.
As was the case with Get Jiro, the world of cooking will be a primary focus of Hungry Ghosts. Bourdain and Rose mentioned the long-running culinary manga Oishinbo as a major influence on their comic work. "For a Westerner, it's the greatest primer on, y'know, what is sushi, where did it come from, what's the difference between good and bad sushi. There are whole books on rice, on vegetables. It's so authoritative, so detailed, so accurate," Bourdain said.
Hungry Ghosts offers up modern retellings of classic Japanese horror stories focusing on yōkai and yūrei, or demons and spirits. "There was a critic at the end of the 19th century called Lafcadio Hearn, and he did untold amounts of research, and wrote this book called Kwaidan. Almost all the knowledge of this is through him, it's the cypher. People who really know Japanese culture from the West, know this guy. That's where we went back for the source material," said Rose.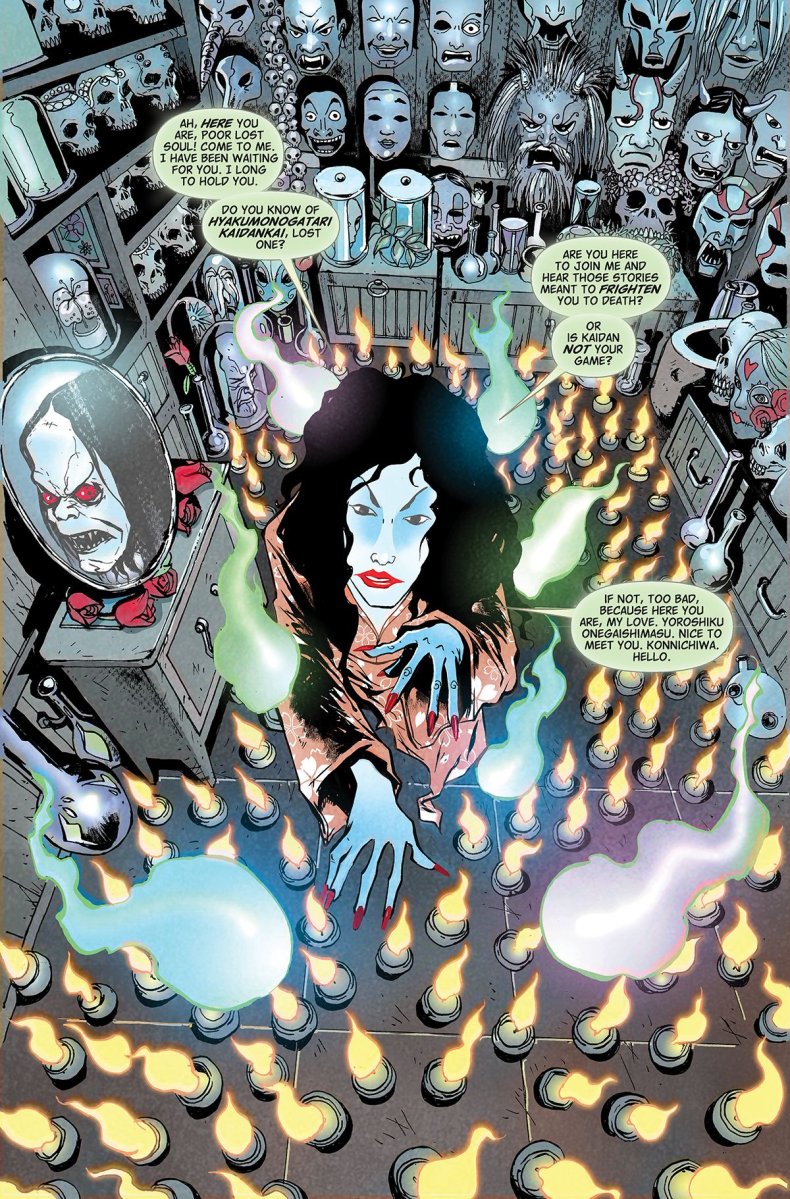 Planned as a four-issue anthology series, each containing two standalone stories, Hungry Ghosts will feature the work of eight different artists. The settings and time periods vary from piece to piece, all framed in the structure of the Edo period game Hyakumonogatari Kaidankai, or One Hundred Candles. Bourdain described the game as "part storytelling, part party, part seance."
One Hundred Candles is "an event where samurai were said to get together and tell, essentially, ghost stories. Horror stories to scare each other. For every samurai there would be a candle, and at the end of each story, the teller would blow out the candle, so the room would get darker and darker," Bourdain explained. "We're using the classic ghost and demon stories as a jumping-off point for stories set all through history and all over the world. They're not all set in medieval Japan. And we're putting it in the world of chefs rather than samurai."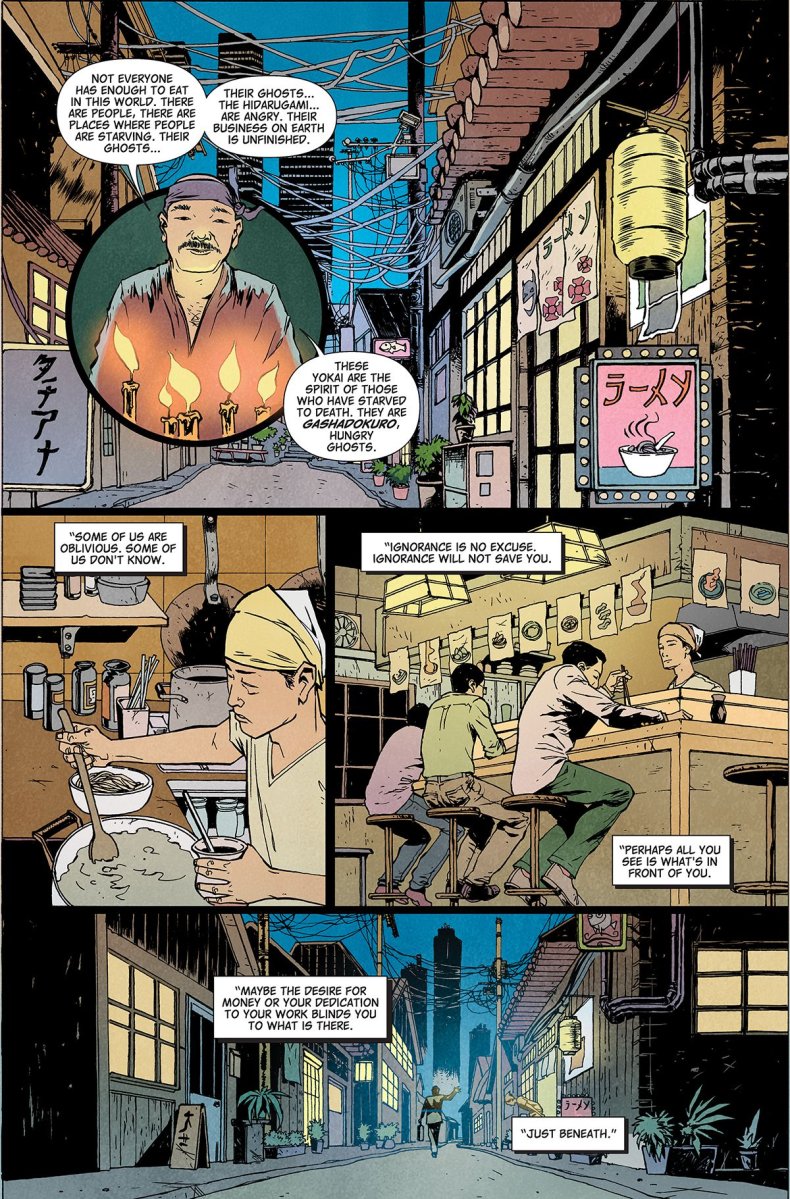 Don't expect hoary Western horror staples, like chainsaws and hockey masks. "There are certain preoccupations that are just non-Western," said Bourdain. "They are shy about things that we are not shy about. They are very open about other things that we are not. The things that scare or titillate or provoke or excite, it's different. But fascinating. Translating that to a Western kitchen in the present day has been really interesting. We just did one that came from something that's very, very unthinkably not Western. The whole concept of the story is just, like, f-cking mindblowing."
"There's a kind of ghost that longs for a tiny little ball that exists in your alimentary canal. It might be very close, or it might be very deep," added Rose. "But it's considered a delicacy of these ghosts." (If you're curious, it's based on the folkloric concept of shirikodama, which translates literally as "small anus ball." Hold onto your hat.)
"That's not a classic American ghost story, for sure," said Bourdain with a laugh. "To turn that into a twentieth-century parable against bullying in the kitchen among chefs and cooks was both interesting and strangely natural. Male-on-male sexual harassment and brutality was very much part of the classical French kitchen regime," he added, noting this particular story takes place in a 1930s Escoffier kitchen.
Rose and Bourdain feel confident their latest foray into culinary horror will find an enthusiastic audience. "A good story is a good story, regardless where it's set, or in what time period... or what medium, for that matter. As long as the visual aspects support that story in a useful and effective way, whether you're making a film, a television show or a comic book. When those things come together, it's magic. We have every expectation that's gonna happen here," said Bourdain.
Hungry Ghosts #1 debuts Jan. 31, 2018. Find out more at the Dark Horse Comics website.