'I Worked With Anthony Bourdain for 14 Years: He Was So Much More Intense in Real Life'
I started working on Anthony Bourdain's first show, A Cook's Tour, a couple of months after graduating from college in 2002. I was a tape logger and once or twice during that period I had to bring a VHS rough cut of an episode to Tony's apartment. The first time I delivered it, I was very nervous. I knocked on the door and Tony opened it, but before I was able to say anything, he just took the tape and closed the door in my face. I thought that was very funny, but when I told him many years later, he didn't love that story. I guess he thought it made him look out of touch. Which wasn't at all what it was; he was just kind of a shy person.
When Anthony Bourdain: No Reservations got the green light in 2005, I was brought on as post-producer. For the first season, I was stuck in the edit room, and though I had a little bit of a relationship with Tony and worked with him on voice over sessions during that period, my first trip in the field as a producer wasn't until a year later; to Moscow in 2006.
In those early days, we had a fixer, a local driver, a few cases of equipment and we all rode in the van together, including Tony. During that trip, we had arranged a scene where Tony would go up in a Russian fighter jet. The cameraman was making adjustments to the camera in the airplane, but Tony was always very impatient to get going, even back then. So the plane took off and when it landed, Tony said it was the most amazing, transformative experience of his life. He wanted to see the footage, but all that had been recorded was Tony hurrying up the cameraman. The cameraman was nervous, so he had accidentally "double punched" which means he hit "record" and then "stop." Tony was so upset. But the anxiety for me was that I had thought Tony was going to die. The maintenance crew for the airplane had asked to borrow some of our gaffer tape to fix the wing, which just terrified me; this was a supersonic aircraft. I didn't tell Tony about that, I was just very happy that he survived the flight.
I took 81 trips with Tony over the years for Anthony Bourdain: No Reservations, Anthony Bourdain: Parts Unknown and The Layover and up until the last one, we were still learning. No two trips were ever the same; there was no manual, guidelines or rules.
Before a scene, I would typically have 10 or 15 minutes with Tony, which he called "parking lot time"—while the cameramen set up. We would discuss the scene and he would—like a hard hitting investigative journalist—grill me on the person he was meeting, the scene and what we were hoping to get out of it. Sometimes he would have changed his mind about some aspect and forgotten to pass the note on, and over the years, he did get into the habit of almost believing that he just had to think something and we would know it, because we had been working together for so long.
In Mozambique in 2012, just as we had one day of filming left, Tony handed me this beautifully written paragraph of voice over about our drive to Mozambique Island. We hadn't filmed any of that. It was 4,000 miles away from where we were. I had to send a camera man in a van about 150 miles into the interior of Mozambique to get some footage we could use for that piece of writing. Tony always desperately wanted to get it right, and any time he saw things weren't going well, he could be very opinionated about that. You would not sleep much for the week and a half we were shooting out in the field.
Tony's mercurial temper probably caused my hair to go a little greyer a little prematurely, but he was never, or very rarely, mercurial or tough for the sake of it. It was because he was always pushing the show and pushing us. And he was always so funny too, even when he was delivering an insult or harsh feedback. Everything Tony said came from a place of truth. For example; to some degree he really did not like vegetarians and vegans, but the reason was that he viewed it as not being open to new experiences. The typical vegetarian, in his mind, was someone who lived a bland existence. But, our executive producer was a vegetarian and I'm not the most adventurous eater—which Tony did eventually discover—and he didn't dislike us as a result. In the toughest of situations, we were always laughing.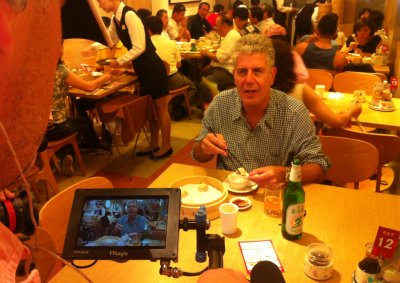 Our Libya trip for Parts Unknown was probably one of the most stressful and difficult. We travelled there in 2013, shortly after the revolution. When we were in the edit, rather than dwell on the difficulties, Tony wanted to end on a positive story; how everyday people had toppled this awful megalomaniacal dictator, Muammar Gaddafi. He wrote a voice over line that he originally wanted to be the last line of the episode. It said: "Barbeque may not be the answer to the world's problems, but it's a start." I think that captured what was so great about Tony. He understood that the simple act of sharing a meal with somebody, listening to what they had to say and being open-minded, was in such short supply. Those situations are where he would shine the most. He really understood the power of his platform.
But the split between who he was on the shows and who he was to us only became clear to me after he died. Tony was funnier, scarier and more intense in real life, what people saw in the shows was just a small fraction of the real thing. We were cramming a whole week into 45 minutes of TV, so of course, that will always be a watered down version that doesn't quite capture what it was like to be there.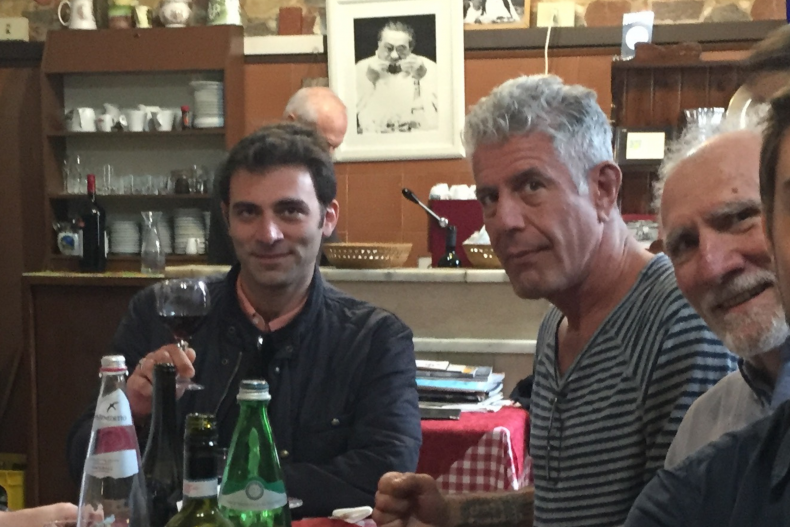 Tony was always there with us, slogging away in the heat and humidity and he asked for almost nothing from a creature comfort perspective. When I talk about him being demanding, that was all for the quality of the show. Tony would always joke about himself in the third person like; "The talent is requesting no red M&M'S!" A joke, because he was very low maintenance in that way.
He didn't like being the center of attention. If we were going out in public he would puff himself up to brace himself for the usual onslaught of people. But I remember there were also times he would do that and not get recognized, and he would be deflated by that, so he found both scenarios hard.
Ahead of the shoot with President Barack Obama in Vietnam in 2016, Tony was a combination of nervous and extremely depressed. We just couldn't figure out why President Obama wanted to take time out to film with us. It was a sense of, what had we done to deserve this? It was such a bubble we were in all those years filming the shows.
But Obama was amazingly down to earth and had this really magical way of making everyone feel at ease. The scene we filmed with him was shockingly relaxed and low key. His head of Secret Service was just standing in the doorway, there wasn't anyone in the room with us. But getting there was a logistical clusterf***. It was a top secret shoot, and though we knew several months before, we couldn't tell our families, cameramen or the local crew. We had to set up a secret scene at a local neighborhood restaurant that ended up violating a lot of secret service requirements; like having multiple exits or being situated in a neighborhood that could be left quickly. But everyone from the White House team was amazing, which is why we were able to pull it off.
We had these unbelievable experiences; we would live a lifetime in a week, then we would go home and we couldn't really explain it to our loved ones. So there is no question that Tony was lonely. For all of us, it could be very isolating traveling so much.
In the Democratic Republic of the Congo, Tony made a joke about it on camera. We had stopped along the Congo River and he was given a beautiful handmade copper bracelet by a king of a local tribe. It really left a strong impression on him and when we hopped back on the boat, as the sun was setting, Tony wanted to talk right to the camera, which was unusual. He was talking about the experience of an African king giving him a bracelet and how he would deal with that when he went home and someone asked how his week was. Because you couldn't really talk about these things. It was strangely alienating.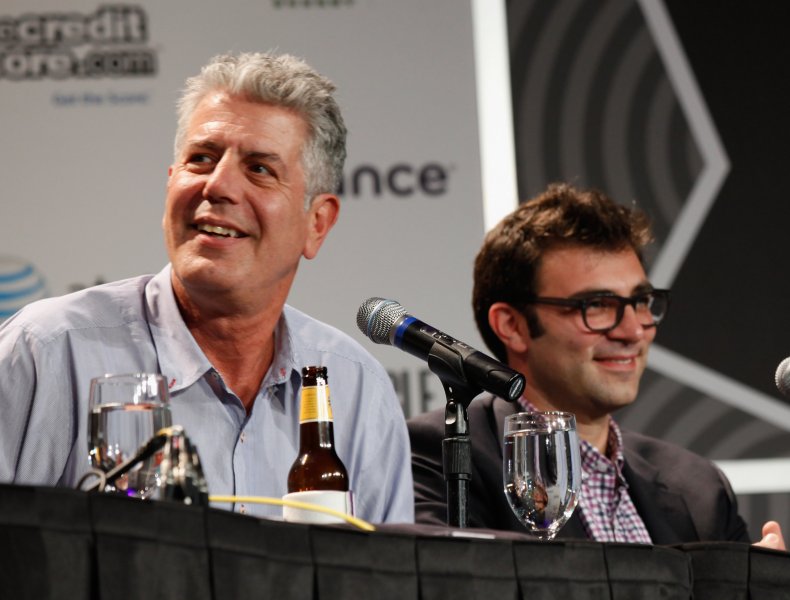 My last real conversation with Tony was on the final day of filming with him in Indonesia, in May 2018. We had an hour to kill, because we were filming a Balinese funeral, ironically enough, and we had a really amazing conversation. It was one of the most profound and intimate exchanges we'd ever had.
Right before he left for France, Tony had invited me for dinner but I was very busy getting ready for our next shoot in India so I declined, thinking I would be seeing a lot of Tony very soon. I very much regret that.
I was in New York when Tony died on June 8, 2018. I was at home asleep and I remember thinking my alarm was going off. I kept hitting snooze on my phone and then my landline started ringing at the same time. It was 5am. When I picked up the phone, it was Chris Collins, in tears, telling me that Tony had killed himself. It was a terrible shock.
I went to the office that day and a lot of us who worked on the show ended up at a memorial for Tony. There were so many people openly sobbing and yet none of us were crying. It wasn't that I wasn't sad, but it took me years to cry again, about anything. Crying and laughing are still not the same as they used to be.
Looking back, there were lots of signs. Tony had gotten a lot gentler over the last two years of his life. That was a personality shift that I was aware of, and I know personality changes can be a warning sign for suicide. But I would never, in a million years, have foreseen him taking his own life.
After he died, I spent two years doing nothing. It would have been very upsetting to go back and work in television. There was only one Tony, and making TV without him was not something I was interested in doing.
It was a struggle to decide to write a book about my life working with Tony, but I think perhaps I did it because I couldn't do anything else. Writing it has been a gift, it was really good therapy. My understanding of Tony has dramatically increased. It wasn't just his death, it was the years of travel and knowing him that I had to process. From the first trip to Russia in 2006 until he died, I never took more than a couple of days off. And, I really do think Tony would have appreciated that what I am sharing is the truth.
Working with Tony was beyond the adventure of a lifetime, it was the adventure of many lifetimes. So, one of the things I really work towards these days is being grateful. That's a little hard because it requires admitting that it's over. But I am so grateful.
I still love Tony. I miss him so much. It's hard to articulate something so huge and so meaningful. To me, to those who worked on the show, and to his fans, Tony was everything. Amongst ourselves, the crew would refer to him as our fearless leader. He was so brilliant and wonderful, and not easy, but like any kind of family, you go through hard times and good times.
Ultimately he was so much more fascinating than reality; normal life like paying bills and having a regular job. When he was around, it was magical. It was almost like we were superhuman.
Tom Vitale was director and producer of No Reservations, Parts Unknown and The Layover. His book, In the Weeds: Around the World and Behind the Scenes with Anthony Bourdain is available now from all good bookshops and online here.
All views expressed in this article are the author's own.
As told to Jenny Haward.
If you have thoughts of suicide, confidential help is available for free at the National Suicide Prevention Lifeline. Call 1-800-273-8255. The line is available 24 hours every day.