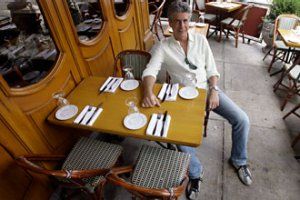 In 2006, Anthony Bourdain came to Beirut to film an episode of his travel-and-food show No Reservations. Instead, he landed in the middle of a war. Bourdain and his crew were on the ground filming for only a couple of days before the conflict between Hizbullah and Israel kicked off, lasting over a month. The group was evacuated by U.S. Marines from a stretch of beach north of Beirut. Today, the city has begun to recover—with new hotels, shops, and restaurants opening up—which brought Bourdain back to Beirut for another try last week. He spoke to NEWSWEEK's Babak Dehghanpisheh:
Why did you decide to come back to Beirut?

From the time that we were headed out on an LCU (Landing Craft Utility) to the USS Nashville [in 2006], I felt a persistent sense of shame and regret. I felt a lot of things that day—anger, heartbreak, disappointment. But shame and regret were among them.
Why?
I felt somehow complicit. And I felt real regret that I'd gotten a glimpse of Beirut for two days and instantly felt very at home. I've been to a lot of places—I've been to over 100 countries, I'm guessing. And Beirut struck me as a really wonderful and hopeful and unique place. The Syrians had just been booted out. There was a sense of national pride. So to see that go back in front of my eyes as we stood safely on a hill looking down on it all—it's been the great unfinished business of my professional life … I mean, I don't want to end up being f--king Dan Rather here [laughing]. We came here to make a funny, snarky-slash-heartfelt food-and-travel show.
What was the reaction to that episode that came out of the conflict?
We were nominated for a news Emmy! We were up against Peter Jennings and people like that. You know, these snowy-haired old f--ks. Self-congratulatory old f--king duffers talking about how they single-handedly changed the world [laughing].
What did you think about that Emmy nomination?
We thought it was kind of ludicrous. It was hard to find something to laugh about for a while. A couple of major things changed in my life after Beirut. I had to find my way back to making snarky and funny travel-food TV. It just all seemed so petty. [When I got back to the U.S.] my then-girlfriend was waiting for me at the airport. And we went home that day and made a baby, my first. I briefly considered naming [her] Beirut.
Did you bring a flak vest this time?
No. Honestly, I felt safe last time, which is one of the reasons I felt ashamed. There was always this sense that I have an American passport, we're near the embassy, we're in a hotel with a lot of Westerners. They may bomb the next neighborhood over, but they're not going to drop one on us. We were issued QuikClot last time, in case we're shot in the femoral artery. But we didn't pack an extra Band-Aid or anything [on this trip].
Did you touch base with any security companies?
The network assigned us security. They stand on the corner and say, "We can move now."
Do you think your previous experience gave you any particular insight into the Middle East?
It gave a more immediate sense that bad things can happen to good people anywhere in the Middle East at any time. But other than that I wonder why it is that everything we do or allow to happen in the Middle East seems to be to Iran's benefit [laughing]. That has occurred to me. If you were a conspiratorially minded person—as I suppose everybody is here—you would see a master plan...Everything we do seems to end up benefitting them.
How does Lebanon compare to the other countries you've been to in the Middle East?
It's an anomaly. I'm half-joking when I say it feels like Miami. Beirut is an international city. It's on the beach. There is that sort of consumerism and flash and nightclub culture and food culture. So I think if you were going to talk to an American you could say, "Hey, it kind of like Miami." Just driving down the road and seeing billboards of women in bikinis—you don't see that anywhere else that I've been [in the Middle East].
Have you made any plans to go to more-conservative areas, areas controlled by Hizbullah?
Yeah, we will be going.
Any reservations about visiting those areas?
It's a fine line. One of the things we've gotta be aware of is that I'm here, I see things, I say things, and I go home. The people we talk to on the show—they live here. So what I say can impact them, can cause them problems. That is a concern. I'm an old-school lefty. I'm against the policies that send Marines places. But I really like the Marines. And I'm very hyperaware of how many Marines lost their lives here during the barracks bombing [in 1983]. So that's not gonna be out of my mind.