Anthony Broadwater, Exonerated in Rape of Alice Sebold, to Be Focus of His Own Movie
On May 8, 1981, while Syracuse University student Alice Sebold walked near her dormitory she was approached from behind by a stranger who covered her mouth and knocked her to the ground.
"I'll kill you if you scream," the man told her.
She offered to give her attacker all of her money and her mom's and her sister's credit cards if he'd leave her be. He laughed and demanded she strip naked, then he pulled her hair back and forced her to kiss him repeatedly before raping her.
What happened to Sebold, now an acclaimed author of multiple bestsellers, is not in dispute, and she describes her rape in graphic detail in her 1999 autobiography, Lucky, the title coming from a cop who said she was lucky to have survived the assault.
One of Sebold's best-selling books, The Lovely Bones, was turned into a movie by A-list director Peter Jackson in 2009, so it seemed only a matter of time before Lucky would get the film treatment as well. JoBro Productions was planning to adapt the book, starring Victoria Pedretti as Sebold with Karen Moncrieff directing and Timothy Mucciante as executive producer.
Sebold, lauded for encouraging rape victims to report their attackers and deal with the post-traumatic stress disorder that often follows, would be the protagonist, while the villain in the story would be the man Sebold swore in court was her rapist, a man called "Gregory Madison" in the book. In real life, the man she identified was Anthony Broadwater.
The film was recently canceled when Broadwater—who served more than 16 years in prison for rape, sodomy and other crimes that night, then lived largely as a pariah given his public status as a registered sex offender since his release in 1999—was officially exonerated last month, innocent of the crimes he was convicted of, according to Onondaga County District Attorney William Fitzpatrick and a New York court.
Newsweek has learned that not only is a lawsuit for wrongful conviction being readied against the state of New York, but Mucciante, who was fired from the Lucky adaptation about five months ago, is pivoting. Through his own production company, Red Badge Films, he is making a documentary dubbed Unlucky where Broadwater is now the protagonist; Sebold, as of yet, is not involved. Mucciante has also received numerous questions about a possible narrative film focusing on the wrongful conviction, including from Jersey Legends, the production firm of former NBA star Shaquille O'Neal.
"We have producers pushing aggressively for a narrative feature. If there is one, I don't know how Alice will turn out. Most likely, she probably won't look too good," says Mucciante.
That studios are reaching out to him is to be expected, as he is being hailed a new hero in the decades-old drama, given his role in exonerating Broadwater. The filmmaker tells Newsweek that he was hired to raise funding for the Lucky movie, but things seemed a bit askew.
First off, the idea of changing Broadwater's race from Black to white to avoid the social-justice implications of showing a Black man raping a white teenager bothered him because he was more concerned with authenticity. Then he balked at securing funds because, upon re-reading passages from Sebold's memoir, he began to think that Broadwater was innocent. After he was fired from the production, he set out to prove his thesis by hiring a private investigator, whose work may have revealed the name of the man who actually raped Sebold. Newsweek will not reveal his identity, as he has not yet been charged with a crime.
Mucciante's suspicions of a miscarriage of justice boiled down to a handful of events. First, Sebold writes in her book that five months after she was attacked a Black man said, "Hey, girl, don't I know you from somewhere?" as he passed her on the street, and she says she "had a feeling" it was her rapist. When she described the man to cops, one of them said he knew just who she was talking about, so Broadwater was arrested.
In a lineup, though, Sebold identified the wrong man, but a prosecutor convinced her it wasn't her fault. She told Sebold the lineup was rigged by Broadwater because he insisted an acquaintance who looked very much like Broadwater be made to stand next to him to confuse Sebold. The prosecutor said they even had to get the man out of prison to stand in the lineup, and that the two men use each other in that way "in every lineup they do." None of this was true—Broadwater had never even appeared in a lineup before, nor was it true that Broadwater had prior convictions, though a prosecutor told Sebold that he did.
The prosecutor was angry when Sebold chose the wrong man, and told her, "Well, at least we got the hair out of the bastard." She was referring to a pubic hair comparison that ultimately suggested Broadwater might have been the rapist, though such analysis has since been debunked and many cases relying on the technique have been overturned by DNA science that hadn't existed in the 1980s.
Despite her inability to choose Broadwater in the lineup, Sebold identified him as her rapist in court, where he was the only Black man in the room that day, according to legal documents reviewed by Newsweek.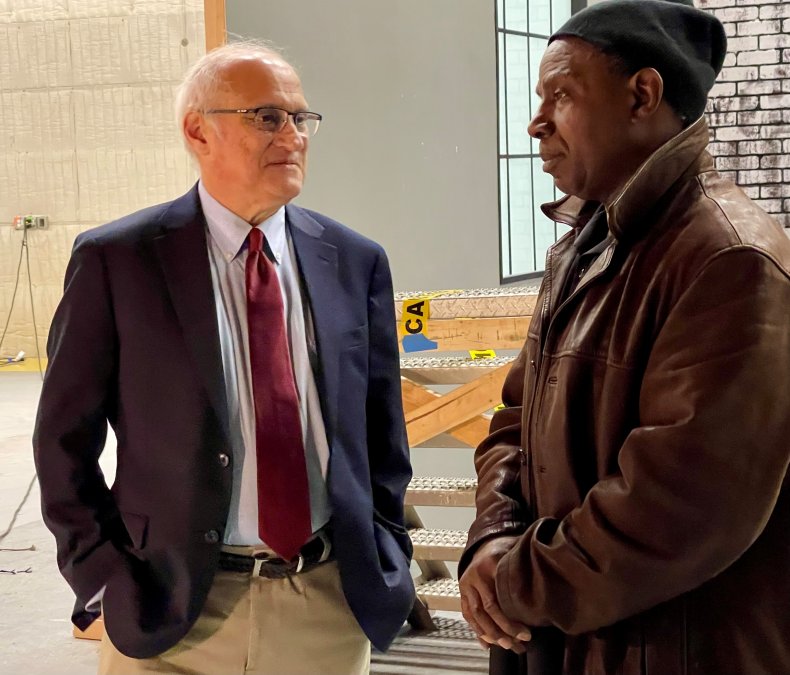 "I had questions about the source material, so I was slow-walking the money for the movie until they answered them, but they never did," Mucciante says. "Alice didn't identify Anthony in the lineup and they said, 'Oh well, we'll just put him on trial anyways and see how it goes.' I can't believe that no one thought that this was just nonsense."
Mucciante says that after he was fired, the discrepancies kept him up nights, so he hired, at his own expense, a private investigator who took the job on a Wednesday and by Friday was convinced Broadwater was innocent.
"Alice misrepresented Anthony's criminal history in a very bad way. She wrote that he had violent priors and was previously incarcerated, but he was a Marine until that year when he was discharged to take care of his ailing father," says Mucciante. "He was in prison for 16 years and a registered sex offender for 23 years. He lives in a house literally held together by tarps. He deserves to have his story told."
Broadwater took two polygraph tests and passed them both, but was repeatedly denied appeal and parole. He sought out attorneys on several occasions hoping they'd help exonerate him, one time sending $1,000 to O.J. Simpson lawyer Johnnie Cochran, to no avail.
Complicating the matter was that the rape kit was destroyed in the late 1980s as a matter of course, since the case was closed and appeals had been exhausted—and no one predicted that DNA science would one day be so advanced that it could prove guilt or innocence.
But when Mucciante's private investigator, Dan Myers, took his findings to attorney Dave Hammond this year, the wheels of justice finally turned in Broadwater's favor. Hammond said he didn't interview the prosecutor, but instead relied largely on Sebold's book for the evidence he needed to convince Fitzpatrick and a New York court that Broadwater was wrongly convicted.
Next come the civil lawsuits.
"Our client does not want to sue Alice—he has always indicated his beef is with the courts and the government and that he sympathizes with Alice's ordeal," Hammond told Newsweek. "In terms of the publisher [of Lucky], again, we are focusing our attention on the state and state actors right now, such as the police and prosecutors."
"Following the recent exoneration of Anthony Broadwater, and in consultation with the author, Scribner and Simon & Schuster will cease distribution of all formats of Alice Sebold's 1999 memoir Lucky while Sebold and Scribner together consider how the work might be revised," the publisher said in a statement emailed to Newsweek.
Sebold has also weighed in via a statement she posted online where she complains of "another young Black man brutalized by our flawed legal system" and writes that, "40 years ago, as a traumatized 18-year-old rape victim, I chose to put my faith in the American legal system. My goal in 1982 was justice—not to perpetuate injustice. And certainly not to forever, and irreparably, alter a young man's life by the very crime that had altered mine."
"Once you talk to Anthony, look at the legal transcripts and read the book, the issues pop out at you," says Hammond. "And then the prosecutor gives Alice a rah-rah speech about why she picked the wrong person in the lineup ... The cops and prosecutors constantly pump this idea that Anthony is a horrible guy, and that idea is perpetuated in the book ... then they destroy the rape kit, which is a damn shame, because if DNA evidence existed, there's a high likelihood that Alice would have known who her rapist really is."