Los Angeles Lakers star Anthony Davis will undergo an MRI scan on Monday after aggravating an issue on his right Achilles in a major injury scare for the reigning NBA champions.
Davis sat out of the second half of the Lakers' 122-105 road loss against the Denver Nuggets on Sunday night, before the team confirmed he had suffered an "Achilles strain."
The 27-year-old missed the two games against the Oklahoma City Thunder last week and returned in Friday's 115-105 win over the Memphis Grizzlies, scoring 35 points in the process.
However, he was listed as questionable for the Lakers' trip to Denver and did not reappear for the second half after scoring 15 points and grabbing four rebounds in 14 minutes on the court.
Speaking after the game, the first overall pick of the 2012 NBA Draft remained upbeat about the prognosis after speaking with the Lakers' medical staff.
"Obviously, the doctors don't want to rule out anything or say it's something that it's not, but they said everything looked good," he said.
"But they still want to get a MRI to make sure."
Davis then elaborated further on his injury, acknowledging both he and the team were erring on the side of caution to avoid a potentially far more extended lay-off.
"This one [injury] is a little different that I definitely have to be smart with," he continued.
"I don't want to go out there and try to play and risk it for the long term. So, all that is inclusive of what the MRI shows tomorrow. Knock on wood, it's great information—and I'll be out there sooner than later."
The former New Orleans Pelicans star, however, dismissed the suggestion he had rushed back from injury too soon by playing against Memphis last week.
"I felt great coming back the first time against Memphis, and I'm gonna do the same thing, the same steps to get it back right," Davis, who is averaging 22.5 points, 8.4 rebounds and 3.0 assists this season, explained.
"Obviously, be a little more smarter with it, like I was smart the first time, but even more smarter.
"Up the treatment more—instead of three times a day, maybe five times a day just trying to get it back where it needs to be done out there and help the team."
According to ESPN and the Los Angeles Times, Davis had been experiencing an issue with his lower right leg for weeks prior to missing out on games against the Thunder after being diagnosed with "Achilles tendinosis."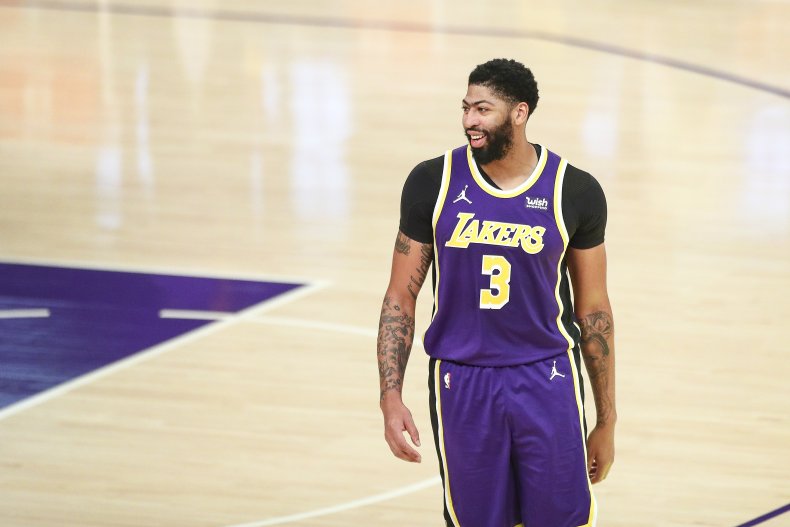 He subsequently returned against the Grizzlies, but aggravated his injury after his quadricep made contact with Nicola Jokic's knee late in the second quarter of the game against Denver.
Lakers head coach Frank Vogel insisted the seven-time All-Star was in "good spirits" and optimistic about the extent of the injury, while LeBron James suggested removing Davis from the game was the right decision.
"All I care about is his health," the four-time NBA champion said. "I want him to be healthy. Our team needs him to be healthy. [...] No rush."
The Lakers acquired Davis in a blockbuster trade in July 2019, in exchange for Brandon Ingram, Lonzo Ball, Josh Hart and three first-round picks.
In his first season in Los Angeles, Davis swiftly struck a successful partnership with James, providing the perfect foil for the four-time NBA Finals MVP as the Lakers won a first NBA title in a decade.
Davis averaged 26.1 points, 9.3 rebounds, 3.2 assists and 2.3 blocks per game in the regular season, shooting 50 percent from the floor, 33 percent from three-point and a career-best 84.6 percent from the free throw line.
He raised the bar even higher in the playoffs, averaging 27.7 points while shooting 57 percent from the floor, including 38 percent from beyond the arc, and adding 9.7 rebounds, 3.5 assists and 1.4 blocks per game.
In December, the Kentucky alumni signed a five-year, $190 million extension with the franchise, which includes an early-termination option before the fifth year of the deal in 2024-25.
Several NBA players have suffered serious Achilles injuries over the last couple of seasons. Kevin Durant missed the whole of last season after tearing his Achilles in Game 5 of the 2019 NBA Finals, while his former Golden State Warriors teammate Klay Thompson suffered a similar injury in November last year.
Houston Rockets star John Wall ruptured his left Achilles in February 2019 after slipping and falling at home, while his teammate DeMarcus Cousins suffered a similar injury in 2018 and San Antonio Spurs forward Rudy Gay ruptured his Achilles 12 months earlier.
Uncommon Knowledge
Newsweek is committed to challenging conventional wisdom and finding connections in the search for common ground.
Newsweek is committed to challenging conventional wisdom and finding connections in the search for common ground.
About the writer
Dan Cancian is currently a reporter for Newsweek based in London, England. Prior to joining Newsweek in January 2018, he was a news and business reporter at International Business Times UK. Dan has also written for The Guardian and The Observer.