Man Serving Life for Murder of Father and Two Sons Killed by Inmate in Nebraska Prison
A man serving a life sentence for murder has been killed in a Nebraska prison by a fellow inmate, according to officials.
Anthony Davis, 40, was attacked by an inmate at Tecumseh State Correctional Institution on September 16. He died a fortnight later at around 7:00 p.m. on Saturday evening, Nebraska Department of Correctional Services said in a statement. Davis received treatment for his injuries at Bryan Medical Center-West in Lincoln.
In 2012, Davis shot and killed Miguel Avalos, 44, and his two sons Miguel Avalos Jr, 18, and 16-year-old Jose Avalos, according to the The Lincoln Journal Star.
He broke into their home in the Nebraskan city of Omaha, which sits on the Missouri River near the border with Iowa, to steal money and drugs from the property. Davis had intended to rob Miguel Avalos during a drug deal, NBC affiliate WOWT reported.
Jose Avalos was pronounced dead at the scene, and Miguel Avalos died on the way to hospital. Miguel Jr. passed away around a week later.
In 2014, Davis was sentenced to life in prison for three counts of first degree murder, and three counts of using a weapon to commit a felony.
Nebraska State Patrol have launched an investigation into the incident, which is ongoing. The the identity of the inmate believed to have assaulted Davis will not be released until the probe concludes.
A grand jury is also due to look into the incident, a procedure followed when an inmate dies in the custody of the Nebraska Department of Correctional Services.
Nebraska is among the 25 U.S. states to have the death penalty. However, Davis was spared that sentence after a jury concluded there were no aggravating circumstances in his case.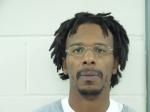 Anthony Davis, who was killed by a fellow inmate at Tecumseh State Correctional Institution.
Nebraska Department of Correctional Services
In August 2018, Nebraska became the first U.S. state to use fentanyl in a prisoner's execution. The drug is synonymous with the opioid epidemic.
Officials at Nebraska State Penitentiary injected prisoner Carey Dean Moore with a combination of drugs: the anxiety medication diazepam; cisatracurium besylate to paralyze and gradually stop his breathing; potassium chloride to halt his heart; and the potent opioid fentanyl. After receiving the injection at 10:24 a.m. he was pronounced dead by 10:47 a.m.
Nebraskan prisons also hit headlines earlier this year after hitting a record for prison overcrowding, according to the Omaha World-Herald. At the time, its facilities held 5,515 inmates.
The latest figures from April to June 2019 showed some 5,458 inmates made up the average daily population in Nebraska Department of Correction Services, surpassing the operational capacity of 4,807.