Fauci Says U.S. Could Hit 100,000 New Coronavirus Cases a Day if Things Don't Change: 'It Could Get Very Bad'
If America doesn't get a handle on the new coronavirus outbreak, Dr. Anthony Fauci, the nation's top infectious disease expert, won't be surprised if the country starts recording 100,000 new cases per day.
Fighting the new coronavirus outbreak put millions of people out of work and officials at the federal, state and local levels have been eager to reopen. Fauci told a Senate Committee on Monday that states should use spikes in cases as a cautionary tale that a gradual reopening is necessary.
"What we saw visually in clips and in photographs of individuals [was an] all or none phenomenon, which is dangerous," Fauci said. "What I mean by all or none phenomenon is either be locked down or open up in a way where you see people at bars not wearing masks, not avoiding crowds, not paying attention to physical distancing."
The United States leads the world in infections and is seeing an uptick in new coronavirus cases, reporting more than 45,000 new cases on Friday. It was the largest daily increase since the outbreak began, according to the Johns Hopkins tracker, and Fauci said America is headed down a "very disturbing" path.
"We can't just focus on those areas that are having the surge, it puts the entire country at risk," Fauci said. "We are now having 40 plus thousand cases a day. I would not be surprised if we go up to 100,000 a day if this does not turn around."
"It could get very bad," he added.
As new cases rise, states are pumping the brakes on reopening. Arizona, Florida and Texas recently took a step back in their reopening plans and closed bars amid sharp spikes in cases. New Jersey Governor Phil Murphy postponed indoor dining indefinitely three days before it was set to begin at a limited capacity and New York Governor Andrew Cuomo said the state will decide on Wednesday if indoor dining can resume in New York City.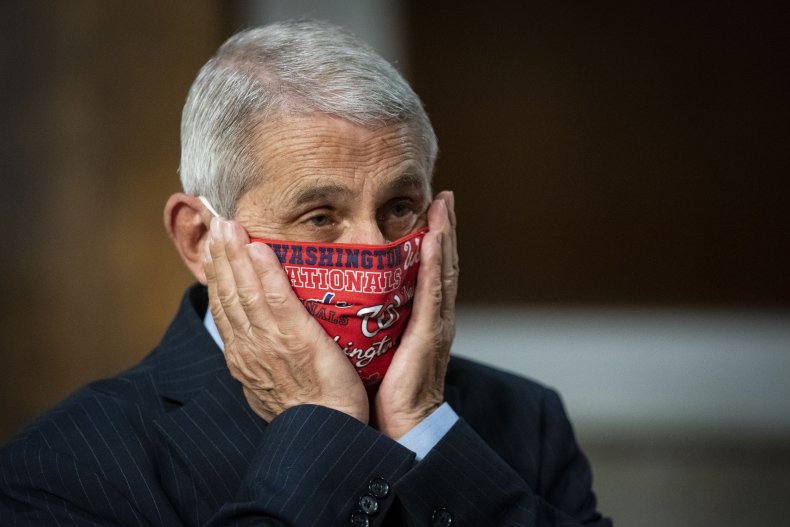 New York, once the epicenter of the outbreak, was reporting more than 10,000 new cases each day back in April. But, it successfully flattened the curve to prevent hospitals from being overwhelmed and has been reporting fewer than 1,000 new cases each day since June 7.
Fauci praised New York for listening to experts and not moving on to a new reopening phase before guidelines dictated it was safe to do so. But, Cuomo said on Monday that New York isn't an island and travelers from states with a high infection rate will likely "wind up increasing the spread and infection in New York."
"If that spread comes to New York, we could have to do this all over again," Cuomo said. "We don't need to climb another mountain. One mountain was enough."
Dr. Robert Redfield, director of the Centers for Disease Control and Prevention (CDC), said during the Senate Committee hearing that 29 of 55 jurisdictions in the United States are seeing increases in cases. Hospitalizations are also on the rise in 12 states and over the weekend, Arizona saw an increase in daily deaths.
"We are not defenseless against this disease. We have powerful tools at our disposal," Redfield said, referencing hand washing, social distancing and face masks. "It is critical that we all take personal responsibility to slow the transmission of COVID-19 and embrace the universal use of face coverings."
People over the age of 65 are at a higher risk for developing serious disease and account for the majority of deaths across the country. However, the majority of cases involve people under the age of 65 and in Florida, Governor Ron DeSantis said there's a 20 percent positivity rate among people between 25 and 34 years old.
Young people are at a lower risk of ending up in the hospital or dying of the new coronavirus and Fauci acknowledged that they may be unable to see how their actions impact others. But both he and Redfield stressed every person has a significant role to play and Fauci said a young person could transmit the virus to an older relative or a young child with Leukemia, who are both at serious risk.
"I think we need to emphasize the responsibility we have as individuals and a societal effort to end the epidemic that we all have to play a part of that," Fauci said. "We've gotta contain it together."