Anthony Fauci Calls Trump's Attempts to Frame Him As a Democrat 'Just Noise'
Infectious diseases expert Dr. Anthony Fauci said on Friday that he was able to disregard recent attempts by President Donald Trump to paint Fauci as a Democrat.
Fauci has been advocated wearing face masks to curb the spread of the coronavirus. Democrats have also favored wearing the masks. On Friday, Democratic presidential nominee Joe Biden said that if elected he would enact a national mask mandate. Trump has delivered mixed messages on wearing face masks, often equating the practice with being a member of the Democratic Party.
Trump said during an October campaign event that he sometimes disagreed with the coronavirus advice given by Fauci. "But he's a nice guy so I keep him around, right?" Trump said. "He's a Democrat, everybody knows that. He's [New York Governor Andrew] Cuomo's friend."
During an interview with CNN's Erin Burnett on Friday, Fauci said that he only concentrated on the job of protecting the American public. "These other kind of things, though people may find it difficult to believe, are mere distractions," Fauci said. "They don't bother me. I know what my job is, and I've gotta do it and I'm going to do it. So that kind of—whatever you want to call it—is to me, I just, it's noise."
Newsweek reached out to the Trump re-election campaign for comment.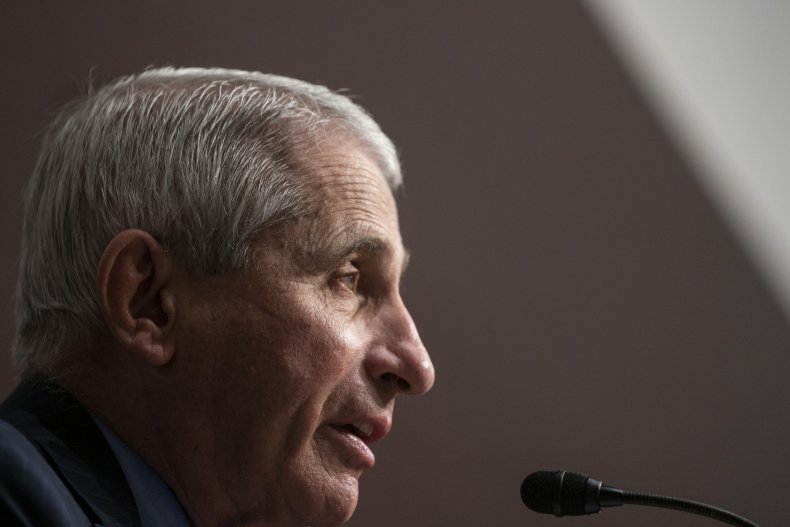 Fauci's political leanings came into question after his comments were used in a Trump re-election campaign ad about the administration's coronavirus response. In the October ad, Fauci allegedly praised Trump by saying that he could not "imagine that anybody could be doing more."
However, Fauci claimed that his comments were taken out of context in the advertisement. Fauci was actually speaking about the efforts of the White House coronavirus task force and not Trump specifically. His comments were inserted into the advertisement from a Fox News interview that took place in March.
Fauci said in an October interview with CNN that he had never "either directly or indirectly endorsed a political candidate."
Cuomo's response to the coronavirus pandemic, including closing down businesses and wearing face masks, allowed New York to go from one of the states with the highest number of positive coronavirus cases to one of the lowest.
Trump criticized Cuomo's handling of the crisis during Thursday night's debate. "If you go and look at what's happened in New York," Trump said, "New York is a ghost town."
Biden's insistence on wearing masks in public has also drawn Trump's criticism. During the first presidential debate in September, Trump mocked Biden for wearing a mask "every time you see him."
In October, Trump himself contracted COVID-19 and was hospitalized for approximately three days.