Fauci Says Coronavirus Testing Will Increase, After Trump Floats Slowdown
Despite President Donald Trump's belief that increasing testing puts America at a "disadvantage" because it could produce more positive results, Dr. Anthony Fauci said the country will be ramping up new coronavirus tests.
At Trump's rally on Saturday, he told attendees that he instructed his people to "slow the testing down please." White House officials claimed the president was joking and Trump acknowledged in a CBN News interview Monday night that he didn't actually give the order, but stood by his comment that more tests produce more positive results, making testing a "double-edged sword."
Fauci, director of the National Institute of Allergy and Infectious Diseases, told members of the House Energy and Commerce Committee on Tuesday that he was never ordered to slow down testing. To his knowledge, none of his colleagues on the Coronavirus Task Force received the instruction either.
"It's the opposite, we're going to be doing more testing, not less," Fauci said.
Testing is critical to identifying, isolating and conducting contact tracing for new cases and Fauci said it's also important from a surveillance perspective. Increased testing can help officials understand what's occurring with regard to community spread and help get their arms around the situation.
Newsweek reached out to the White House for comment but did not receive a response in time for publication.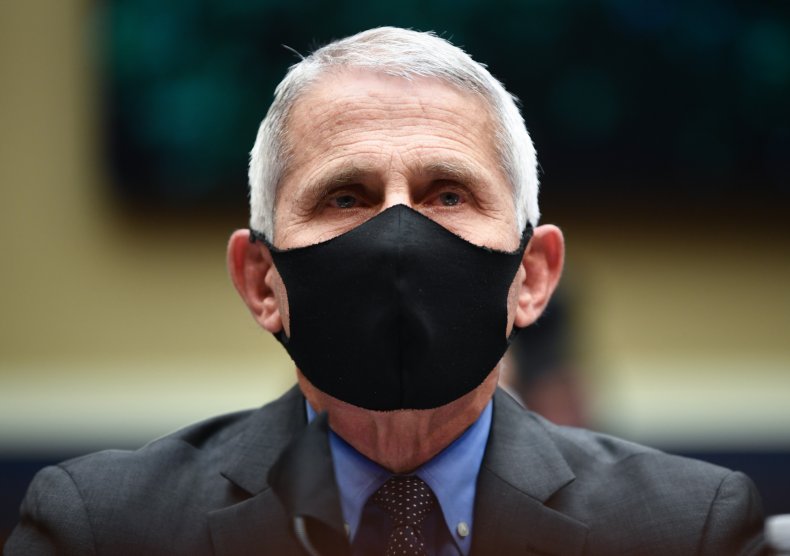 America still leads the world in coronavirus cases and as of Tuesday, officials confirmed more than 2,313,445 cases, according to a Johns Hopkins University tracker. There have been over 100,000 deaths and Fauci told lawmakers, "We've been hit badly."
Mitigation efforts that closed down businesses and limited large gatherings helped the country flatten the curve and Fauci said new cases decreased from 30,000 to 20,000. After staying flat, they're starting to rise, an occurrence he called "very troublesome."
To address the increase in new cases, public health officials have to have the manpower, system and testing to identify, isolate and contact trace in an "effective way." This gives them the ability to understand the origin of new cases and implement measures to curb the outbreak.
Trump told CBN News we didn't order the administration to slow down testing, but said it puts America at a "disadvantage" because news focuses on an increase in new cases. On Monday, press secretary Kayleigh McEnany confirmed Trump didn't direct testing to be slowed down and that the comment was "made in jest."
"It's a comment that he made in passing, specifically with regard to the media coverage and pointing out the fact that the media never acknowledges that we have more cases because when you test more people, you find more cases," McEnany said.
Trump told reporters on Tuesday that he doesn't "kid" and that an increase in cases "sounds bad." He urged people to remember that "the reason we have more cases than other countries is because our testing is so much."
During Monday's presser, McEnany said Dr. Deborah Birx, a member of the Coronavirus Task Force, told her a higher number of new cases involve people with less severe symptoms than was the case at the beginning of the pandemic. Identifying cases outside of the hospital setting is a "good and positive development," according to McEnany, who said the country is "equipped to handle" the "embers that have occurred."