Dr. Fauci Calls Rallies and Gatherings 'Risky' as Texas, N.C., Arkansas, Oklahoma See Rise in COVID-19 Hospitalizations
The U.S's top infectious disease expert has sounded the alarm over those wanting to attend demonstrations and political campaign rallies in the coming weeks.
The warning against people joining large gatherings by Dr. Anthony Fauci, from the White House coronavirus task force team, comes as a number states have seen a surge in COVID-19 cases.
"You know, it's a danger to the people who are trying to control the demonstration," he said of the recent political protests which have taken place across the country in response to the death of George Floyd.
"And it's a danger to the people who are demonstrating. So at the end of the day, it is a risky procedure," he told ABC News' Powerhouse Politics podcast.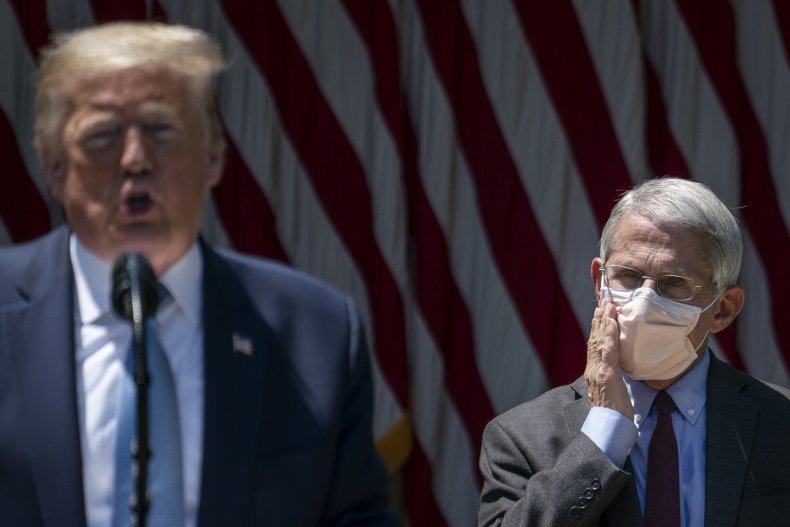 President Donald Trump is set to resume his mass campaign rallies with an event in Tulsa, Oklahoma, delayed by a day to June 20, in which those who want to attend have to agree to a waiver of liability.
However on Friday, Oklahoma recorded its largest single-day increase in coronavirus cases at 222—over 50 more than the previous peak in April of 171, KOKH reported.
Trump also plans to hold rallies in North Carolina and Texas USA Today reported, which have both been hit by large spikes in coronavirus numbers.
On Friday, North Carolina broke its record for the largest single-day increase in coronavirus cases, The News and Observer reported, while the number of people hospitalized in Texas with the disease increased to a new daily peak on the same day, the Texas Tribune reported.
When Fauci was asked whether his advice of avoiding large crowds applied to the Trump rallies, he replied: "I am consistent. I stick by what I say."
He advised people that the best way to avoid getting or transmitting the infection "is to avoid crowded places, to wear a mask whenever you're outside.
"And if you can do both, avoid the congregation of people and do the mask, that's great. If you're going to be in a situation where, beyond your control, there's a lot of people around you, make sure you wear a mask," he added.
Arkansas, where demonstrations sparked by Floyd's death took place in at least four cities on Friday, has reported 731 new coronavirus cases since Thursday in the state's largest daily jump since the outbreak began.
The Centers for Disease Control and Prevention (CDC) has issued coronavirus guidelines for organizers of large gatherings where there is shouting, chanting or singing to "strongly encourage" the use of cloth face coverings.
However Jay Butler, the CDC's deputy director of infectious diseases, did not clarify whether the guidance applied to campaign rallies.
"They are not regulations. They are not commands, but they are recommendations or even suggestions [on] how you can have a gathering that will keep people as safe as possible," Butler said, according to The Washington Post.
The graph below from Statista shows the U.S. states with the most coronavirus cases as of June 12.