The COVID-19 pandemic won't end until the "overwhelming majority" of people in the U.S. get vaccinated, Dr. Anthony Fauci warned Monday.
With a rollout of safe treatments for the respiratory illness forecast to begin by the end of this year, the U.S. needs between 75 and 85 percent of the population to take a vaccine for the protection to be truly effective, the country's top infectious disease expert said in a video interview with billionaire Facebook boss Mark Zuckerberg.
"I would like to see the overwhelming majority of the country vaccinated before we get to the end of the second quarter [of 2021]," he told Zuckerberg.
"So when we get into the fall season the children can feel safe going back to school, teachers can feel safe they are not going to get infected, we get back to the economy being robust, restaurants can open... that's what I would like to see."
But the top scientist warned: "You are not going to see it unless the overwhelming majority of people get vaccinated. So in that sense I would like to see the reluctant people get vaccinated sooner rather than later. If they want to wait a month or two, that's OK, but I don't want them to wait six to eight to nine months."
Fauci, director of the National Institute of Allergy and Infectious Diseases and a member of the White House coronavirus task force, said that while initial doses will first go to citizens who are deemed as high risk, the general public should see widespread access to vaccinations by the second quarter of next year, around April to July.
Fundamentally, Fauci said the more people who take the vaccine, the less chance the virus has to spread among the population—then driving down infection rates.
"As long as you are susceptible, you are part of the problem, not part of the solution. When you are protected, you are another person the virus can't impact. If you are vulnerable, even if you don't get a lot of symptoms, the fact you have been infected means you are inadvertently propagating the outbreak. If you want to be part of the solution, get vaccinated," he told Zuckerberg in the interview this week.
Vaccine candidates to protect against COVID-19 from Pfizer/BioNTech, Moderna and AstraZeneca have shown promising results in clinical trials, with some claiming to be around 95 percent effective. But results have not yet been peer-reviewed.
On Monday, Moderna said it was applying for Emergency Use Authorization from the U.S. Food and Drug Administration, with its CEO Stéphane Bancel telling Fox Business that Americans could see doses arrive 24 hours after authorization.
A November Gallup poll suggested that 58 percent of Americans say they would take a COVID-19 vaccine. While that's below the needed statistic, the number was up from the 50 percent who said they would take it in September.
Based on that poll, 37 percent said they would avoid a vaccine due to the rushed rollout and 26 percent said they wanted to wait to confirm it was actually safe, Meanwhile, 12 percent of the survey said they "don't trust vaccines in general," Gallup said.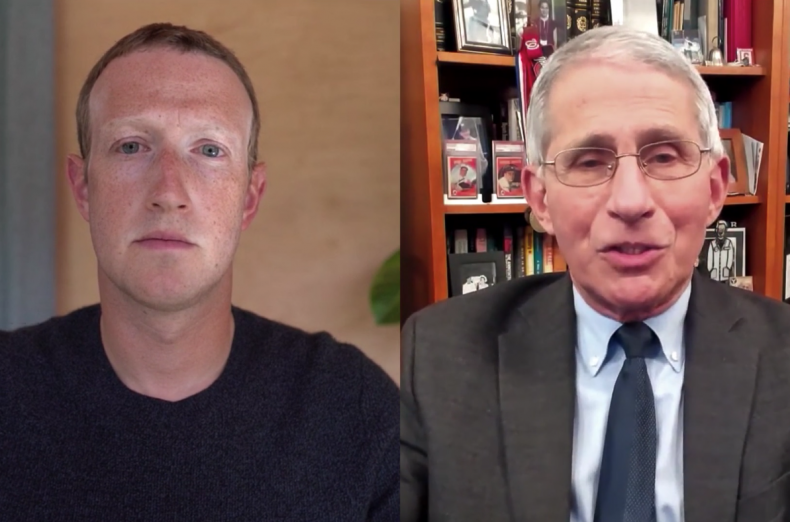 According to Fauci, the federal government had contracted with multiple companies to make about 600 million doses of potential vaccine so far. It is likely to first reach U.S. healthcare workers and citizens who are susceptible to contracting COVID.
He predicted the initial round would be completed by April, after which vaccines could be made available to the public, even via stores like CVS or Walgreens.
"The challenge is going to be to convince people to get vaccinated," Facui conceded. "Because if you have a highly efficacious vaccine and only 50 percent of the country gets vaccinated, then you are not going to have that umbrella of protection."
The following graphic, provided by Statista, shows the total number of COVID vaccine does secured by governments as of November 20, based on Duke University data.