What Dr. Anthony Fauci Has Said About Reopening the Country Amid the Coronavirus Pandemic
Reopening the country during the coronavirus outbreak is a tricky business and Dr. Anthony Fauci, director of the National Institute for Allergy and Infectious Diseases, said it may be done on a local, not national scale.
"I think it's going to have to be something that isn't one size fits all," Fauci told CNN's Jake Tapper on Sunday.
In some parts of the U.S., people have been under social distancing policies for more than a month. While the measures restricting where people can do and what they can do has helped reduce the number of infections, according to officials, President Donald Trump is eager to get the economy back up and running and many are ready to return to normal life.
With so many factors at play, Fauci has fought against outlining a firm timeline for lifting quarantine measures amid the outbreak, accepting that any timeline mentioned publicly can and will be used against you. But, he told Tapper that it's possible reopening the country could begin "at least in some ways" in May.
"We are hoping that at the end of the month we can look around and say, 'Is there any element here that we can safely and cautiously start pulling back on?' If so, do it. If not, then just continue to hunker down," Fauci said.
One possibility, Fauci said, is to lift measures in certain areas of the country, depending on the nature of the infection in that region and the threat of a future outbreak of COVID-19, the respiratory disease caused by the novel coronavirus strain.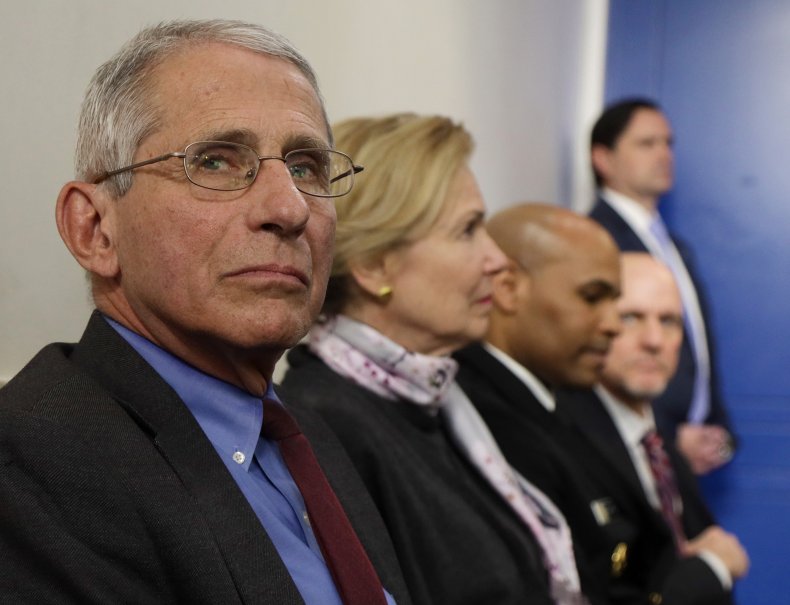 Trump expressed hope that people would be back to work by Easter, raising concerns that measures would be lifted too early, fueling the outbreak and costing lives. In announcing an extension of his 15-day guidelines, Trump walked back the comment, saying it was ambitious and that he was relying on experts, including Fauci, to guide his policies.
Anup Malani, a professor at the Pritzker School of Medicine at the University of Chicago, told Newsweek that much of the conversation has been to save the economy or save people's lives. However, finding a solution that isn't to either lift measures entirely or keep them in place exactly as they are can achieve both goals.
"Maybe you release people except the elderly, that's one strategy," Malani said. "Another strategy is to just release the people that are recovered. A third strategy is to do tracking and tracing. In places where the infection is very low we can figure out where it is and isolate the infected."
The COVID-19 outbreak has led the U.s. to suffer two economic shocks, according to Malani, a reduction in supply and a reduction in demand. The $2.2 trillion stimulus package is trying to solve the demand problem by attempting to offset the financial burden of the crisis, he said. However, even if people have money, Malani explained they can't spend it the same ways they used to because businesses, including salons and restaurants, are closed to in-person customers.
"We need to figure out how to address both crises," Malani said. "People have suggested getting recovered workers back to work, but how do you identify them? Answer to that is testing. We need antibody testing because then we can get workers back and address the supply shock."
By fall, the season when Fauci predicted schools should be able to reopen, the U.S. should have a better feel with the antibody test. During an April briefing by the White House's Coronavirus Task Force, Fauci explained the test will show if a person has ever been infected, "very likely" meaning they're protected from the virus. Then, a decision can be made as to whether vulnerable people are treated differently than those who likely have some sort of immunity.
"The bottom line is: No absolute prediction, but I think we're going to be in good shape," Fauci said at the briefing.
The "reality" of the situation, Fauci said, is that when mitigation measures start to relax, people will get infected. So, it's "critical" to be able to identify those who were infected, isolate them and conduct contact tracing.
Dr. Robert Redfield, the director of the Centers for Disease Control and Prevention (CDC) called contact tracing "critical" to returning to normalcy because America can't afford to have community outbreaks turning into sustained community transmission. However, the labor-intensive process would require a "substantial expansion of public health field-workers," he told NPR last week.
Combining contact tracing with significant testing is necessary "to make sure that when we open up, we open up for good," Redfield said.