Anthony Fauci Says 'Out of Control' COVID Is Probably 'Going to Get Worse'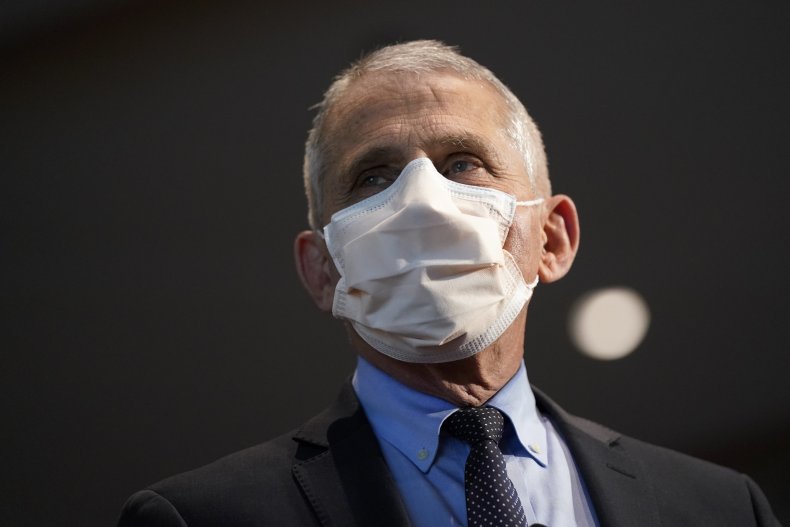 Dr. Anthony Fauci expects the already "out of control" COVID-19 pandemic to "get worse" in the wake of a holiday season that has seen many ignore the advice of public health experts.
Fauci made the remarks during a Tuesday appearance on CNN. He said that the "surge" of infections that the country has experienced in December had "gotten out of control" and severely hampered efforts at slowing the spread of the virus. He warned that sustained levels of over 200,000 new cases per day, seen for multiple days earlier in the month, would translate into many more deaths due to the "staggered" nature of the delay between contracting the virus and possibly dying due to the infection.
"I think we just have to assume that it's going to get worse," Fauci said. "We're between 100,000 and 200,000 new infections each day... I hope we don't just get to that level of continually seeing over 200,000."
"As you know, it staggers," he added. "You get cases, you get hospitalizations and then you get deaths. It's highly predictable that once you increase in those number of cases, in a staggered way, every couple of weeks you get increase in the hospitalization."
Fauci suggested that the country had missed an opportunity to effectively control the virus because those who ignored public health advice had helped new infections spread too fast for public health officials to track and contain outbreaks using measures like contact tracing.
"We're in a very difficult situation," said Fauci. "We never got down to a low baseline where you can actually control community spread by identification, isolation and contact tracing. When you get to the numbers that we are in right now it really is very, very difficult to do effective identification, isolation and contact tracing."
Fauci urged Americans to fight the surge by "sticking to the public health guidelines," including following "the basics" of wearing masks, washing hands and physically distancing from others in public. He expressed disappointment that attempts to "try to get people to just tone down the travel" during the holiday season had been ignored by some, while offering that there were still further opportunities to limit the spread of the virus.
"For those who have already done the travel, the thing to do now is to try not to congregate with large numbers of people in social settings, like dinners," said Fauci. "Try to keep it restricted to the immediate family and the immediate household. Because once you get to large numbers of people at a dinner inside, poor air ventilation and circulation, that's when you get into trouble."
"[Not following public health advice] could make January even worse than December," he added. "I hope that doesn't happen but it certainly is possible."
There were 168,817 new confirmed cases of COVID-19, along with 1,718 new deaths caused by the virus recorded on Tuesday, according to Johns Hopkins University. New cases hit a high mark on December 18, when just under 250,000 cases were reported, while the daily death count peaked at 3,682 on December 16.
The U.S. has seen more than 19.3 million cases of the virus since the pandemic began, by far the most infections of any country in the world. The country with the second most infections, India, has around 10.2 million cases with a population that is more than four times the size. The 334,836 total U.S. deaths caused by the virus are also far and away the most in the world.