Anthony Fauci Says, 'People Are Lying About Me' in Clash With Rand Paul
Dr. Anthony Fauci is accusing Senator Rand Paul of making false attacks on him for political gain.
Tensions boiled over between the two men during a Senate Health Committee hearing about the federal response to the pandemic. Fauci was joined by U.S. Centers for Disease Control and Prevention Director Dr. Rochelle Walensky and other officials in providing testimony.
Fauci, the director of the National Institute of Allergy and Infectious Diseases, lashed out at the Kentucky Republican for "distorting everything about me" after the senator accused Fauci used his office to attack scientists who don't agree with him and questioned his role in the federal response to the pandemic.
"You personally attack me and with absolutely not a shred of evidence of anything you say," Fauci said. "So I would like to make something clear to the committee, he's doing this for political reasons."
Fauci continued, "What happens when he gets out and accuses me of things that are completely untrue, is that all of a sudden that kindles the crazies out there, and I have life—threats upon my life, harassment of my family, and my children with obscene phone calls because people are lying about me."
The infectious disease expert then pulled out printouts of sections of Paul's website, which asks people to donate money to his campaign next to a graphic reading: "Fire Dr. Fauci."
"You can do $5, $10, $20, $100. So you are making a catastrophic epidemic for your political gain," Fauci said.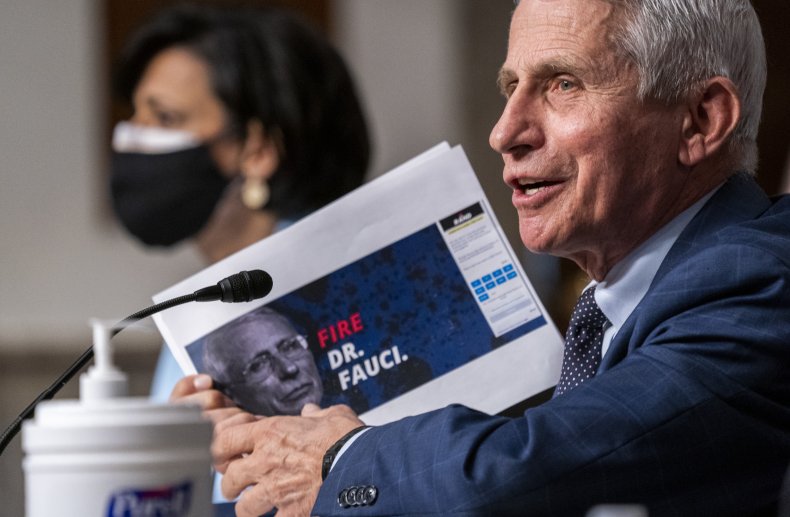 It's not the first time Fauci and Paul have shared a heated exchange. The Republican senator has repeatedly accused Fauci of lying about the origins of COVID-19. In November, Paul called on Fauci to resign.
"You just do this every hearing," Fauci said during their latest clash on Tuesday.
The Senate hearing is about the federal response to COVID-19 and new variants. The Omicron variant, which first emerged in the U.S. in December, has driven a surge in case and hospitalizations across the country.
A total of 145,982 people were hospitalized with the virus on Tuesday, setting a new record. The country is also reporting an average of more than 700,000 cases per day, according to data from Johns Hopkins University, with more than 1.4 million new cases reported on Monday.
"Omicron is likely not to be the last curve ball this virus throws at us," Walensky said during the congressional hearing. "But we have the tools to prevent further spread of this virus."
Newsweek has contacted Paul's office for comment.