Is Anthony Joshua Joining UFC? Switch from Boxing Could Earn Heavyweight Champion $500m
You wait forever for a boxing world champ to make the MMA switch, then two seemingly come along at once.
Anthony Joshua is the latest reported target of an ambitious bid from the UFC, only days after it emerged Floyd Mayweather could also compete in the octagon.
An exclusive report from the the Daily Telegraph revealed that UFC president Dana White is prepared to offer Joshua a promotional multi-fight deal, which could see the Londoner pocket approximately $500 million.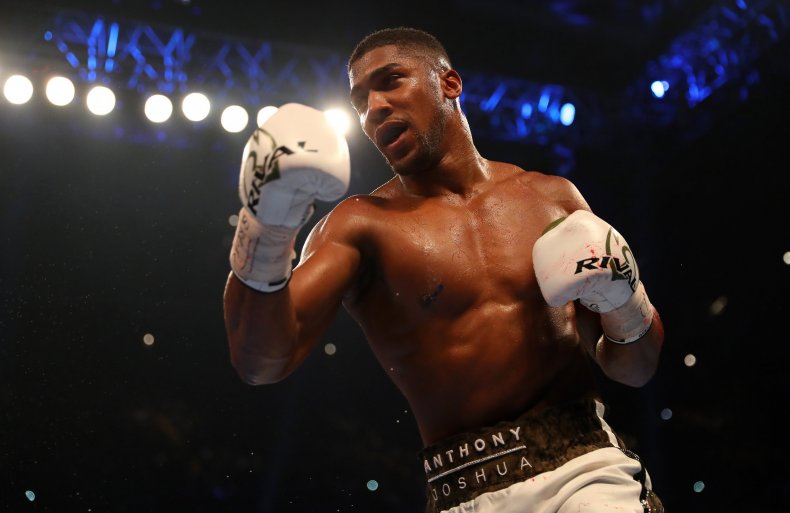 The 28-year-old will defend his WBA and IBF titles when he faces WBO world champion Joseph Parker in Cardiff on March 31, where White will meet the Briton and his team.
Joshua has been tied to promoter Eddie Hearn and Matchroom Boxing since turning professional in 2013 but has only 12 months left on his contract—and the UFC's financial clout could prove too strong to resist.
The Briton's stock has risen to global fame since he defeated Wladimir Klitschko in front of 90,000 fans at Wembley Stadium in April last year to add the WBA and IBO titles to his IBF crown.
According to the Telegraph, the fight purse for the bout was about $21 million, while the purse for his defence against Carlos Takam in October was just over $14 million.
In comparison, a switch to the UFC, the richest fight sport promoter in the world, could offer Joshua the chance to earn as much as $50 million per fight.
Last year, the organization was behind the fight between Conor McGregor and Floyd Mayweather Jr, which grossed over $600m, reportedly making it the biggest grossing fight in history.
White is known to be a massive fan of Joshua, whom he has previously credited for "changing the face of boxing." The UFC has applied for a boxing license in Nevada, as it plans to step up its involvement in the sport.
Last week, Joshua admitted he was keen to challenge himself in UFC.
"A fight is a fight at the end of the day," he told British broadcaster Sky Sports when asked whether he would ever consider competing in MMA. "So yeah man, I'd do it. I'd have to have a couple warm-up fights first. You have to learn the submissions."
News of UFC's interest in Joshua comes only a few days after Mayweather revealed plans to compete in mixed martial arts with the aim of taking to the octagon and fighting in the UFC.
The 41-year-old retired for a second time after defeating McGregor in August and a potential re-match—this time in the octagon—has been touted as a possibility.
"Everything takes time. Eventually, we're gonna apply for the license, and hopefully we can fight," Mayweather told TMZ.
"Even if it takes six to eight months—whatever it takes. We want to make sure that everything is done correctly, and everything is done the right way."